Art Lebedev Studio created a whirlwind of excitement when their Optimus Maximus keyboard concept surfaced in 2005. The peripheral touted a full set of OLED (Organic Light Emitting Diode) buttons that were 100% user-customizable and downright amazing-looking.
I had the opportunity to see it in person at the 2008 Consumer Electronics Show as well as get some hands-on time with its little brother, the Mini Three. The hype was real and the technology very cool indeed. I wanted one, as did nearly everyone else -- that is, until the company revealed how much it would cost. Priced at over $1,400, the Optimus Maximus remains more fantasy than reality, as the closest most users will come to it are the photos and videos available online.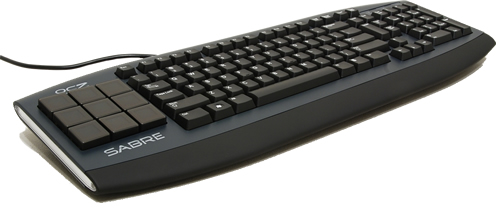 Fortunately for those interested in OLED keyboard technology, Art Lebedev isn't the only player around. OCZ Technology recently released their Sabre OLED Gaming Keyboard, which features a bank of nine programmable OLED keys and a significantly cheaper price tag.
View: OCZ Sabre OLED Gaming Keyboard review
These articles are brought to you in partnership with TechSpot