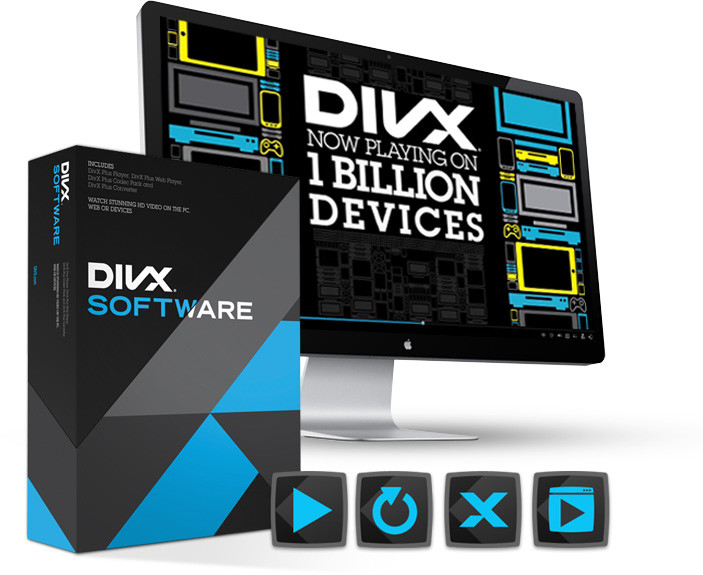 DivX lets you convert video between popular formats, including HD files, and enjoy an enhanced playback experience across all your devices, at home and on the go. It is all you need to create, play and stream high-quality video.
What's Included:
DivX Player delivers high-quality playback of videos in popular formats, including HEVC up to 4K. Transfer videos to disc or USB with DivX To Go or easily stream videos to nearby devices with "Stream To" and "Cast To" functions.
DivX Converter is an easy video converter that creates videos in the web's most popular video formats DivX, MKV, MP4 and HEVC to 4K. Converting videos into DivX ensures your files will play on more than 1 billion DivX devices.
DivX Web Player is a simple cross-browser web extension that streams all popular video formats, including HEVC video up to 4K, with progressive playback, adaptive bitrate and experimental live streaming technologies.
DivX Media Server can stream videos, music and photos to any DLNA-compatible device or Chromecast in your home. Accessible through DivX Player, choose "Stream To" for your DLNA devices or "Cast To" to stream to Chromecast.
New in DivX 10.3: Do More with Video and Soundtracks
The latest version of DivX Software adds support for high-quality Dolby Audio™ playback in your favorite DivX videos. New VC-1 support as part of Video Pack for DivX Converter and a beta of Chromecast for DivX Player allows you to do even more with your high-quality DivX videos.
Chromecast—DivX Media Server is Google Cast ready, allowing you to stream local videos from your computer to Chromecast devices. Open DivX Player and select "Cast To" to start streaming.
Dolby Audio™ Edition—A new version of DivX Player and DivX Web Player for Windows and Mac that adds support for theater-quality Dolby® audio, the popular surround sound format used by DVDs, Blu-rays and many other digital video formats for audio tracks.
Video Pack—MPEG-2 Plug-in gets an update to include VC-1 and together they are now Video Pack for DivX Converter on Windows and Mac. Video Pack lets you convert MPEG-2 and VC-1 videos to backup DVDs and Blu-rays to high-quality DivX, MKV and HEVC video.
Some other new features since 10.2 as well:
DivX Player can display two subtitles simultaneously if the video has multiple subtitle tracks
Support for SAMI (.SMI) external subtitles in DivX Player and DivX Converter
Improvements to HEVC encoding: Weighted P support, improved minimum bitrate algorithm and real-time encoding of 1080p video at 30 fps
Optimized 4K DXVA decoding for Intel Broadwell systems
Download: DivX 10.3 | 987 KB (Free, paid upgrade available)
View: DivX Home Page | Version History