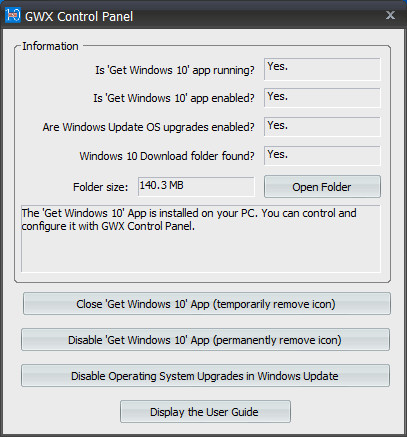 GWX Control Panel (previously named GWX Stopper) is a free program that you can use to configure and exit the "Get Windows 10" system tray application which continually pops up on PCs that are still running Windows 7 and Windows 8. GWX Control Panel really works, is safe and easy to use, and gives you the option to re-enable the icon and upgrade notifications if you're ever ready to move forward with Windows 10.
Why GWX Control Panel is better than other solutions:
Some methods are only temporary fixes. They make the app go away until you restart Windows, or maybe until you do another Windows Update, but they don't truly stop the Get Windows 10 app from bothering you- they just postpone it.
Some methods are unsafe (especially the ones that involve you disabling Windows Update).
Some methods have potential to result in unexpected or undesired behavior if you're not completely sure what you're doing or if you apply a change to the wrong files or folders.
And some just went way beyond what was truly necessary to keep the Get Windows 10 app from bothering you.
GWX Control Panel doesn't do anything special. It's just simple and safe, and it works.
GWX Control Panel is a standalone executable, doesn't require to be installed.
GWX Control Panel is digitally signed.
What's new in version 1.6.0.1:
Monitor Mode. This optional feature actively monitors your computer and notifies you if it detects any known evidence of Windows 10 activity. Previously you used to have to run the program manually from time to time to make sure your settings hadn't changed. Now, with monitor mode enabled you'll know immediately when it's time to review and update your settings. Monitor Mode is implemented via an icon in the notification area of your taskbar. You can double-click the icon at any time to bring up the GWX Control Panel window, and right-clicking the icon displays a menu. And unlike the Get Windows 10 app, this one includes an Exit option! Just click Enable Monitor Mode to turn the feature on; it will persist across Windows restarts. You can permanently turn the feature off by then clicking Disable Monitor Mode.
Worry-free installer. While GWX Control Panel is still available as a stand-alone executable, after receiving numerous requests for a traditional installer I have developed one that provides the following conveniences: It creates shortcuts in your Start menu and on your desktop for easy access to GWX Control Panel and documentation. It will allow for safe upgrading to future versions of GWX Control Panel without leaving duplicate copies of the program laying around with different filenames like you might sometimes experience with the stand-alone version. And finally, it provides a standard uninstaller routine, available in the Programs and Features control panel. And while you are wise to be wary of freeware programs that include installers, please rest assured that GWX Control Panel does not (and will never) include any garbage bundled software. The installer exists solely because many users find it more convenient to access programs via easy-to-find shortcuts, and it provides some consistency in installation paths (which helps make the new Monitor Mode feature work more seamlessly). But as I mentioned, a stand-alone version is still available.
Check for Updates. The built-in Check for updates feature tells you what version of GWX Control Panel you're currently running and takes you to the Ultimate Outsider Downloads page where you can download the latest version if a newer one is available. This feature is available from the system menu (the little icon in the upper-left of the GWX Control Panel window) or from the right-click pop-up menu of the Monitor icon.
Save Diagnostic Info. This new feature saves a text file to your desktop that contains your current Windows 10-related settings and error messages encountered during the current GWX Control Panel instance. While this is purely for diagnostic purposes, it will be tremendously helpful to me in situations where users report unexpected behavior. The text file includes info on where to send the file if you encounter unexpected problems with GWX Control Panel. This feature is available from the system menu (the little icon in the upper-left of the GWX Control Panel window) or from the right-click pop-up menu of the Monitor icon.
More comprehensive protection. The Disable/Enable Operating System Upgrades in Windows Update feature now covers a slightly wider range of settings related to Windows 10 upgrades. (Don't be alarmed if version 1.6 says Windows Update OS Upgrades are enabled where version 1.5 didn't. It just means we've broadened our scope a little bit, not that Microsoft has necessarily changed anything recently.)
Download: GWX Control Panel Installer | 2.3 MB (Freeware)
Download: GWX Control Panel Portable | 4.2 MB
View: GWX Control Panel Home Page | Video Tutorial