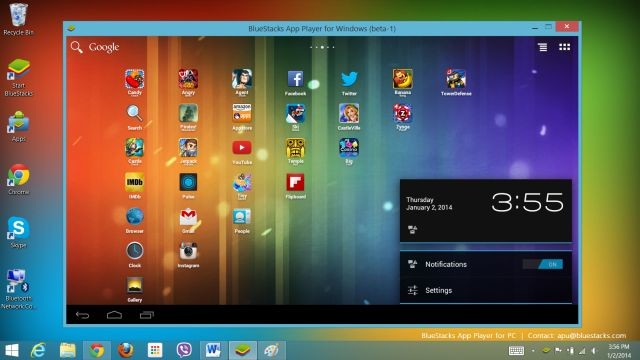 Nearly three years ago, the software company BlueStacks announced plans to offer Windows PCs a way to run Android and its many apps via their software program. Since then, AMD has announced it has put some of its money into BlueStacks and the software has been pre-loaded on many AMD-based Windows PCs to allow Android apps to run on those devices.
This week, as part of its CES 2014 announcements, AMD revealed that it has expanded its collaboration with BlueStacks so that the Windows desktop can run a "completely virtualized Android environment." AMD claims that includes running a full Android user interface with all of its settings, configuration and customization controls.
Android apps will  be able to run in a window or full screen on the Windows desktop with the new BlueStacks software, according to AMD. It added:
As native software running under Windows on the PC, BlueStacks takes full advantage of AMD APUs, beginning with the 4th generation AMD APU codename "Kaveri" power savings options, OpenGL driver, and every other advantage the AMD APU-based system can offer. There are no extra development challenges in terms of drivers--BlueStacks is built and optimized to run within Windows on AMD APUs.
This announcement follows Intel's reveal of its Dual OS plans to allow Windows and Android to run on the same PC with the same processor. ASUS also announced the Transformer Book Duet notebook-tablet this week that is also designed to run both operating systems.
Image via AMD