It's long been rumored that Microsoft was working on an all-in-one PC, and today, the company finally took the wraps off of its Surface Studio. Alongside it is the Surface Dial, which can be used with all Windows 10 PCs and is available for pre-order now.
First off, just to tease you a bit, we'll start with the new Surface Mouse.
The Surface Mouse looks and feels almost exactly like the existing Designer Bluetooth Mouse, but with some major differences: it costs about $20 more, but that higher price tag will get you a longer range and better battery life. Still, I'm a fan of the product, mainly because it feels much more comfortable to use than the Arc Mouse.
Like the Mouse, the Surface Keyboard is similar to its Designer counterpart but with Surface's trademark magnesium color, and a revised key layout. Sadly, the new Surface Ergonomic Keyboard was a no-show at the event.
But enough of those boring peripherals! The Surface Studio has a 28-inch PixelSense display, which packs a whopping 4500x3000 resolution. Just like the screen on any Surface, it's absolutely stunning.
You'll notice that it's only 11.4mm thick, which is thinner than some smartphones. It's completely flat on the back as well, unlike an iMac, which is only thin around the edges. Microsoft is able to keep the device so thin by packing the internals into the base.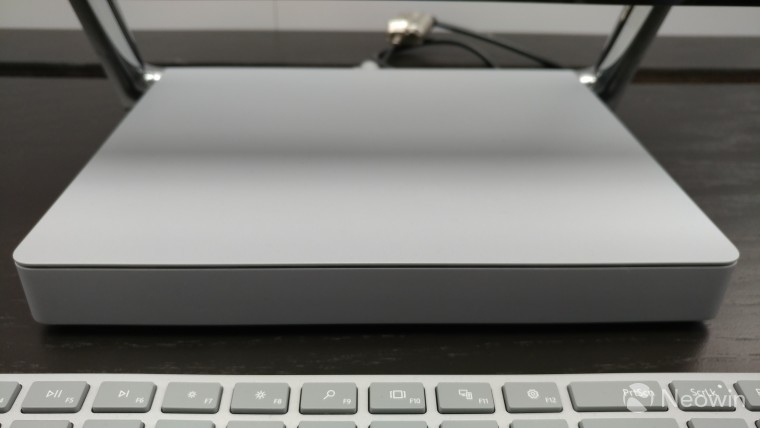 That tiny little box can hold up to 2TB of storage, 32GB of RAM, and a 4GB GPU.
Microsoft promises a "Zero Gravity Hinge" in the Surface Studio, and it's very comfortable to use. The display is easy to adjust, while still feeling sturdy. You won't feel the weight of the display when moving it, but rather the resistance of the hinge.
But perhaps the most interesting part of the announcement today is a little cylindrical accessory called the Surface Dial.
The Surface Dial serves multiple purposes; it can be used to scroll, or it can be used for context menus. It will have basic functionality within all apps, but developers will have the opportunity to add more features.
For example, in the image above, the Dial created a menu of colors. The user would simply turn the Dial to the selected color and begin drawing with the Pen.
The Dial promises to work with all Windows 10 devices; however, functionality may be limited on some, particularly those without a touchscreen. When Panos Panay introduced it, he made sure to note that it would also work with Surface Pro 3, 4, and Book.
I got to play with the Surface Dial for a bit and I really can't tell if I like it. Sure it works perfectly well for what it's supposed to do, but I just can't figure out if this would make me more productive in any way. I can imagine it making life quite a bit easier for those that use a pen often and might want a second input option that's not a mouse or a keyboard.
Surface Studio and Dial are certainly interesting offerings from Microsoft, both including features that really aren't included in anything else. The Studio starts at $2999 for a model with a Core i5, 8GB RAM, and 1TB of storage, but it goes all the way up to $4199 for a model with a Core i7, 32GB RAM, and 2TB of storage. The Dial is sold separately for $99, but you can grab one for free if you pre-order the Studio.
What do you think of the Surface Studio and Dial? Let us know in the comments!