Back in March, I reviewed the HP Spectre x360 13, calling it the most beautiful convertible that exists. As it turns out, that wasn't just a fluke. The HP Envy 13 is one of the sexiest clamshell laptops that I've ever seen as well.
But that's not all, because this PC pretty much has everything that you need. It comes with an Intel Core i7-8565U, 16GB RAM, a 512GB SSD, dedicated graphics, a beautiful 13.3-inch 4K display, and it only costs $1,159.99.
HP's Envy lineup is the step below Spectre. You can think of Spectre as premium, Envy as high-end, Pavilion as mainstream, and the regular HP brand as budget. But for something that's not considered premium, I'm really not sure what you're missing out on.
Specs
CPU
Intel Core i7-8565U (1.8GHz base frequency, up to 4.6GHz with Intel Turbo Boost Technology, 8 MB cache, 4 cores)
GPU
NVIDIA GeForce MX250 (2GB GDDR5 dedicated)
Display
13.3" diagonal 4K IPS micro-edge WLED-backlit touch screen with Corning Gorilla Glass NBT (3840 x 2160)
Body
12.09x8.35x0.59in (30.7x21.15x1.47cm), 2.82lb (1.27kg)
Ports

(1) headphone/microphone combo
(1) USB 3.1 Gen 1 Type-A (Data transfer only)
(1) USB 3.1 Gen 1 Type-A (HP Sleep and Charge)
(1) AC smart pin
(1) USB 3.1 Gen 1 Type-C (5 Gb/s signaling rate, Power Delivery 3.0, DisplayPort 1.2, HP Sleep and Charge)
(1) microSD

RAM
16GB DDR4-2400 SDRAM (onboard) Transfer rates up to 2400 MT/s
Storage
512GB PCIe NVMe M.2 SSD
Battery
4-cell, 53 Wh Li-ion polymer
65W AC power adapter
Audio
Bang & Olufsen, quad speakers
Webcam
HP Wide Vision HD Camera with integrated dual array digital microphone
Material
Aluminum; Sandblasted anodized finish
Color
Natural Silver
OS
Windows 10 Home
Price
$1,159.99

Day one
Design
The HP Envy 13 comes in Natural Silver and Pale Gold. I mention this at the start because I'm not a fan of silver aluminum laptops, but that's what was sent to me. I think that in general, they tend to look dull and common. That's really not the case here though; this is still a beautiful device, but I suspect that it would look even better in Pale Gold.
Indeed, it doesn't offer the fancy colors that you'd find on a Spectre x360 like Dark Ash Silver with Copper Luxe accents, but some of the same design themes are still there, doing for corners instead of curves. It has angled edges on the front and sides, making it easy to lift the lid.
The back of the device is flat, saying Envy along the left side. It actually has a pretty unique hinge though. When you open the lid, that flat back folds back as well, propping up the keyboard. This serves two purposes. First of all, it's better for typing on a slight angle. Secondly, it's better for cooling the device, something that comes in handy for something so thin.
And it is thin, at 14.7mm. It starts at 2.59 pounds, but this model is 2.82 pounds, presumably because it has the optional dedicated GPU in it. It's made out of a single piece of aluminum; in fact, HP said it can do with a single piece of aluminum what used to take three or four pieces.
Despite being so thin, it doesn't drop the USB Type-A ports. Instead, the USB-A ports have drop-jaw hinges. On the left side, there's a USB 3.1 Gen 1 Type-A port, a USB 3.1 Gen 1 Type-C port, and a 3.5mm combo audio jack.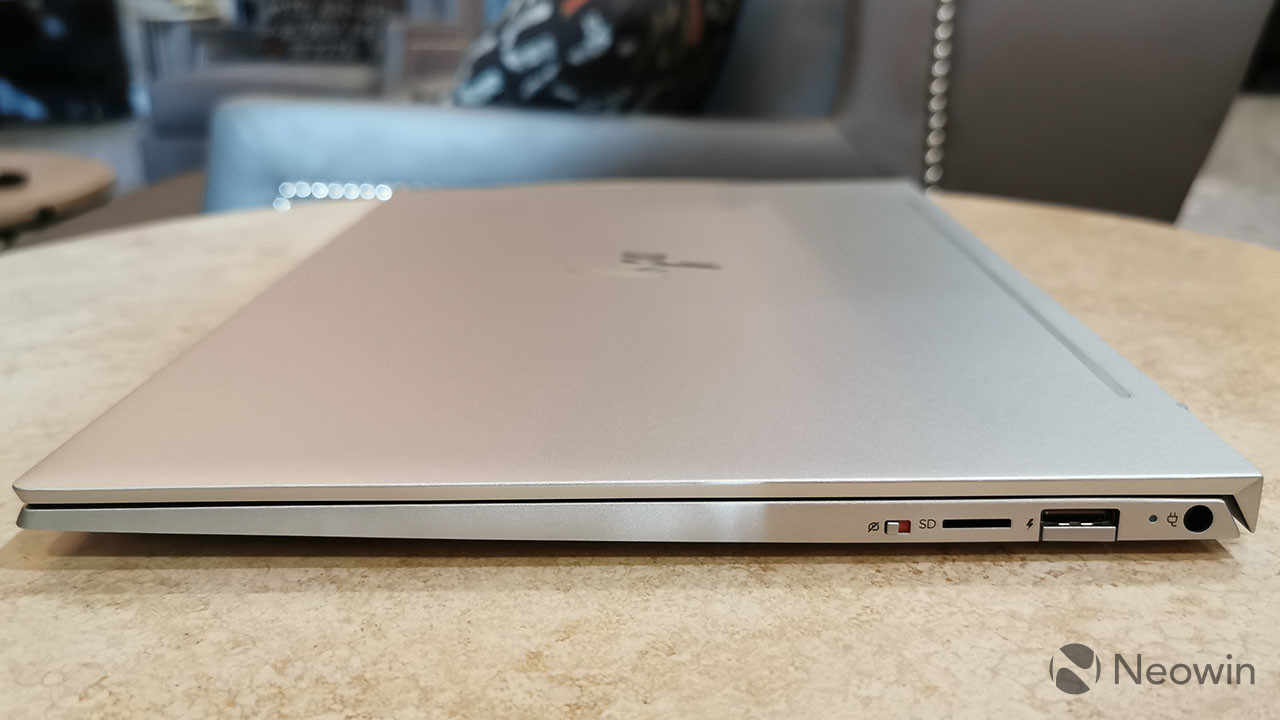 On the right side, there's another USB 3.1 Gen 1 Type-A port, a microSD card slot, a barrel charging port, and a webcam kill switch. First of all, as anyone that reads my reviews knows, I hate barrel chargers. I think that everything should use USB Type-C.
The good news is that you can use any 65W USB Type-C charger with this, although that's not what ships with it. I do have to wonder what went into HP's thinking here; surely, it would have been cheaper to just not include that barrel charging port, and ship it with a 65W USB Type-C charger instead. The upside is that this means that you get charging ports on both sides, albeit different kinds of charging ports. The strange thing is that every HP Windows 10 PC I've ever used has the USB Type-C ports on the right side, but that's neither here nor there.
The webcam kill switch is a nice touch. Privacy guards are all the rage over the last couple of years, so you no longer have to put tape over your webcam. And there are several methods of doing this. Huawei put the webcam in the keyboard, which provides terrible placement. Lenovo puts a physical switch on the camera. With HP's method, it disconnects the webcam internally, so the computer doesn't even know it's there. You can even watch it disappear from the Device Manager.
Two things that you're missing here are an IR camera for Windows Hello, and Thunderbolt 3. Honestly, I don't think either one is a big deal. Facial recognition is great, and it's a natural way of logging into your PC, but the fingerprint sensor on the HP Envy 13 is really good, so I'll take that sacrifice. And I'm OK with USB 3.1 Gen 1, as long as there's a USB Type-C port. Remember, this thing costs $1,159.99, so HP had to cut something. I think the company found the right balance to provide tremendous value.
All-in-all, this is a really nice-looking PC. Considering how lovely the Spectre x360 13 was, I'm really happy to see HP focusing on Envy as well.
Display and audio
I'm going to tell you right now, in most areas, the HP Envy 13 really knocks it out of the park. In both the display and the audio categories, it does just that.
The Envy 13 comes with a 13.3-inch 4K UHD display, and it is stunning. It supports touch as well, if you're into that sort of thing on a clamshell laptop. Naturally, you can use it to watch videos in HDR, and it looks phenomenal. It's totally worth the battery hit that you'll get from the higher resolution.
With narrow bezels on three sides, the Envy 13 has an 80.92% screen-to-body ratio. As is typically the case on HP PCs, that means very narrow bezels on the sides, and a slightly larger one on top. As usual, the chin is pretty large, although that can be good for propping up the screen. It actually works quite well with the hinge propping it up as well.
It also has a proper viewing angle, as you'd expect from a high-end machine. For a PC that costs under $1,200, I feel like the 4K display of this quality is a bonus. I'd have said this machine is a bargain without it.
The audio is great as well, as HP continues its partnership with Bang & Olufsen. In fact, HP has been using B&O speakers on its PCs for as long as I've been reviewing its products. And they sound great. This laptop actually has four speakers, two in the speaker bar above the keyboard and two on the bottom.
I'm still not 100% sure why I need speakers on the bottom on a clamshell, when there are two speakers above the keyboard. On a convertible, HP used to sell it as that you'd always have speakers firing at you no matter which form factor you're using. Still, the speakers are loud and they sound great, so I'll take it. Again, it's another thing that was not compromised on this PC.
Keyboard
The HP Envy 13 has a backlit island-style chiclet keyboard. I actually really like it. Not only is it comfortable and accurate, two of the most important things for this reviewer, but it's also quiet to type on.
It's a fairly shallow keyboard, something that's increasingly common on ultrabooks. HP doesn't take that to the extreme though, as it's not compromising on the comfort of use. The keys are the same color as the aluminum palm rest, which is Natural Silver, and the backlight shines through the letters.
The clickable trackpad makes use of the space that it has, so while it's not massive, it's as big as it can be. What's nice is that HP is finally using Microsoft's Precision drivers on its consumer laptops, so that means that you get better performance from it and it supports all of the gestures that you're used to. The firm previously used Synaptics drivers, and that was always the biggest complaint about HP's consumer portable PCs.
To the bottom-right of the keyboard, there's a fingerprint sensor, and I have to say, the fingerprint sensor is really good. I say "really good" because frankly, the state of fingerprint sensors on PCs isn't good. This one is though, and I never had to press my finger twice to get it to log me in. That's saying a lot in itself.
HP didn't put the sensor in the power button like some other companies do, probably because it has the same narrow button that it uses on clamshells, located to the top-left of the keyboard. It would be hard to put a fingerprint sensor in a button that shape, aside from the fact that it has an LED light in it to indicate that the device is powered on.
And as mentioned earlier, above the keyboard is a speaker bar. This is a common design trend with HP, as speakers that fire up at you always make for a great experience.
But that's about it for the keyboard. It's really good, and that's all you need to know. I don't have anything to complain about this time.
Performance and battery life
The Envy 13's performance is as good or better than pretty much any other ultrabook that you'll find, thanks to its Whiskey Lake CPU, 16GB RAM, and dedicated graphics in the form of an Nvidia GeForce MX250. Battery life, on the other hand, is another story, although that's to be expected when you match the powerful internals with a 4K display.
I used the Envy 13 for everything from work to play. My work is done in the browser, with apps like Skype, OneNote, Slack, and Microsoft To-Do running at the same time. For a great experience with that, you can get by with lesser specs than this, so I also edited some video, compiled some apps, and played some games.
It actually handled better than I would have thought for a PC with an MX250 GPU. You can think of an MX250 as Nvidia's lowest-end GPU, but still better than integrated graphics. This isn't the first ultrabook to have one; Huawei used it in its latest MateBook X Pro, and there have been others.
The Intel Core i7-8565U is from the Whiskey Lake family, and it's a quad-core 15W chip with eight threads. This is pretty standard for an ultrabook. But the point is that combined with 16GB RAM, the CPU and the GPU provide as good of an experience from an ultrabook that you'll get.
On top of that, you get the improved thermals that come with the hinge propping up the keyboard, allowing for more airflow. Naturally, this means that if you're using it on your lap, you might not feel the difference.
But as far as the heavier tasks that I tried went, it went well. Video editing (1080p 60fps) was smoother than it would have been with integrated graphics, and playing games really depended on the game. You can get great performance on something like Cuphead, but I wouldn't recommend trying to play Battlefield V or Metro Exodus.
As far as battery life goes, I found it could get about five hours of real-world usage. Streaming 4K content on Netflix, it got about seven hours with the brightness all the way up. HP says that it can handle 10.26 hours of local video playback, so that sounds about right. It can do 18.25 hours of the Full HD model, so that should show how much of a difference there is.
For benchmarks, I used PCMark 8 and PCMark 10. PCMark 8 provides three tests: Home, Creative, and Work. First up is the Home test, which checks common tasks like casual gaming, video chat, and web browsing.
The score is slightly lower than what I'd expect from a PC with these specs, and that will be a common theme here. Next up is the Creative test, which checks more GPU-intensive tasks like video editing and mainstream gaming.
The score is still low, and I'm surprised given how well it performed in real life. Finally, the Work test checks productivity-related tasks like writing and spreadsheets.
For a machine with these specs, I'd normally expect it to beat about 90% of other results. I also ran the all-in-one test in PCMark 10, just for those that like to keep score.
Conclusion
The HP Envy 13 is a dream to use, and it comes in a beautiful chassis. I'd complain about the lack of Thunderbolt 3 and the lack of an IR camera if it were a Spectre x360, but it's not. This is a step below that. The only real downside is the battery life, and you can always make up for that by getting the 1080p model. You're never going to get great battery life on a 4K laptop, no matter which one you choose.
But let's talk about the pros of this device, aside from the stunning aluminum body. It has a Core i7-8565U CPU, an Nvidia GeForce MX250 GPU, 16GB RAM, and a 512GB SSD. That should be enough, but that's not it.
It has a beautiful 13.3-inch UHD touchscreen, along with four Bang & Olufsen speakers. There's also a kill switch for the webcam that provides privacy without making any sacrifices. When you put all of that together in a body that weighs just 2.82 pounds, you get an incredible price tag of $1,159.99.
To be honest, I'm not sure why anyone wouldn't buy this laptop, unless you really want Thunderbolt 3. The 2019 model of the HP Envy 13 is a solid buy.