It's been over two years since the first foldable phone made its way to the market. I find that it's a little crazy to think that it's been that long, and that's because despite it being two years now, these products still feel like a complete novelty. Despite numerous concepts, Samsung and Huawei have pretty much exclusively been the only companies releasing new models, and even then, they're still ridiculously expensive. The Samsung Galaxy Z Fold2 launched for a whopping $1,999, and even the less impressive Galaxy Z Flip 5G costs $1,200 after a big price cut earlier this year. Even as a reviewer, it's been hard to get my hands on one.
Huawei released the Mate X2 foldable in China a few months ago, and it really doesn't make things look a whole lot better in terms of making the foldable market more approachable. While international availability and pricing is still a mystery, the Chinese model starts at over $2,700.
Now, the company has sent me a unit of the Mate X2 to try out, and I got a full week with it. I had a few minutes with the original Mate X at MWC 2019, and then I had a few minutes with the original Mate X at MWC 2019, and then with the Galaxy Fold later that year, but nothing that allowed me to really appreciate the features of those phones. Still, I choose not to call this a full review because first, I don't like making assessments based on a period as short as one week; and second, I think it's pointless to try and tell you that you should buy this phone. Aside from the fact that it's availability is still extremely limited, justifying that price point was always going to be an impossible task.
I don't think the discussion around foldables as they are right now should focus on whether you should buy them, but rather on what each one brings to the table that we should hope to see in future iterations, what other companies should learn from them, and what still needs to improve. So let's take a look at what Huawei did right with the Mate X2 and what needs to be done to make future foldables better.
Specs
CPU
Huawei Kirin 9000 - one Cortex-A77 at 3.14GHz, three Cortex-A77 at 2.54GHz, four Cortex-A55 at 2.05GHz
GPU

24-core Mali-G78

Display

Exterior: 6.45 inches, 1160x2700 (21:9), 456ppi, 90Hz refresh rate, OLED, Glass cover
Interior: 8 inches, 2480x2200 (8:7.1) , 413ppi, 90Hz refresh rate, OLED, Plastic cover

Body

Unfolded dimensions: 161.8 x 145.8 x 4.4-8.2mm (6.37 x 5.74 x 0.17-0.32in)
Folded dimensions: 161.8 x 74.6 x 13.6-14.7mm (6.37 x 2.94 x 0.54-0.58in)
Weight: 295g (10.41oz)

Camera
50MP RYYB main, 16MP ultra-wide, 12MP telephoto (3x), 8MP periscope (10x)
Front: 16MP
Video
4K - 60fps; Front - 4K - 60fps
Aperture
f/1.9 + f/2.2 + f/2.4 + f/4.4, Front - F/2.2
Storage
256GB; non-expandable
RAM
8 GB
Battery
4,500mAh
Connectivity
Wi-FI 6, Bluetooth 5.2
Color

White (as reviewed), Black, Crystal Pink, Crystal Blue

OS
Android 11 with EMUI 11 (without Google Play Services)
Price
¥17,999 (roughly $2,779)
Design
Let's start with the design, which I think is truly where the Huawei Mate X2 shines the most. Unlike the original Mate X, the company has opted for a inner folding screen paired with a flat external display, similar to Samsung's Galaxy Z Fold line. Unlike its competitor, though, the inner display is covered by plastic, but since it's protected when it's closed, I think this is much less of an issue. Plus, while it is very impressive that Samsung created its Ultra Thin Glass that's able to fold, some users have noticed micro-cracks forming along the crease, so some work may still be required on that type of harder material.
Additionally, Huawei is using a new folding mechanism that's somewhat reminiscent of the Motorola razr, where the display curves into a waterdrop shape when it folds. Huawei says this helps the crease be less noticeable since it's spread out over a wider area, and I'd say it works really well in terms of the visual effect, which is helped by the reduced reflectivity of the display cover that Huawei also touts. You need to look at the display from an unusual angle to see the crease, and even when you see it, it's not that distracting. You do feel it when you move your finger over it, though, but the rest of the display feels pretty solid considering the cover is made of plastic.
What I think makes the design truly special and unique is how Huawei tried to cram most of the components into one half of the phone. When you unfold it, it gets thicker and thicker towards the right side, and while that may seem odd, it's actually great for usability. it reminds me of Amazon's Kindle Oasis, which is purposefully designed to be thicker on one side. What that does is that it puts most of the weight of the device directly on your hand, so you don't feel like it's going to tip over on the other side, and that means you can use it with one hand more easily than other foldables without straining your fingers to hold it.
When you fold it, each half of the phone aligns in a way that makes it almost completely flat, so the odd shape isn't really noticeable when you're just using it as a normal phone. Its design also makes it noticeably thinner than Samsung's Galaxy Z Fold2, and it's actually manageable with one hand, even though it's obviously much thicker than your average smartphone. As I said above, I haven't had a ton of time with other foldables to make a direct comparison, but Huawei did some great work here.
The hinge on the Mate X2 feels pretty good, but it's also a fairly new unit, and the real question with these devices is how well they hold up over time. There is some noise from the plastic flexing when you open and close the phone - but that's to be expected, according to Huawei - and otherwise everything feels as solid as can be. The phone slams shut with very strong magnets that are actually a bit challenging to separate when you want to open it, but you can get used to that.
Just to round out some parts of the design, there are stereo speakers on the top and bottom of the phone, specifically in the thinner half, along with a SIM card slot on the top edge. The thicker portion houses everything else: a USB Type-C charging port and microphone at the bottom, another microphone at the top along with an IR blaster, and a volume rocker and power button on the right-hand side of the phone. The power button also doubles as a side-mounted fingerprint reader, so there isn't one under the display here.
The two displays
As mentioned above, the Mate X2 has two displays, one on the outside, and a foldable screen on the inside. Here, too, Huawei has outshone Samsung in a few ways. It starts with the external display, which has a much more reasonable aspect ratio of 21:9 - compared to the tall 25:9 display on the Galaxy Z Fold2 - and with a fairly high resolution, too, at 2700x1160. It's also a 90Hz display, while Samsung used a 60Hz panel for the cover display on its phone.
Once again, this means that using the Huawei Mate X2 as a normal phone is a much better experience than on the Galaxy Z Fold2. It's only slightly taller than a typical smartphone display, and given that it's 6.45 inches diagonally, you still have enough space to type comfortably on a keyboard, or to have five columns of apps on the home screen grid.
Of course, the star of the show is the inner 8-inch folding display, with its nearly square aspect ratio of 8:7.1. It, too, has a 90Hz refresh rate - which in this case is worse than the 120Hz panel used by Samsung in its foldable - and the resolution is 2480x2200, which means it has 413ppi. I've found it to be more than sharp enough, and if we're talking numbers, then it still edges out Samsung's competing device with its 373ppi.
I've found the internal screen to be fantastic for reading and watching videos, of course, thanks to its large size. The aspect ratio of the display means you'll have huge black bars on top and under the video that's playing, but you still get a much larger canvas than a typical phone. As for reading, while I don't normally read e-books, this display is great for reading on the internet, simply based on how large the display is. It's just nice to have this big canvas, and some apps even scale to have multiple panes, like Telegram lets me see my conversation list on the left and the current conversation on the right.
Games are also awesome on this big screen, and titles like PUBG Mobile and Asphalt 9 scale really well to the big screen, so you get a huge canvas for them while still having solid controls. However, cloud gaming services don't work as well in terms of the touch controls offered, since they'll always be blocking your view at least a bit. It's up to each service to make it possible to move the game stream to the top portion of the display, though, which would help a lot.
One thing that you might find disappointing is that you can't open the display halfway, so it's always either fully open or fully closed. As such, there's nothing that would take advantage of that ability, like being able to watch a video on one half while scrolling through comments on the other half. On the other hand, Huawei does better in terms of accessories and includes a case in the box that doubles as a kickstand, so you can watch videos on the big screen much more easily. The kickstand can be used in either portrait or landscape orientation, but when the phone is unfolded, it works better in landscape due to the weight distribution.
However, I still find the lack of dedicated features for this big display a bit disappointing. Just like any other Android phone, the Mate X2 lets you use apps in split-screen mode, but using it on the big display is hardly any different from using it on the smaller one. You can split the screen in half, but you can't resize the apps to your liking as far as I've been able to tell. It's always half the screen for each app. I also feel like we could have used the ability to split the screen into even smaller sections, like how Samsung allows for up to three apps to be open at once. You do get floating windows for additional apps, but that's not the same thing. On top of that, you can't create app pairs so that the same two apps are launched at once, you always have to set them up manually, which is a cumbersome process after a while. You can, however, use a feature called App Multiplier, which lets you run multiple instances of the same app at the same time.
The closest thing to a unique feature that you get for this dual-screen dynamic is that if you have an app open on one display, it will transition over to the other one when you fold or unfold the phone. I feel like that's the bare minimum you'd expect from this form factor, though. Even then, how well the transition goes depends on how each app scales its UI, and some apps may have to be restarted to offer the best experience on each display.
You could argue that having a big screen that fits in a normal(ish)-sized phone is a big benefit by itself, and it certainly is, but Samsung has proven that more can be done with it, and I wish Huawei had learned from that.
Cameras (and the one that's missing)
One of the criticisms that's been directed at Samsung's foldables has been the fact that they're mostly using camera setups that lag behind its traditional flagships, making it seem as though they're an afterthought. The Galaxy Z Fold2, for example, has overall lesser cameras compared to the Galaxy S20 that preceded it, and even more so compared to phones like the S20 Ultra or Note20 Ultra.
Huawei has taken a different approach, with a camera setup that doesn't seem to be lacking in any way, at least on paper. There are four sensors on the back of this phone, including the 50MP RYYB flagship sensor we've seen on other Huawei flagships. This sensor is a big deal for night time performance, and on that front, it delivers well. You also get a 16MP ultra-wide camera, a 12MP 3x zoom camera, and an 8MP periscope camera with 10x optical zoom. That combination of zoom levels is impressive and something I praised heavily in my review of the Samsung Galaxy S21 Ultra, and it truly makes this feel like a flagship phone in terms of cameras.
For the most part, the Huawei Mate X2 delivers in its camera performance, though I must reiterate my relatively short period for this review. The main sensor is naturally the star of the show, and low-light performance is so good it nearly makes night mode redundant. I did find some inconsistencies between the color balance across the different cameras, which I think were more noticeable than some other phones, even during the day. Even the main camera sometimes tends to oversaturate, and other times makes colors a bit too cool.
Like other phones, you'll see most of the differences between cameras at night, and that's where you'll really need night mode to help even things out. I find Huawei's night mode to be a bit more painful than other phones, since it often asked me to hold still for up to seven seconds while it took a photo, which meant I got blurry photos more often.
One issue that I found is that the camera sometimes has issues with autofocus, specifically the 3x zoom camera can look very messy in some scenarios. I also had some problems nailing the right shot when zooming in to 100x, and got overall lesser quality than from the Galaxy S21 Ultra at that zoom level.
One benefit of foldables is that the main camera can also be your selfie camera when you unfold the phone, and the main camera on the Mate X2 makes for a stellar selfie camera compared to the one on the cover display, but that's not to say that the selfie camera is bad. You can see a comparison of the two cameras above. One thing that Samsung does and Huawei doesn't is let both displays be used at the same time. For example, if you're taking a picture of someone else with the phone unfolded, the Galaxy Z Fold2 lets the other person see themselves on the smaller screen. You can't do that here, though.
Here's a fun fact: you have to manually tap the option to switch cameras if you want to take a selfie with the main camera, and you have to tap it again to switch back. If you swipe up to go to the home screen while using the small screen to take a selfie, you can only go back to the big screen by closing and re-opening the phone, or opening the Camera app and switching the screens again. Again, I feel like some software work could be done to make this process a bit more natural.
As for the selfie camera on the inside of the phone, there isn't one, which is one of the faux pas this phone makes in my opinion. Having no camera cutout on the inner display may please some people, but it means that you can't take video calls on this phone while using the big screen. The phone just asks you to close it and look at the cover screen instead. That's a big deal because a lot of people are taking a lot of calls right now. And when you're already charging this much for a phone, it's an odd omission.
I also have to mention that I'm just not the biggest fan of Huawei's camera software. What you see in the viewfinder is sometimes radically different from the final shot, night mode takes a bit too long to process (though you get the benefits of that, too), and I would prefer if the zoom controls were closer to my thumb. Also, HDR is a whole separate mode instead of simply having a toggle for it while taking photos, which makes it more inconvenient than some other phones.
Performance and software
While I made the point earlier that there's no point debating whether you should buy this phone, I think it's still worth talking about the basics of a phone review. The Mate X2 is powered by the Kirin 9000, which is a 5nm chipset introduced last fall, but still based on older Cortex-A77 cores from Arm, opting out of both Cortex-A78 and Cortex-X1 cores that were introduced last year. It also has 8GB of RAM, which seems oddly low for a phone this premium, and up to 512GB of internal storage.
Despite that, the Huawei Mate X2 pulled slightly ahead of the Galaxy S21 Ultra and even the OnePlus 9 (though it loses to the 9 Pro) in the AnTuTu benchmark, so it looks like Huawei didn't miss out too much by using older cores. This benchmark measures various performance aspects in one test.
Usually, I'd include GeekBench results as well, but the app refuses to run on the Mate X2, so we'll have to move on to GFXBench, which tests the GPU of the phone. The results here are in line with other flagships, too, so performance isn't something you'll be missing.
Battery life on the Mate X2 is solid, often lasting me a day and a half with at least a couple hours of YouTube on the big inner display, some web browsing, and some texting. Considering the display size and the 4,500mAh battery, those are impressive numbers, but it doesn't take long to realize how that's achieved. Huawei phones are notorious for delayed notifications, and that certainly applies here. It's happened almost every day that notifications are either delayed or just not sent at all, and I've gone hours not knowing I had received messages in some of my apps. It's incredibly frustrating, and it's a long-standing issue with the brand, so if you're already a Huawei fan, it's probably not going to be worse than usual.
Also, this phone is only available in China for now, but even if it releases worldwide, it will be plagued by the same problem as every other Huawei phone nowadays, which is the lack of Google services. No matter how much you hate Google, too many apps just don't work without those services. Like I said, GeekBench 5 wouldn't run even after sharing the APK file from another phone. Pokémon GO doesn't work either, and I also lost the ability to use Microsoft Authenticator because of this.
Conclusion
Despite being over two years old, the foldable market still feels like it's in an embryonic state, which makes it exciting to keep an eye on but also somewhat frustrating when it comes to actually using these devices. I love a lot of what Huawei did here, especially the design. Having most of the weight of the phone directly on the user's hand is ingenious and it almost makes you question why no one else has done it yet. It's also one of the thinner foldables right now, and the cover display has one of the most natural aspect ratios we've seen on any foldable so far, so using it as a normal phone is actually a viable option.
I also appreciate that Huawei wasn't afraid of using a flagship camera setup on the back of the phone, which you can't say for Samsung's foldables. The results aren't always the best, but at least it isn't evident that Huawei was trying to cut corners in this area. And a lot about the phone is in line with flagship material - high-resolution displays, 90Hz refresh rate, and a solidly built design.
But some decisions are a bit frustrating, such as the lack of a camera on the inner portion of the phone, making video calls far less convenient. I also feel like there's plenty of room for improvement in terms of multitasking on the big screen, and some software limitations make it feel like the dual-screen dynamic could have been more thought through. Of course, that's to say nothing of Huawei's overly aggressive battery management and lack of Google services.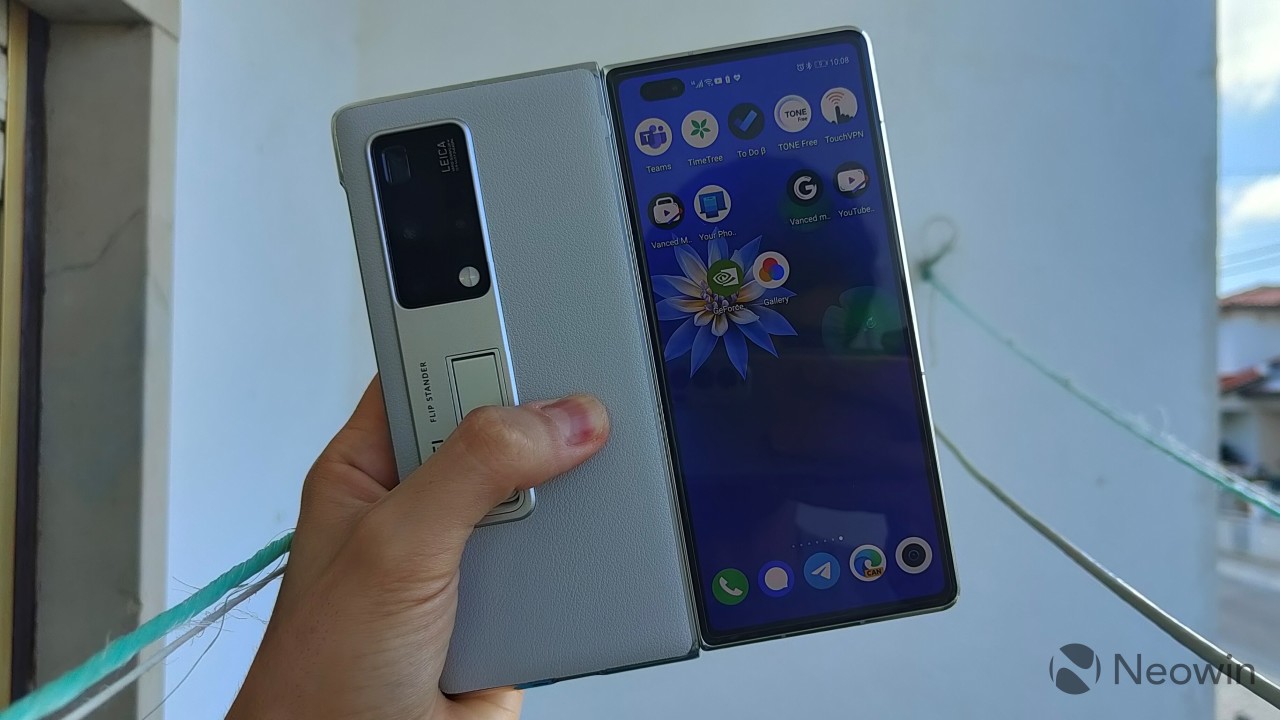 In the end, I don't think it would be possible to recommend any phone that costs over $2,700, no matter how much Huawei did right; I just wish I had been more blown away by it than I was. Regardless, there's a lot that other manufacturers can learn from this phone. I hope the wedge-shaped design becomes more of a trend with future foldables, and I hope more of them also have a cover display more similar to this one. I hope we'll eventually see flagship cameras on foldables like Huawei tried to do here. At the same time, I think Huawei could stand to learn from what Samsung has done, too, particularly on the software side of things.
Pros
- Ingenious design - Relatively thin - Cover display feels like a normal phone - Flagship-level camera setup
Cons
- No inner camera - Some autofocus issues - Few software features take advantage of the form factor - No Google services - Aggressive power manager
Release
February 2021 (China