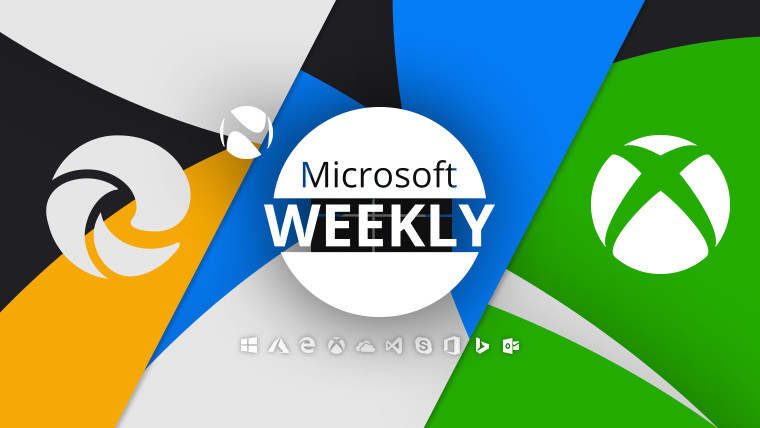 A number of things happened in the last seven days, including the arrival of Edge Beta on Linux, the unveiling of a new Segoe font variant, and even a refresh of the Azure logo. You can find info about that, as well as much more below, in your Microsoft digest for the week of May 2 - 8.
Edge Beta for Linux
We should begin with a little info regarding Edge, as not much has happened with the browser this week.
For starters, build 92.0.878.0 made its way to the Dev Channel. While this would normally be pretty exciting, Microsoft says the build doesn't change much, given that it came out just a few days after the previous build. The changes are so minor that the company didn't even bother publishing its usual post about it.
Moving on to the stable version, namely version 90, folks may be experiencing problems with YouTube playback, namely crashing. This bug has been acknowledged by a Microsoft engineer, who suggested users disable hardware acceleration as a workaround. The same engineer confirmed that the company is working on a fix, but that the issue may be more significant than initially thought.
And since we're taking a tour through the various Insider channels, it's worth pointing out that over six months after the Dev channel availability of Edge for Linux, there is now a Beta variant for the open-source OS.
Lastly, Microsoft is now testing everse image search in the Bing sidebar. This does pretty much exactly what it sounds like it would, namely allows you to right-click on an image and search for it on Bing in the sidebar which appears on the right of the Edge browser. As per Reddit user Leopeva64-2 who stumbled upon this, the capability is available in Edge Dev, though we have not seen this on any of our test devices.
A new font
For Insiders in the Dev channel, Microsoft pushed out yet another preview build, 21376, which included the usual array of fixes and, rather interestingly a new Segoe font variant.
While Segoe UI itself has been used as a default system font going all the way back to Windows Vista, a number of variants have been revealed since, including Segoe Script, Segoe Pro, and what Microsoft used for its Modern design icons, Segoe MDL2 Assets.
The new font is called Segoe UI Variable and as the name implies, it's meant to vary slightly depending on the use case. Segoe UI itself for example was originally designed to be optimal at 9pt sizes, while Segoe UI Variable tweaks the letter weight and tracking depending on the size.
For smaller text, the letters are more tightly tracked, have more weight and are more open, while at display size, text isn't quite as tightly tracked and has amplified letter terminals. For those not familiar, tracking refers to the overall horizontal spacing between font characters. This is not to be confused with kerning, which refers to the proportional spacing between two individual letters, whereas tracking refers to, say, an entire word.
On the subject of change, we should touch on the fact that Microsoft is set to fully remove Flash from Windows 10 in July. While support for Flash was dropped by Adobe on December 31, 2020, and Microsoft released a manual update to remove it back in October of the same year, it was, as the name implies, not necessarily mandatory. Starting in July, the Redmond giant is set to push out the update to Windows 10 v1809 and above, automagically removing the media plugin.
To that end, the firm is also removing any update blocks for versions 2004 and 20H2 (May 2020 Update, October 2020 Update), allowing folks to freely upgrade to these supported variants. We're on the verge of a new feature update anyway, so it's not much of a surprise that Microsoft wants folks on the latest Windows 10 version, if possible.
Last but not least, to the dismay of perhaps three people, Windows 10X is allegedly delayed indefinitely, as Microsoft focuses on Windows 10 proper.
Since its original unveil at the end of 2019 with the dual-screen Surface Neo and Duo, the former device was delayed out of its Holiday 2020 release window, and Windows 10X was repurposed for single-screen devices - in stark contrast to its initial 'dual-screen devices first' approach. For now, it seems that the Redmond firm is putting 10X on the backburner, focusing its resources on the expected Sun Valley UI refresh coming to Windows 10 later this year.
Games galore
In a rather surprising announcement, Microsoft decided to take the wraps off a sizeable selection of titles now supporting FPS Boost. More than quadrupling the number of supported games from 23 to 97, the latest additions include Dying Light, a number of LEGO games, ReCore, and more, with supported framerates from 60 to 120FPS.
There are good news on the Game Pass front as well, with FIFA 21, Red Dead Online, Psychonauts, Outlast 2 and many others either already available or joining the subscription very soon. Additionally, folks in the U.S. also get four months of Spotify Premium with Game Pass Ultimate, though this is available for new users only.
On the revenue share front, Microsoft dropped its cut from 30% to 12% on PC, and was planning to do the same on console, but it will no longer do so. An interesting tidbit about the company's strategy relates to exactly why it lowered its split. As per the court documents filed in January, this is done "in exchange for the grant of streaming rights to Microsoft.", in other words, xCloud. It's not exactly clear whether the proposal was far enough along to even be discussed with console publishers, but for the time being, the revenue split on Xbox remains 30/70.
If you don't think that's such a great deal, maybe some of the Deals with Gold will pique your interest, like the discounts for Borderlands 3, Control, PAYDAY 2: Crimewave Edition, and others.
However, if you have no desire to buy more games and already own the latest iteration of Flight Simulator or the spin-off title Minecraft Dungeons, it's worth checking for updates, as both first-party games have received a number of enhancements and fixes.
Dev channel
Logging off
We end the week with a refreshed Azure logo, an interesting Defender bug, and some Surface firmware updates.
Starting with Azure, Microsoft has decided that the logo for its cloud service needed a bit of a Fluent Design facelift, and as such unveiled a brand-new icon. Ditching the angular shape of the old logo, this one is much more reminiscent of say, the Visual Studio icon, though in some cases, it may remind folks of the Adobe or Autodesk logos.
On the flip side, what wasn't needed was a rather weird Microsoft Defender bug, which ended up creating "thousands" of files in users' boot drives. Some folks saw small files less than 2KB in size, while other users reported multiple GBs of storage being eaten up. A fix is already rolling out, and if you're on Microsoft Defender engine version 1.1.18100.5, you'll be bumped up to 1.1.18100.6 following this update.
Finally, for owners of the Surface Pro 4, Studio, Laptop 1,2, and 4, Microsoft has released a slew of firmware updates meant to bring stability and security enhancements.
Missed any of the previous columns? Be sure to have a look right here.
---

If you'd like to get a daily digest of news from Neowin, we now have a Newsletter you can sign up to either via the 'Get our newsletter' widget in the sidebar, or this link.