Lenovo's Flex 5 lineup of convertibles always offers a lot of value for the money, such as the one I reviewed back in 2017. But now I've got my hands on the 2020 model, and it takes it to a new level, packing AMD Ryzen 4000 processors. This one includes an AMD Ryzen 5 4500U, which is built on AMD's 7nm Zen 2 process, and frankly, it's quite impressive and adds even more value to the PC.
It still packs the perks as that model from a few years ago, and a few more. For one thing, it comes with the pen in the box, something that's rare at this price point. The speakers are located on the keyboard deck for premium audio quality. And along with the Ryzen 4000 processor, this model has 16GB RAM and 256GB SSD.
Specs
CPU
AMD Ryzen 5 4500U (6C / 6T, 2.3 / 4.0GHz, 3MB L2 / 8MB L3)
Graphics
AMD Radeon Graphics
Body
12.65x8.56x0.82in (321.5x217.5x20.9mm), 3.3lbs (1.5kg)
Display
14" FHD (1920x1080) IPS 250 nits Glossy (Touch)
Memory
16GB Soldered DDR4-3200
Storage
256GB SSD M.2 2242 PCIe NVMe
Connectivity
11ac, 2x2 + Bluetooth 4.2
Ports
(1) USB 3.1 Type-C
(2) USB 3.1 Gen 1 Type-A
(1) 3.5mm audio
(1) HDMI 1.4b
(1) 4-in-1 card reader
Camera
HD 720p with privacy shutter, fixed focus
Windows Hello
Fingerprint
Audio
HD Audio, two speakers with Dolby Atmos certification, 2W x 2 / dual-array microphone
Battery
Integrated 52.5Wh
Color
Graphite Grey
Material
Plastic (top), PC / ABS (bottom)
Price
$599.99 (Amazon)

Day one
Design
Lenovo's Flex series of convertibles usually aren't actually called Flex to most of the world, similar to how Yoga Slim laptops get called IdeaPad here in the U.S. and how the Yoga 5G became the flex 5G here. I've asked Lenovo if this is something else internationally, and haven't been able to get an answer. This seems similar to a Yoga C740, albeit with a different selection of ports and made of plastic.
I never would have guessed that the top is made out of plastic though. Until I checked, I thought it had a metal top and a polycarbonate base. I guess I was 50% right. I really love the polycarbonate base though, and I think it adds a bit of style to the Graphite Grey color. It almost looks two-tone, with the subtle change in style between the plastic top and the polycarbonate bottom. It also has a nice feel to it, something that I'd personally take over regular aluminum.
The only branding that Lenovo uses on the Flex 5 is a Lenovo logo on the top-left of the lid. In fact, I don't even think a logo exists for the Flex brand. Most of these things are Yogas with the Yoga logo removed. It's a shame too. It's no mistake that on most laptops, the brand is the flashiest part.
It has an average selection of ports that you'd expect from a consumer laptop around this price point. On the left side, you'll find a USB 3.1 Type-C port, HDMI 1.4b, a 3.5mm audio jack, and a barrel charger port. Yes, it ships with a barrel charger, but the good news is that you can use USB Type-C to charge if you want. That's what I did. Also, HDMI 1.4b isn't optimal if you're planning to output to a 4K display.
On the right side, there are two USB 3.1 Type-A ports, along with an SD card reader. It's a solid selection of ports, but here's the bad news. As I noted above, this convertible ships with a pen, and it even comes with a little pen holster that plugs into a USB Type-A port.
That means that it takes up one of your USB Type-A ports, and it also means that if the pen is stored in the pen loop, it covers that entire side of the PC. That includes the second USB Type-A port, and power button, and the SD card reader. There are plenty of other methods for pen storage, such as the pen garage that comes with Lenovo's ThinkPad convertibles and Yoga C900 series. Of course, not storing it internally means that you can have a full-size pen, so there are pros and cons.
Display and audio
The Lenovo Flex 5 14 packs a 14-inch Full HD display, which is fine for normal use, and by normal I mean typing at your desk. It's 16:9, which means that it looks exceptionally long if you're using it as a tablet in portrait orientation. The colors look accurate though, with only mild distortions when viewing it from a wide angle.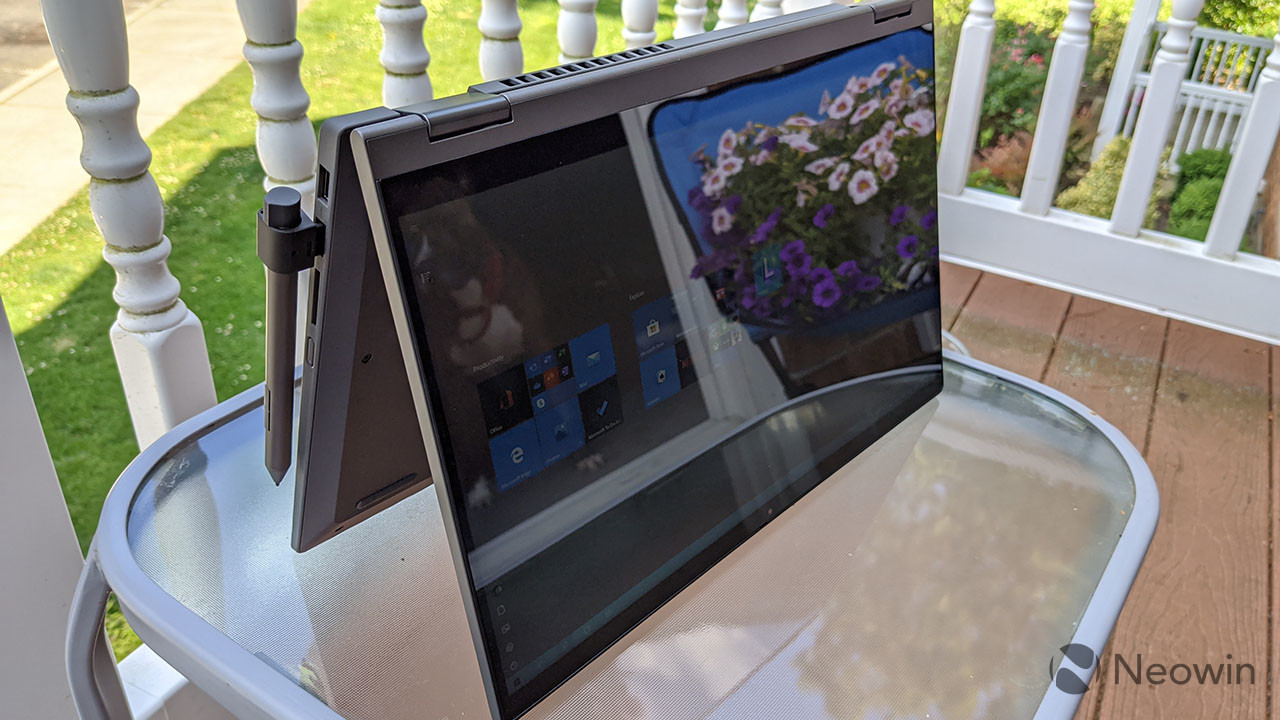 The bad news is that it's only 250 nits, so you really won't want to work with this outdoors. It's also a glossy display, which means that you'll get a lot of glare in that outdoor usage.
The good news is that it does have pen support, making it great for tablet usage. You can use it for anything from reading books to taking handwritten notes to watching movies.
Lenovo uses its normal combo of narrow side bezels, a big bottom bezel, and a medium top bezel, which you'll find in its mainstream devices. The top bezel fits the webcam, which has a built-in privacy guard. There's no IR camera for facial recognition, so you don't have to worry about it blocking Windows Hello.
Audio quality on this PC is phenomenal, with Dolby Audio speakers placed on either side of the keyboard. This is an excellent device for media consumption, as the audio is clear with rich sound. In fact, you could even use it for some light gaming, although we'll get to that more when we talk about the AMD Ryzen 4000 performance.
Keyboard and trackpad
The Flex 5 has yet another excellent Lenovo keyboard. Shallower than what you'd find on a ThinkPad, it's not only accurate, but it's comfortable and quiet at the time. It looks shallow, but the resistance from the keys is just right to where it doesn't take any getting used to. I could type on this thing all day, and I don't have any complaints about it.
Other than the fact that there's new silicon in here, the keyboard might be my favorite part of this PC. To me, it's certainly the most important, since it's the primary way that I interact with a computer, and on the Flex 5 14, it's a delight.
The keys are backlit, which is always nice. Oddly, there are still some laptops that don't have backlit keyboards, so I feel like I have to mention it.
Just like there are still some laptops that don't have Microsoft Precision trackpads. This one does, thankfully, so the clickable trackpad is fast, it's responsive, and it supports all of the gestures that you're used to.
To the bottom right of the keyboard, there's a fingerprint sensor, which is the only method of biometric authentication on this device. In fact, I'm pretty sure that every modern Lenovo PC I've ever seen has a fingerprint sensor. Of course, it's nice to have with the lack of facial recognition.
Performance and battery life
The two processor options on the Flex 5 are the Ryzen 5 4500U and the Ryzen 7 4700U, which are six cores with six threads and eight cores with eight threads, respectively. For comparison, Intel's 10th-generation Core i5 models are all four cores with eight threads. AMD does offer Ryzen 5 and Ryzen 7 models with its own version of hyperthreading, the 4600U and 4800U, respectively, but those aren't used.
I have to say, AMD has a real winner here. Here, have some benchmarks:
Lenovo Flex 5
AMD Ryzen 5 4500U
Surface Laptop 3 15
AMD Ryzen 7 3780U Surface Edition
Acer TravelMate P6
Intel Core i5-10210U
Surface Pro 7
Intel Core i5-1035G4
Dell XPS 13
Intel Core i7-10710U
Dell XPS 13
Intel Core i7-1065G7
PCMark 8: Home
4,135
3,360
3,163
3,376
3,501
3,899
PCMark 8: Creative
4,214
3,687
3,511
3,749
3,966
4,253
PCMark 8: Work
3,693
3,095
3,667
3,339
3,342
3,797
PCMark 10
4,708
3,939
3,892
4,030
4,314
4,402

As you can see, the scores are quite impressive. I used those other five PCs as examples for specific reasons. The Surface Laptop 3 represents an improvement from the last generation of AMD's Ryzen chips. The Acer TravelMate uses the Intel Comet Lake Core i5, and the Pro 7 uses the Ice Lake Core i5. But while the Ryzen 5 4500U is meant to compete more head-on with the Core i5, I used the scores from the Comet Lake and Ice Lake Dell XPS 13 because frankly, this thing is more in a league with the Core i7. Now, I can't wait until some company sends me a unit with a Ryzen 7.
If you want to know about performance, let's put it this way. It's a mainstream chip with premium performance. Naturally, it's still ultrabook-level though, as it's a 15W processor. Both AMD and Intel have a separate 45W H-series that you'll find in things like gaming laptops.
The nice thing about the Radeon graphics, along with Intel's Iris Plus on that side of things, is that it makes me a little bit more comfortable leaving the house without a dedicated GPU. Now of course, you have to go somewhat premium to get that from an Intel processor, with either a Core i5-1035G7 (which is used in very few laptops) or a Core i7-1065G7. AMD is putting it in a laptop that costs well under a thousand dollars.
As far as battery life goes, it's decent at about five hours with the power setting set to medium and the screen at full brightness. I'd test it at a lower brightness setting if I could, but I use real-world conditions and frankly, this screen isn't bright enough to run at half brightness.
Conclusion
Last week, I reviewed the Lenovo Yoga C640, and while it's a fine PC, I couldn't recommend it, and the reason I cited is that the Flex 5 14 exists. At $599, the C640 has an Ice Lake Core i3 and half the storage as a base model Flex 5, and this convertible not only comes with the pen, but it has a much more powerful processor at only a slightly higher price point.
Sure, the Flex 5 isn't perfect. The display isn't nearly as bright as I'd like, although it's fine for regular indoor use. Also, the pen storage design is just not good. I don't want to call it terrible because there are worse ways of doing it, but it's annoying. You have to remove the pen just to press the power button or to plug in a peripheral. And the thing is, the pen is docked exactly when I want to plug in a peripheral, when I'm at my desk.
But all-around, this laptop is a winner. Not only is it inexpensive at entry-level pricing, but it provides some seriously premium-level performance. Combined with an excellent keyboard, Dolby Audio speakers, and a good display for indoor use, what more can you expect for just about $600? Also, I really like the polycarbonate design, but that's a personal choice, probably thanks to all of those years of using polycarbonate Windows Phones.
If you want to check out the model I used, you can find it on Amazon here. You can find the rest of them on Lenovo.com here; however, only Amazon seems to have a model with 16GB RAM available.
As an Amazon Associate, Neowin may earn commission from qualifying purchases.
Pros
Polycarbonate design AMD Ryzen performance Keyboard Audio quality
Cons
Pen storage design 250-nit display