Regardless of how much users pay for their smartphones, they expect sufficient battery life to at least get through the day without their handset spluttering to a dead halt. Even those buying the latest ultra-affordable devices have the same expectations – after all, if you can't make full use of all the wonderful features crammed into a handset, what's the point?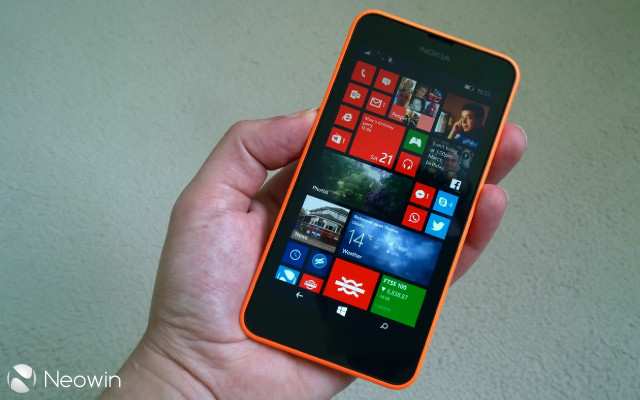 The Lumia 630 was announced in April as Microsoft's new entry-level Windows Phone 8.1 handset, and it debuted at a price point even lower than the Lumia 520 did when it was launched. Despite this, the 630 features a much larger battery – 1830mAh versus the 1430mAh of the 520 – but it also improved specs over the earlier device, including a quad-core 1.2GHz Qualcomm Snapdragon 400 processor and a larger 4.5-inch display (albeit with near-identical resolution). 
Nokia claims that the 630's battery is good for up to 25 days of standby time and up to 16.4 hours of talk time, as well as 58 hours of music- and 7 hours of video-playback. However, as we all know, specs and manufacturers' quoted figures never tell the full story – so just how does the Lumia 630's battery hold up in the real world?
The Lumia 630 includes features a 1830mAh battery
The answer to that question will depend on exactly how you use the device. If you spank the battery hard by playing non-stop games or watching videos all day, then you can't reasonably expect it to last right through the day – and the same goes for the overwhelming majority of handsets on the market, at any price point. But if you have a more balanced approach to using the device, you should find that it holds up well.
On a typical day while testing the Lumia 630, my range of activities looked something like this:
1-2 hours of calls
30-60 mins of casual games (Wordament, Microsoft Solitaire, Angry Birds and the like)
Reading/writing emails throughout the day  
Social network activity (primarily Facebook/Twitter) throughout the day
Occasional IM via Skype
Occasional web browsing
An hour or so of streamed music (primarily Nokia MixRadio)
Connected to Wi-Fi at available hotspots 
I was generally able to get through the day easily with battery life to spare, and on more than one occasion, I found that the battery could last a day and a half before it ran out of juice. If you're not a particularly avid gamer, or if you don't stream music or videos very much, you should find that the battery lasts a good deal longer. But push it harder than I did on either of those fronts, and your battery life will quickly decrease, as I found on a couple of occasions.
There is one aspect of the Lumia 630's design that can hit the battery hard, though, and it requires your attention in order to manage it. Unlike the Lumia 520 (and the 625, which some argue is the 630's predecessor), the Lumia 630 does not feature an ambient light sensor, so there is no mechanism for setting automatic brightness control for the display
Screen brightness presets can be switched via the Action Center, and adjusted further in Display settings
Without the light sensor, you'll need to manage screen brightness manually, and there's two ways to deal with this. The first option is to just select a setting and leave it on that setting all the time; the alternative is to adjust the settings as you go, depending on your needs at any particular time. You can change between low, medium and high brightness presets via a button on the Action Center, accessible via a swipe down from the top of the screen anywhere in the OS, including on top of the lock screen.
The low and medium presets are generally fine for indoor use. However, in some well-lit rooms, the low brightness setting can make the screen difficult to see, and it's completely useless outdoors. The medium setting is generally okay outdoors unless the sun is shining, at which point anything less than the maximum brightness setting makes the screen impossible to see comfortably. (Confusingly, you can also use sliders to adjust the 'default' setting for each of the three brightness presets under the 'Display' settings.)
The display can become difficult to view outdoors with anything but the highest brightness settings
Leaving the screen brightness at its maximum setting is the easy way to deal with this, but it will murder your battery if you spend a lot of the day looking at your screen. But the alternative of having to manually switch settings depending on where you are is an annoyance that could so easily have been avoided with the inclusion of a light sensor. 
Many less tech-savvy users may be unaware of the potential battery drain caused by leaving the device on its high (and easiest to see) setting. Since this device is targeting many first-time smartphone buyers, their ignorance - for want of a better word - in this regard may well prove problematic. Given that the even-cheaper Nokia X2 Android phone includes a light sensor, it's hard to understand Nokia's logic here in failing to include one on the more expensive 630. 
If you do find your phone running out of juice with no charging points handy, the Lumia 630 features the same 'Battery Saver' mode available on other Windows Phone handsets. By default, this mode kicks in when your battery runs down to its last 20%, and modifies functions on your handset to help eke out a bit more life before it dies completely.
Non-essential background tasks are suspended, push email is switched off and screen brightness is dimmed, all helping to keep your phone going that little bit longer. Some settings can also be customised to ensure that Battery Saver does not interfere with them, if that's what you prefer.
Removable battery FTW!
And if all else fails, don't forget that the Lumia 630's battery is removable, so if you're likely to spend all day on your phone playing games, watching videos and streaming music, there is always the option for you to purchase a second battery that can be swapped out when the first one gasps its last breath. 
The Lumia 630's battery life pleasantly surprised me during my few weeks of testing it. As with any device, unrealistic expectations will only result in disappointment, but with balanced usage of apps, features and services on the 630, the majority of users shouldn't have any complaints.