AMD has dominated the HTPC market for some time now with their impressive IGP line-up. The 790GX  chipset sporting integrated Radeon HD 3300 graphics and the 785G with its built-in Radeon HD 4200 GPU have gone beyond what Intel has been able to offer by a long stretch until just recently, not only in terms of performance but also value to the consumer.

It would seem as though AMD wishes to keep their clear cut advantage in this segment, and to that end they have been preparing a more powerful chipset for quite some time. Today we'll be looking at the new AMD 890GX chipset, featuring Radeon HD 4290 integrated graphics and SATA 3.0 (6 Gbps) support.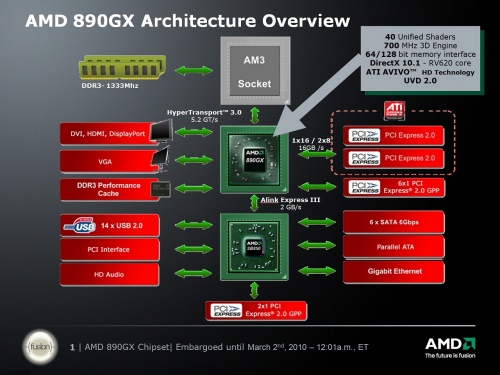 Showing off the 890GX is the Asus M4A89GTD Pro/USB3. This new AM3 motherboard features a 10-phase CPU VRM supporting future AMD CPUs with a 140W TDP, namely the upcoming hexacore processors. All-in-all this is an impressive looking motherboard and should be the perfect catalyst for showing off AMD's new 890GX chipset.
Read: Asus M4A89GTD Pro/USB3 Motherboard Review: AMD's 890GX Chipset Makes Its Debut
These articles are brought to you in partnership with TechSpot.