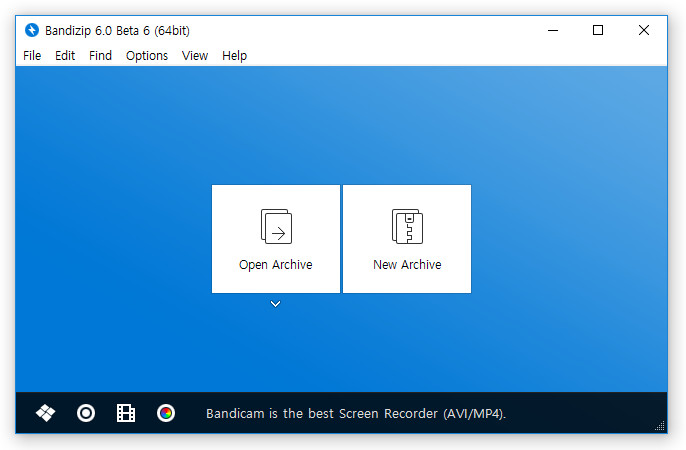 Bandizip is a lightweight, fast and free All-In-One Zip Archiver. Bandizip has a very fast Zip algorithm for compression & extraction with Fast Drag and Drop, High Speed Archiving, and Multi-core compression. It handles the most popular compression formats, including Zip, 7z, Rar, and so on.
New features in Bandizip 6.0:
Bandizip is now able to extract MS Compound (MSI, DOC, XLS, PPT), Arc (SEA Arc), Lzip and ZPAQ format.
Added support for sparse algorithm and symbolic link of TAR format.
Added support for compressing GZ/XZ formats.
Users are now able to move the main window while compressing or extracting.
Bandizip now supports its own command-line tool (bc.exe, Alpha version).
Added support for custom file names when compressing by right clicking.
If the file name contains MBCS (Multibyte Character Set), Bandizip forces to store the INFO-ZIP's UTF-8 filename header.
Added the View menu on the main window.
Added support for show/hide tree controls.
Added an option, "Always on top".
Users are now able to see the file list by Icons, List and Details.
Users are now able to export Bandizip Settings.
If users do not have write permission to the destination folder, Bandizip will show a pre-warning notification dialogbox.
Bandizip will display the archive file name which is currently being processed if it takes a long time while opening split files.
The internal image viewer (Aiview.exe) now supports the TIFF format.
Bandizip is now able to delete archive files permanently through the "Ctrl+Shift+Del" hotkey.
Added support for "Quick Open Header" to open RAR files faster (RAR5).
Bandizip updater will automatically download the setup file from the fastest server when it updates.
Bandizip shows the 'Recent Files' list under the File menu.
Bandizip shows the Honeyview suggestion window when users try to view an image in an archive.
Users are now able to install Bandisoft's other programs from the main Bandizip window.
Bandizip can recognize the user-defined extensions as archive files when right clicking or dragging & dropping.
Etc.
Improvements
Improved the main UI, program icon, toolbar design.
The Bandzip32.exe and Bandzip64.exe files have merged into Bandizip.exe.
Bandizip will delete temporary files when the program exits. (It used to delete temporary files when the process finished.)
Improved the CRC32 and AES processing speed by applying the assembly code of 7zip (LZMA SDK)
Improved the opening of corrupt or damaged ZIP files.
The maximum password length limitation (up to 300 characters) has been removed.
Bandizip now uses XZ algorithm instead of LZMA when compressing ZIPX/EXE.
Users can select AES-256 encryption algorithm when compressing ZIP files.
Bandizip no longer recognizes EGG files which had dummy data at the end of the file as a corrupted file.
File names will no longer be corrupted when ZIP files are modified after setting the code page.
If the header was encrypted as PKZIP, Bandizip will show an error message which says this format isn't supported.
Improved the processing speed slightly by optimizing file I/O.
Bandizip will use less memory when compressing 7z files.
The High Speed Archiving function will work while compressing with multi-core processors.
Etc.
Removed features
Bandizip no longer supports Windows XP. If you use Windows XP, please use Bandizip 5.x.
Bandizip now uses its own console compression program (bc.exe) instead of 7z.exe.
Several other features have been removed.
Changes in Bandizip 6.0 Beta 30:
New Setup UI
Minor bugs fixed
Download: Bandizip 6.0 Beta 30 | 4.9 MB (Freeware)
View: Bandizip Home Page