7 Days is a weekly round-up of the Editors' picks of what's been happening in the world of technology - written with a dash of humor, a hint of exasperation, and an endless supply of (Irish) coffee.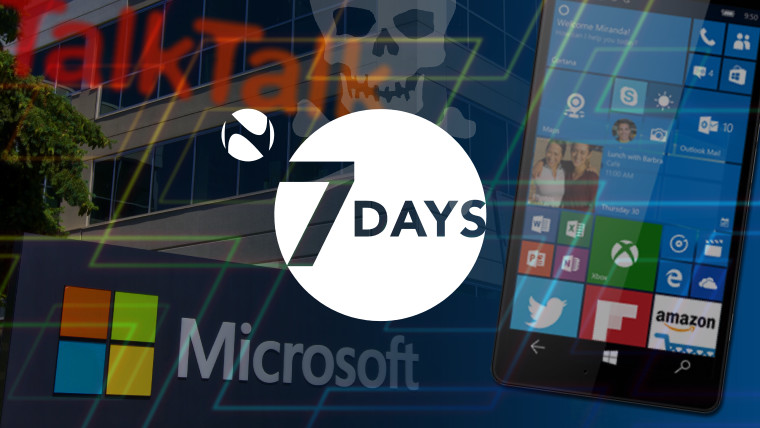 Well, that was quite a week. From surprises good and bad, to official announcements and spicy rumors, there's been no end of excitement across the tech world lately – but 7 Days is here once more to help you make sense of it all, and this week, we start with news of a pretty big takeover.
On Wednesday, storage giant Western Digital agreed terms to acquire flash memory specialists SanDisk, in a cash-and-stock deal worth $19 billion. WD grabbed a whopping 44% of the hard disk drive market in 2014, but with HDD sales in decline, and NAND flash storage for mobile devices on the rise, the SanDisk acquisition seems to make a lot of sense for the company.
Over in the UK, TalkTalk – one of the country's largest providers of telephony, broadband and pay-TV services, with over four million customers – revealed on Thursday that its website had been targeted by a "significant and sustained cyberattack", and that customer details – including banking and credit card information – "may have been accessed".
But far more troubling than the attack itself are the details that have since emerged about how TalkTalk stored its customer data. The company admitted that it did not encrypt all of that data – but even worse, it also appears that customer payment information wasn't secured.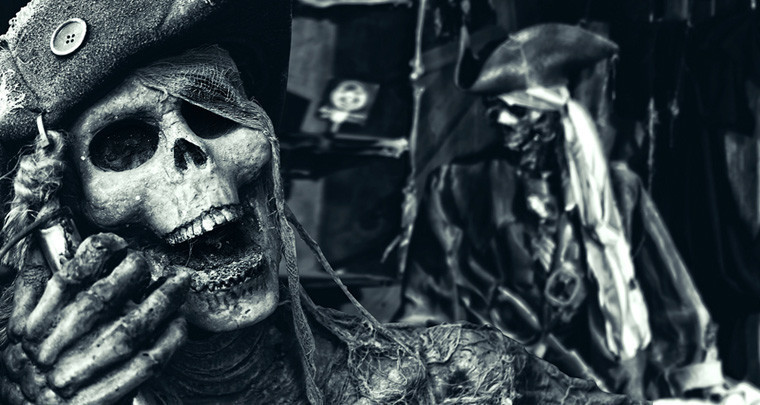 Meanwhile, rights holders have requested that UK ISPs block more sites due to alleged copyright infringement, including popular file-sharing site Demonoid.
But there was good news for customers of Three UK, which announced on Tuesday that it's boosting its 4G LTE speeds by up to 50%. The mobile carrier – which is planning to buy its larger rival, O2 UK – also promises improved reliability across its network.
In China, Xiaomi unveiled its new Mi TV 3 on Monday – a 60-inch display with 4K resolution, and a rather striking and sleek design. It runs the company's Android-based MIUI user experience too, but its best feature might just be the price tag – it'll cost the equivalent of only $780 USD.
After stripping out the underused notification center from its Chrome browser on Windows, Mac and Linux last week, Google followed up by also removing support for always-on 'OK Google' voice activation on those operating systems too.
For those on Android, Google is inviting users to test a beta of the new Search app for its mobile OS, although it's not yet clear what the company has in store for the next version of the app.
The smaller, and more affordable, of Google's two new Nexus flagships went on sale this week in key markets around the world. The Nexus 5X, which is built by LG, has a suggested US retail price of $379, and promises a blend of "top-line performance in a compact design".
On Tuesday, HTC unveiled its new upper-mid-range Android handset, the One A9 – but the launch was overshadowed by criticisms that it looks too much like Apple's recent iPhones. In the US, buyers will pay just $399 for the device, and they'll also get free 'Uh Oh' accidental damage replacement (like the more expensive One M9), and guaranteed Android OS updates within 15 days of availability.
However, over in the UK, none of that is on offer – but far more galling is the fact that HTC expects British buyers to pay a huge premium for the One A9, despite loading it with inferior specs there – the UK version gets only 2GB of RAM and 16GB of storage (versus 3GB/32GB for the US version).
For a company that's seen a disastrous slide in its market performance in recent years, you'd think HTC might actually want to win over more customers, rather than giving people one more reason to ignore it.
Meanwhile, Apple also gave its customers the middle finger this week – along with 150 other new emoji. The company's iOS 9.1 update also brings various other features and improvements, and is available now for all eligible devices.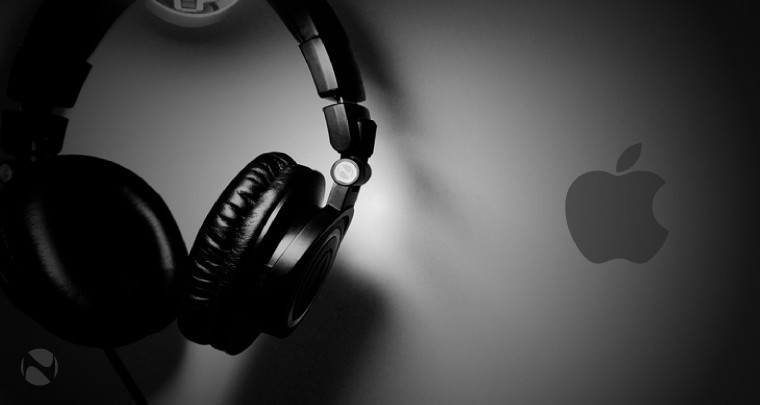 Apple CEO Tim Cook revealed that his company's new music streaming service has signed up 6.5 million subscribers so far, with a further 8.5 million currently on the free 90-day trial.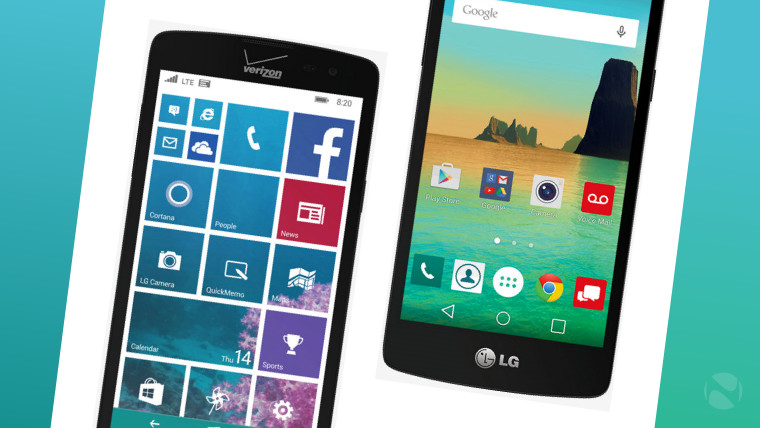 Earlier this year, LG launched the Lancet Windows Phone exclusively on Verizon – but the low-cost handset is now getting a near-identical sibling, the Lancet for Android. The two versions share the same specs, but the Android model appears to offer weaker battery life than its Windows Phone counterpart.
Microsoft has been flexing its cross-platform muscles again this week, with another software release for Android. The company's experimental Garage development team released a "quick and light-weight note taking app" called Parchi – but, amusingly, it seems its original name may have been 'Microsoft Bites'.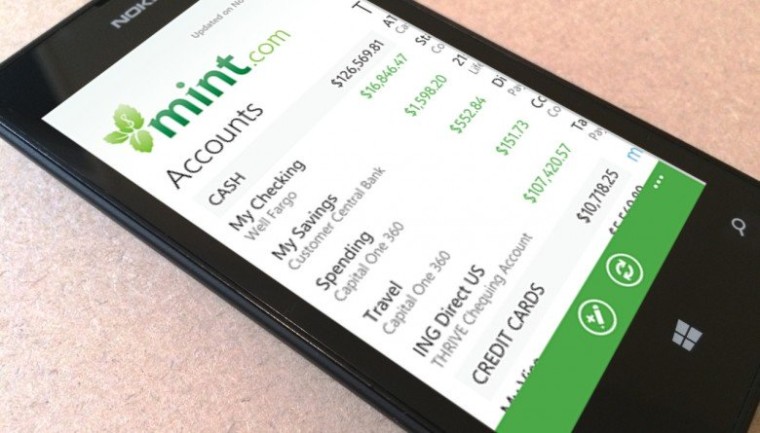 Microsoft would really, really like you to believe that the Windows Phone 'app gap' was closed long ago – but of course, that notion is totally disconnected from reality. In fact, the platform continues to struggle in attracting even the biggest brands to build apps for it – and now, it faces the problem of companies who already have Windows Phone apps abandoning the platform completely.
The hugely popular financial management app Mint is the latest to ditch Windows Phone – the company announced this week that it is "discontinuing support and development" for the app with immediate effect.
The underlying problem, of course, is that Windows Phone's global market share remains pitifully low – but Microsoft is hoping that its new Windows 10 Mobile offering will help boost its smartphone fortunes. There are already encouraging signs on that front, including a new generation of devices on the way from the company's hardware partners.
For example, the latest image emerged this week of a new Windows 10 Mobile handset, the Alcatel OneTouch Fierce XL for Windows, alongside its Android counterpart.
And on Thursday, Acer announced the first pricing information for its new Windows 10 Mobile flagship, the Liquid Jade Primo. So far, the device has only been priced in the Philippines – but our man on the ground there, Neowin reporter Justin Luna, helped put the 18,990 PHP ($410 USD) price tag into a local context, revealing that the device will massively undercut many other flagship-class handsets there.
Microsoft's new Windows 10 Mobile flagship, the Lumia 950 XL, got picked apart in a meticulous deconstruction that revealed a closer look at all of its internal components, including the infrared scanner for Windows Hello password-free biometric authentication, and its liquid cooling system.
Microsoft's Joe Belfiore says the company is working on a mobile payment solution for Windows 10 Mobile – but there's no indication yet of when that will arrive. (And by the way, Joe also revealed this week that he's taking a break from Microsoft, but he will return to the company next summer.)
We're now just a few weeks from the official release of Windows 10 Mobile, and it seems Microsoft is increasing the rate at which it pushes out Insider Previews, in preparation for that launch. After releasing build 10549 last week, another new build arrived on Tuesday:
Microsoft didn't roll out a new Insider Preview for PCs this week, but some of those who installed the latest release, build 10565, have reported problems after installing a recent update. The update resulted in the dreaded Blue Screen of Death for many Secure Boot-enabled devices, and has since been pulled.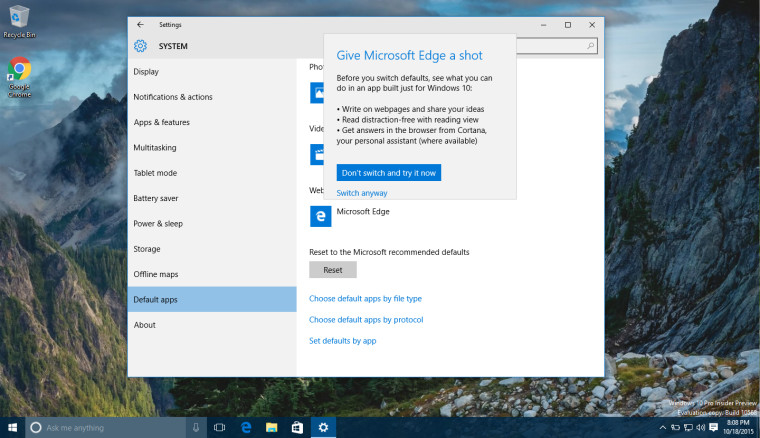 Newer Windows 10 build 10568 leaked last weekend, which led to the discovery of an upcoming feature in the OS. In the new build, if you attempt to switch from one of Windows 10's default apps to a third-party offering – say, choosing Google's Chrome browser instead of Microsoft Edge – a pop-up notice will appear, encouraging you to stick with Microsoft's app and give it a chance to impress you.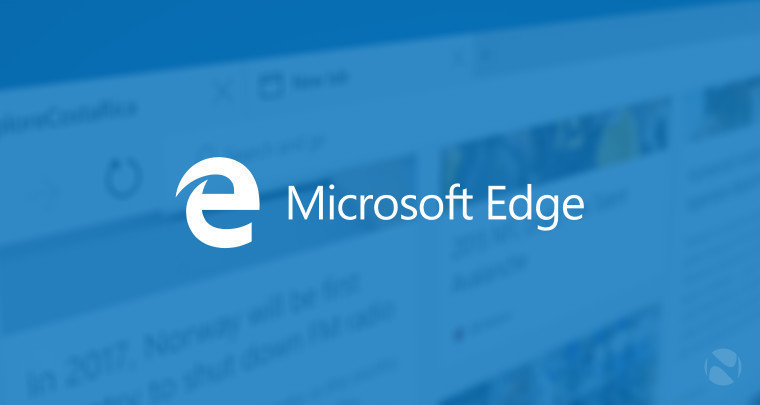 Of course, there are those who have already tried Edge and find it to be less than impressive, particularly given the gaps in its feature set. Unfortunately, Microsoft has delayed the release of one of Edge's most-requested features: despite previously indicating that support for extensions/add-ons would be available before the end of the year, the company confirmed this week that it won't roll out until 2016.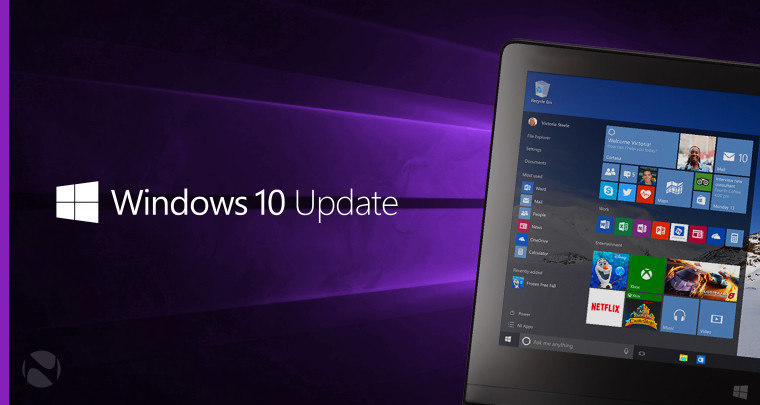 But Microsoft will deliver a significant Windows 10 update this year – in fact, the 'Threshold 2' release (also known as 'TH2') should make its way to PCs next month, bringing a wide range of new features and improvements, including many already seen in Insider Preview builds.
Some people who pre-ordered Microsoft's new Surface Book found this week that their orders had been cancelled, as a result of a 'potential fraud alert'. Microsoft said it was contacting affected customers to re-process their orders.
The Surface Book features a detachable tablet section, which contains the CPU and primary battery; and a keyboard section which includes a secondary battery, and which can also house an optional discrete GPU. Further details were revealed about the dGPU this week, and while that option was previously available only on Intel Core i7 models, it's now available on the most affordable Core i5 model as well.
Microsoft also opened pre-orders for its new Surface Pro 4 tablet with 1TB of storage, but you'll need deep pockets to buy one. It's priced at $2,699 – and even if you can afford it, it looks like you'll be waiting a while for it to be delivered.
The company also said on Tuesday that, even before its release, the Pro 4 is already a big hit with business buyers.
That's good news for Microsoft, which has been working hard to make its Surface devices appeal to businesses. On Tuesday, it strengthened its offering further, by announcing a new 'Complete for Enterprise' warranty and service plan, along with a new 'Business Device Trade-in Program'.
On Thursday, Microsoft delivered an update on how its own business is faring, with the publication of its quarterly financial results. The firm reported $4.6bn of net income on $20.4bn of revenue, but the performance of its various business units was a mixed bag. However, in an effort to further trim costs from its global business, it also cut another 1,000 jobs from its workforce.
ASUS is in talks with Microsoft to become the first third-party manufacturer to build a version of its new HoloLens augmented reality headset.
Lenovo unveiled its new Yoga 900 Windows 10 convertible on Monday, featuring the latest Intel Skylake processors, up to 16GB of RAM and 512GB SSD, and plenty of other juicy specs – and, yes, there's a 'Champagne Gold' option too.
*rolls eyes*
Like many other tech brands, Dell will be hoping to sell a ton of its devices this holiday season – and it looks like the company is preparing some pretty sweet deals for Black Friday, with highlights including a 14-inch Windows 10 notebook for just $150, and a $99 mini-PC.
Dell won't just be offering big discounts on its own hardware – there will be opportunities to save on other devices too, including a $299 Xbox One bundle with Gears of War: Ultimate Edition, the brand new Fallout 4, and an extra controller.
Microsoft said this week that it will soon be rolling out its new Windows 10-based user experience for the Xbox One to all Preview members, following a more limited rollout that began in August.
And for Xbox One owners who want to use their controllers to play games on their Windows 10 PC, Microsoft's $25 Wireless Adapter is now shipping worldwide.
In just a few days' time, one of the most greatly-anticipated games of the year will finally be released. Halo 5: Guardians – like earlier games in the hugely popular franchise – will be exclusive to the Xbox One, but series director Frank O'Connor said this week that "there is plenty of chance that Halo 5 could appear on the PC".
In anticipation of the game's release, Neowin's Matt Brown took a closer look at the $249.99 Halo 5: Guardians Limited Collector's Edition, with a gallery of photos showing just what you get for that kind of money, including a 14-inch commemorative statue.
Xbox didn't completely hog the gaming limelight this week though. Sony announced on Wednesday that it's dropping the price of its PlayStation 4 in markets around the world.
But before we wrap things up for another week, be sure to check out an editorial published earlier today by my colleague Christopher White, in which he takes a careful look at the future of data security, and realistically considers how cyberattacks are likely to evolve.
---
The week ahead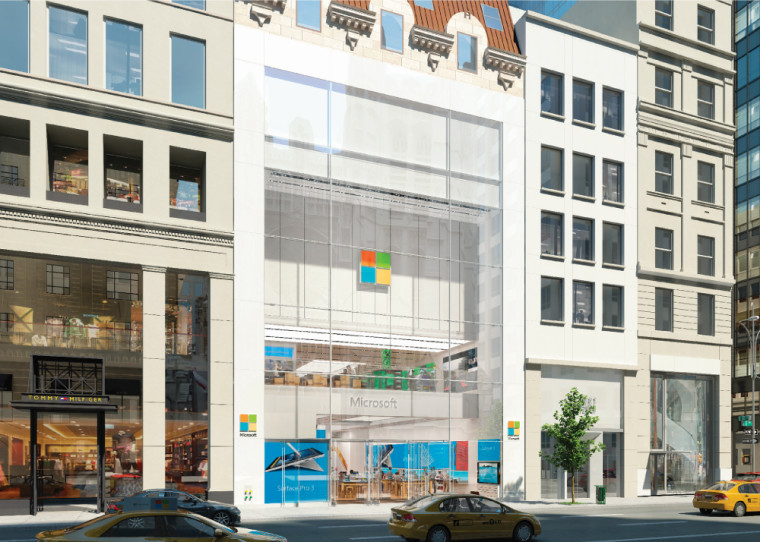 It's going to be a very busy week for Microsoft, starting on Monday, with the official release of its new Surface Pro 4 and Surface Book. On the same day, the new flagship Microsoft Store in New York City will open its doors – keep your eyes peeled for some great features here on Neowin about that in the days ahead!
Halo 5: Guardians will be released the next day, on October 27, and a few days later, on October 30, Microsoft's new Band 2 wearable device will go on sale.
Along with the usual mix of official news, juicy rumors, and intriguing insights, it should be another exciting week!
---
As ever, there's plenty more to read across the site – including loads of interesting discussions over on our forums. From all of us on the Neowin team, have a great weekend!