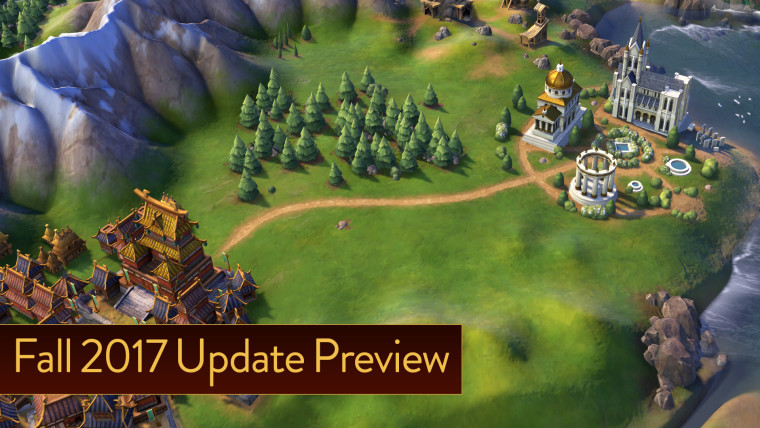 Seasonal updates to Firaxis' strategy title Civilization VI continue to arrive, with the developer now announcing the Fall 2017 Update. The update brings improvements to religion, which many fans have deemed not up to par, as well as a host of other improvements.
Two brand new Pantheons are being introduced, the precursors to religions, along with new "Founder, Follower, Enhancer, and Worship Beliefs." Two new buildings and the new Warrior Monk combat unit are unlocked using these beliefs. Religious combat is also receiving some improvements, with Firaxis saying "Religious units can now exert Zone of Control and receive Flank and Support bonuses in religious combat." The new religious support unit, the Guru, can also heal any religious units that are nearby.
In addition to the religion revamp, the developer highlighted some other improvements arriving with the update, including how AI will be a much more significant threat in the oceans. AI will now build more naval units to form armadas and fleets, while also being better at healing and protecting their naval units.
Firaxis teased that one of the upcoming new civilizations to the game make these naval improvements "especially exciting." According to some leaks and data mined information, two new civilizations are heading for the game soon, them being Indonesia and Khmer. However, take this information with a grain of salt as Firaxis is yet to confirm what these new civilizations will be.
Lastly, the UI is getting some enhancements, including an updated Diplomacy screen, religious icons on unit flags, as well as updated Great People art to make them feel more "great" which sounds pretty great overall. The developer is also removing "least useful Gossip messages" to lessen the spam so players can focus on important events.
There is no exact release date on when will the update drop, however, judging by Firaxis' track record of announcing updates shortly before releasing them, the Civilization VI Fall 2017 Update should not be that far off.
Source: Civilization
Don't forget to follow us @NeowinGaming on Twitter to keep up to date with our gaming coverage!