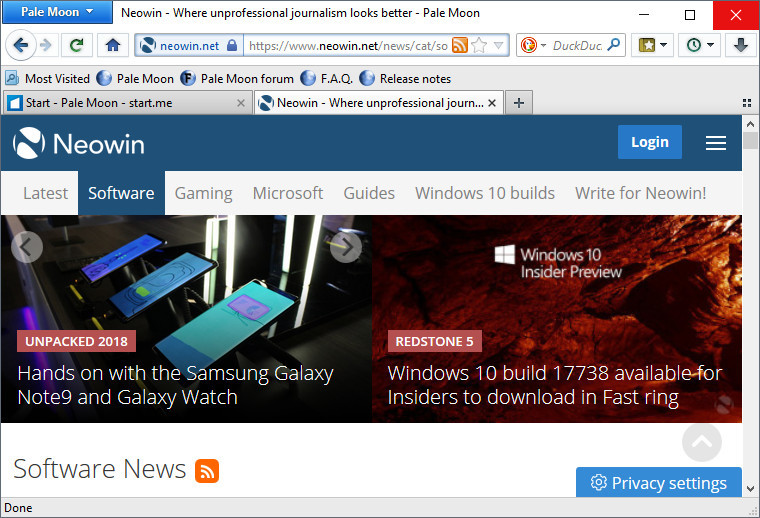 Pale Moon is an Open Source, Goanna-based web browser available for Microsoft Windows, Linux and Android, focusing on efficiency and ease of use. Make sure to get the most out of your browser!
Pale Moon offers you a browsing experience in a browser completely built from its own, independently developed source that has been forked off from Firefox/Mozilla code, with carefully selected features and optimizations to improve the browsers speed, resource use, stability and user experience, while offering full customization and a growing collection of extensions and themes to make the browser truly your own.
Features:
Optimized for modern processors
Based on proprietary optimized layout engine (Goanna)
Safe: forked from mature Mozilla code and regularly updated
Secure: Additional security features and security-aware development
Supported by our user community, and fully non-profit
Familiar, efficient, fully customizable interface
Support for full themes: total freedom over any elements design
Support for easily-created lightweight themes (skins)
Smooth and speedy page drawing and script processing
Increased stability: experience fewer browser crashes
Support for many Firefox extensions
Support for a growing number of Pale Moon exclusive extensions
Extensive and growing support for HTML5 and CSS3
Many customization and configuration options
Pale Moon 28.12.0 changes/fixes:
Added controls for WASM to the browser's preferences, and enabled by default.
Enabled various arbitrarily-disabled CSS functions.
Added the use of basic path descriptors (i.e. polygon) to css clip paths.
Implemented multithreaded request signal handling for the Abort API. Please see implementation notes below.
Updated the included US-English dictionary, adding approximately 2500 additional words.
Removed the DOM battery API. This was already disabled for privacy reasons for a long while.
Fixed an erroneous warning displayed on toolkit-only add-ons like supplied dictionaries.
Fixed an issue with the sessionstore tab load preference.
Improved the generation of the names of downloaded files to prevent confusion. (CVE-2020-15658)
Fixed a code issue with base64 encoding of data.
Fixed 2 safety hazards in JavaScript. (One being CVE-2020-15656) DiD
Fixed a spec compliance issue with regards to the cross-origin loading of scripts. (CVE-2020-15652)
Improved the loading of a system DLL on Windows, preventing low-risk hijacking potential. (CVE-2020-15657) See implementation notes.
Unified XUL Platform Mozilla Security Patch Summary: 4 fixed, 2 defense-in-depth, 15 not applicable.
Implementation notes:
In 28.11.0, we introduced the Abort API as new code. The implementation of it still had an issue where especially web workers would not always see the availability of abort signals on fetch requests while AbortSignal was implemented in the browser. This effectively made some websites (especially those using a particular polyfill for the Abort API that would detect the need to polyfill by way of Request.signal) throw errors that were fine before. We offered users a workaround by temporarily disabling the AbortController in the browser by way of a preference (dom.abortController.enabled). v28.12.0 fixes the multi-threaded handling of signals, which should solve these problems. As such, the workaround is no longer needed and upon upgrade the preference will be reset to enable AbortControllers again.
DLL-hijacking on Windows would only be possible if a malicious actor already either gained administrative access to the program's installation folder or otherwise have unrestricted access to the program folder (by having it installed in local application folders inside the user's profile space or other insecure program locations). In that case the system is already compromised and any executable can be replaced, so having dll loading hijacked would be the least of your concerns (i.e. the main program .exe could also be replaced/infected in that case).
Download: Pale Moon (32-bit) | Portable 32-bit | ~40.0 MB (Freeware)
Download: Pale Moon (64-bit) | Portable 64-bit
Links: Pale Moon Homepage | Add-ons | Themes | Extensions
Get alerted to all of our Software updates on Twitter at @NeowinSoftware