The Omni 27 is HP's latest all-in-one that shares many aesthetic characteristics with the TouchSmart 520 we recently reviewed, despite being in a different class. Inside we find a third-generation Intel Core i5-3550S Ivy Bridge processor clocked at 3.0GHz, 8GB of DDR3 memory, a 2TB Hitachi hard drive spinning at 7,200 RPM, Radeon HD 6550A graphics and Beats Audio. There's also an HDMI-in port so you could use this display as an HDTV to watch cable programming from a set-top box or play console games.

There's a 27-inch display tucked behind the edge-to-edge glass that admittedly looks much cleaner than what we saw on the 520. The difference here is that the Omni's 27-inch display isn't touch-sensitive, something a lot of people won't really miss in a pre-Windows 8 desktop system, or a desktop in general. The display operates at 1920x1080 which is considered the bare minimum for a screen this size. There are LCD monitors and all-in-one competitors in this size capable of 2560x1440.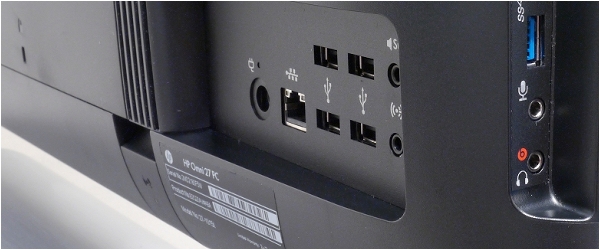 The sound bar lines the bottom of the display and is accented with an HP logo on the left and the Omni 27 badge on the right. A Beats Audio badge is on the top left of the display while a webcam is centered at the top of the screen. The system power button can be found on the top right of the system much like we have seen on HP monitors.
Read: HP Omni 27 Quad All-In-One Review
These articles are brought to you in partnership with TechSpot.