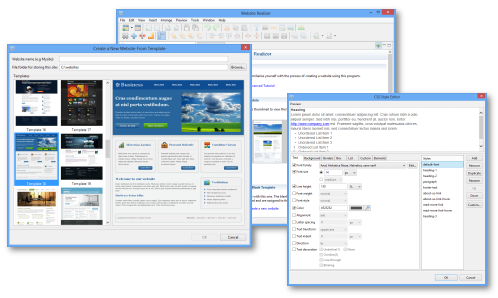 Website Realizer is a Windows website builder for building and designing websites. Website Realizer comes with free templates and includes all the necessary tools to create your websites easily. Drag and drop images to the pages and add text using a what-you-see-is-what-you-get (WYSIWYG) editor in this website builder. All HTML code will be generated automatically. Browse through some sample websites to see what you can create.

This website builder features WYSIWYG editors, so it is easy to insert text, tables, images, forms and horizontal lines, just as you would in your favorite word processing program. More than this, you can also add audio and video files, preset javascript effects and PayPal buttons to the web pages. All HTML code will be generated automatically. You do not need to write a single line of HTML code.

What's new in this version:
Support embedding image data directly into the style sheet using Data URI. A new option "Use Data URI" is added to the CSS Style Editor and the Navigation Bar Editor. Use it on small images may be able to speed up the loading of pages. Do not embed larger images as this may slow down page loading. Please note that Internet Explorer 7 (IE7) and below do not support Data URI so your visitors using these browsers will not see the embedded images. The image data will only be embedded in the style sheet when pages are either published to a local directory or to a web server.
A new option for publishing opened pages is added to website publishing dialogs.
Support using lighter and bolder keywords and defined numeric values (100, 200...900) in CSS font weight property.
Detach the setting of background image from the other background styles in the CSS Style Editor so that they can be defined in different style rules to facilitate using CSS image sprites.
Update program to detect new versions of Opera browsers.
Highlight the selection that was made at each level of a sub-menus on a navigation bar (Internet Explorer 6 not supported).
Fix program crash problem on rare and random occasions when a page is closed.
Download: Website Realizer 1.7.15 | 69.4 MB (Shareware)
View: Homepage | Online Manual | Screenshots