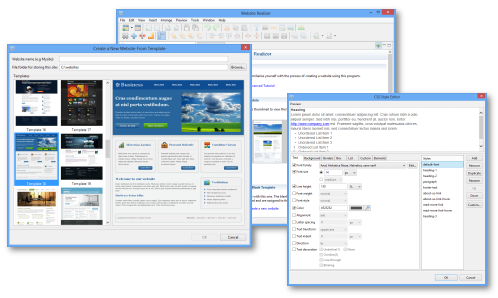 Website Realizer is a Windows website builder for building and designing websites. Website Realizer comes with free templates and includes all the necessary tools to create your websites easily. Drag and drop images to the pages and add text using a what-you-see-is-what-you-get (WYSIWYG) editor in this website builder. All HTML code will be generated automatically. Browse through some sample websites to see what you can create.

This website builder features WYSIWYG editors, so it is easy to insert text, tables, images, forms and horizontal lines, just as you would in your favorite word processing program. More than this, you can also add audio and video files, preset javascript effects and PayPal buttons to the web pages. All HTML code will be generated automatically. You do not need to write a single line of HTML code.

What's new in this version:
Add Honeypot Captcha to "PHP - Send Form Data to Email". It is a simple captcha to stop spambots.
Support touch events on navigation bar so that drop down menus can be opened by tap action on mobile devices.
Update Nivo Slider to include Box Effects.
Improve the way to get the dimensions of video files when they are inserted on a page.
Add two new website templates.
Fix the failing of the CSS compressor to compress the CSS file and stop the publishing process altogether when using Data URI for larger background images (over 4KB).
Fix image files with extension in upper case are not encoded in Base64 when "Use Data URI" is selected.
Fix the bug that a new form is not selected automatically after being added on a page.
Download: Website Realizer 1.7.16 | 71.9 MB (Shareware)
View: Homepage | Online Manual | Screenshots