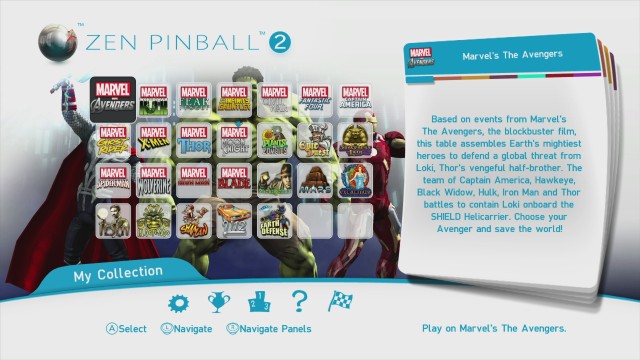 Zen Studios is continuing their silicon-based pinball dominance. A few weeks ago, the company released three Star Wars tables, and our overall view of them was extremely favorable (they're now available on Windows 8 too!). Indeed, almost every table we've played from Zen Studios has been a lot of fun and very addicting.
While the pinball tables have been available on almost every currently available platform, the Wii U has been noticeably absent with only a Youtube trailer posted back in December indicating that Zen Studios was interested in supporting the latest Nintendo console. Today we have word, via a press release, that Zen Pinball 2 (the same as Pinball FX2 on Xbox/Windows) will be released on the Wii U on March 21st. The base platform will be a free download through the Nintendo eShop, and gamers will pay for the individual tables. Details of the differences between the Wii U version and that of other platforms are vague at this point, but the trailer indicated that the game will have "split screen multiplayer with the Wii U gamepad."
The following tables will be available at launch:
Zen Classic Pack featuring Tesla, El Dorado, V12, Shaman
Marvel Pinball featuring Spider-Man, Wolverine, Blade and Iron Man
Marvel Pinball: Avengers Chronicles featuring Marvel's The Avengers, Infinity Gauntlet, World War Hulk, Fear Itself
Marvel Pinball: Vengeance and Virtue featuring X-Men, Thor, Ghost Rider, Moon Knight
Individual DLC Tables: Excalibur, Earth Defense, Sorcerer's Lair, Paranormal, Mars, Epic Quest, Plants vs. Zombies, Fantastic Four, Captain America, Civil War
The Star Wars themed tables are conspicuously absent from the announcement. When asked for a release date, we were given a cryptic message: "Nothing definitive on Star Wars for Wii U, but the Force is strong on Wii U." We assume this means that gamers will be able to fight the Evil Empire on their Wii U at some point in the near future.
Details of pricing have not yet been announced, but we assume they will be in line with the other systems and won't cost you $70 to play.
Source: Zen Studios press release | Image via Zen Studios