Huawei's MateBook X Pro has long been one of my favorite consumer PCs. It's thin, it's light, it's powerful, and it's just awesome. It was always the company's top-end PC, taking a swing at Apple's MacBook Pro.
Now, here we are in 2021 and not much has changed. There's a new color called Emerald Green that I'm absolutely in love with, and it's a nice departure from the previous gray color. And of course, it uses 11th-generation Intel processors, but instead of dedicated graphics this time, it uses Intel's integrated Iris Xe graphics.
The chassis itself hasn't changed, and there's still no webcam in the display. Indeed, Huawei's solution for a privacy guard was to actually put a pop-up camera in the keyboard.
Specs
CPU
Intel Core i7-1165G7
GPU
Iris Xe
Body
304x217x14.6mm, 1.33kg
Display
13.9 inches, 3000x2000, 260ppi, 450 nits, 100% sRGB, 1500:1 contrast ratio, 178-degree viewing angle, touch, 91% screen-to-body ratio
Memory
16GB LPDDR4x 4266MHz
Storage
1TB NVMe PCIe SSD
Battery
56WHr Lithium polymer
Connectivity
IEEE 802.11 a/b/g/n/ac/ax
2.4 GHz and 5 GHz
2 x 2 MIMO
Support WPA/WPA2/WPA3
Bluetooth 5.1
Ports
(2) Thunderbolt 4
(1) USB 3.2 Type-A
(1) 3.5mm audio
Input
Full-size Backlit Chiclet Keyboard
Touchpad with Multi-touch and HUAWEI Free Touch
Huawei Share Built-in
Webcam
1MP Recessed Camera (720P HD)
Audio
Speaker x 4
Microphone x 2
Material
Aluminum
Color
Emerald Green
OS
Windows 10 Home
Price
€1,899.00

Day one
Design
If you go back to my review of the original MateBook X Pro back in 2018, you'll find the specs almost identical to the specs of the 2021 model, down to the millimeter and gram. Nothing has changed in terms of the actual hardware, not that that's a bad thing. It's not like the design itself feels dated.
It still weighs in at just one and a third kilograms, and it's 14.6mm thin. Plus, there's a new Emerald Green color. It kind of reminds me of Microsoft's Cobalt Blue color from its Surface Laptop lineup, a color that it just killed off with the Surface Laptop 4. I'm a huge fan of bold, beautiful colors like this, and I feel like it's something that few laptop makers take advantage of. Everyone sticks to that boring gunmetal gray color; it's like black on smartphones.
Microsoft is moving toward more subtle colors in its Surface lineup. I'm really happy to see bolder colors from Huawei, although I'm not surprised that the Shenzhen firm can innovate with colors and design. I visited its design center in Paris a few years back and they work on some cool stuff.
The lid has the word Huawei stamped in it with silver letters, giving it a bit of extra flash. It's different from the petal logo that was on the original version.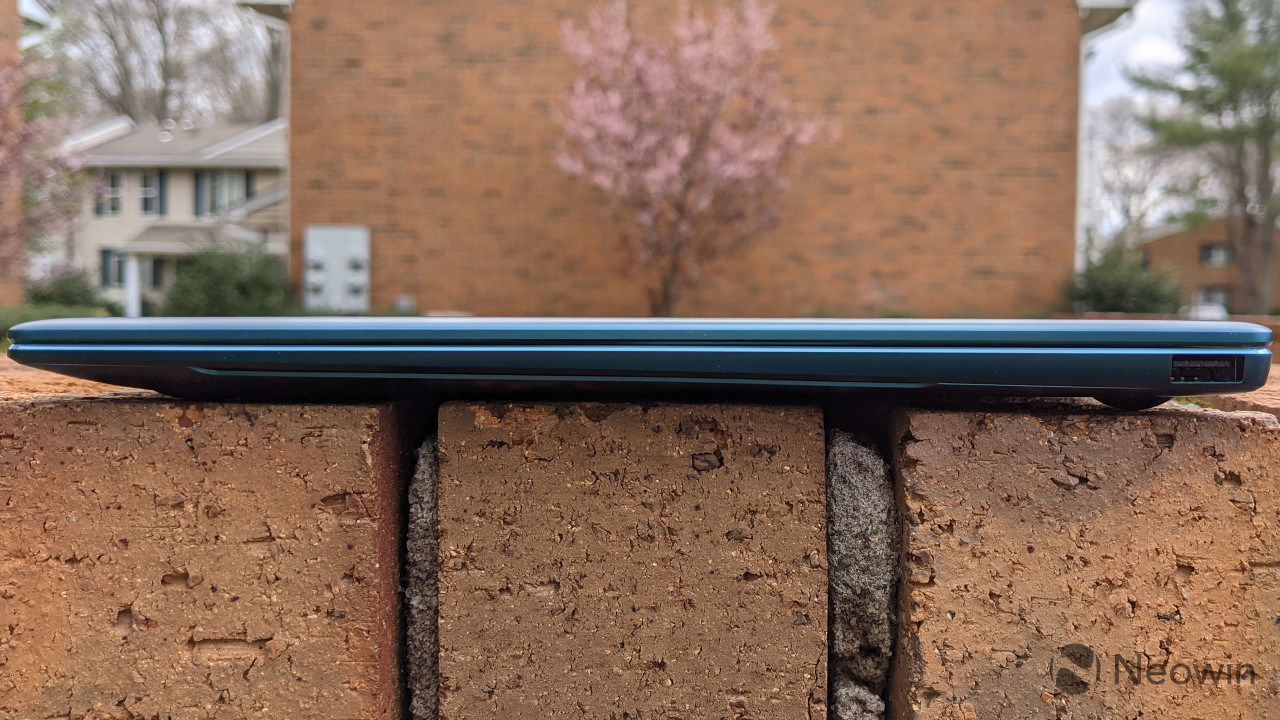 While this is quite a thin PC, it doesn't sacrifice USB Type-A. Indeed, that's actually one of the "Pro" aspects of it that separates it from the regular MateBook X, which is USB Type-C only. You'll find the lone USB Type-A port on the right side of the PC.
On the left side, there are dual Thunderbolt 4 ports and a 3.5mm audio jack. Oddly, Huawei doesn't actually describe them as Thunderbolt on its spec sheet, but the page is very clear that each port supports dual 4K monitors and 40Gbps data transfer speeds. In other words, they\re Thunderbolt 4 ports.
I love the look and feel of the Emerald Green MateBook X Pro. I can't go on about the color enough. It really stands out from the pack, and it's bound to catch some eyeballs if you're out and about with it.
Display and audio
The screen has not changed since the first generation model. It's that same 13.9-inch 3000x2000 touchscreen, and actually, touch support is another feature that made it "Pro" over the MateBook X back in the day. It's got a 91% screen-to-body ratio, because the bezels are just so tiny on all four sides.
Indeed, there isn't even a webcam in any of the bezels. Indeed, the bezels are about as small as they can possibly get.
And the 13.9-inch screen feels like a good size. I don't talk about this a lot, but the more common 13.5-inch size with a 3:2 aspect ratio (Surface Laptop, Surface Book, ThinkPad X1 Titanium, Spectre x360 14) always feels just a bit too small for me. I often use two apps side-by-side, so being that 3:2 makes it taller, the screens tend to not be quite as wide as a 13-inch 16:9 laptop. At 13.9 inches, I feel like there's a bit more room to work, and it makes a difference to me.
Huawei also just makes good screens. The colors are vibrant, and the brightness is 450 nits, which is a proper brightness level. When working indoors, you can set it to areound 33% brightness and still feel comfortable, and then turn it up if you're in bright sunlight.
In my opinion, you should never have to set anything to 100% in order for it to be comfortable. That goes for brightness, for volume, and for anything else. If you have to use it at 100% in normal circumstances, you're not giving yourself any room for abnormal circumstances.
And just like you won't have to use the display at 100% brightness, you won't have to use the four speakers at 100%. The speakers sit on either side of the keyboard, and this time around, I'm not finding any Dolby Atmos branding on this machine. Still, the audio is crystal clear and gets uncomfortable loud, as speakers should do. If you care about audio quality and volume in a laptop, this is something that Huawei has focused on since it started making laptops.
Keyboard, touchpad, and webcam
As I've said a few times, nothing has changed in the external hardware, and that includes the keyboard. This is where the big problem comes in. It's not the keyboard itself, which is actually quite good. It feels modern, comfortable, and accurate. The model that Huawei sent me actually has a UK keyboard, which took a bit of getting used to, but it's fine.
The big problem is the webcam. In most reviews, I talk about the webcam in the "Display" section, because on most laptops, the webcam is in the lid. That's not the case on the MateBook X Pro. The MateBook X Pro has the webcam in the keyboard; it's a pop-up between the F6 anf F7 keys. The pop-up nature of it doubles as a privacy guard.
When Huawei introduced the pop-up camera in 2018, it was a brilliant idea, the same as when Dell used to put the webcam below the display on its XPS laptops to give us thinner bezels. These companies had data that showed that for most consumers, the webcam simply wasn't important, and if it is, you can buy something else. That changed in 2020 though; a pandemic caused a lot of people to work from home, and now that webcam is a staple to our work flow.
That's the angle that you're going to get from the webcam if you're on a call. Also, the quality isn't particularly good either, being a 720p webcam instead of 1080p, not that it really matters at that angle.
Next up is the touchpad, which is nice and big, taking advantage of the available real estate on the deck. Here's the twist: it's actually a haptic touchpad. For the most part, you probably won't notice a difference from a mechanical touchpad. When you click it, it feels like a proper click. It's just kind of wild when you turn the PC off and nothing happens when you press it. Actually, it's also worth noting that if the MateBook X Pro is asleep, you can't use the touchpad to wake it up because of this.
I feel like for most haptic touchpads, there are a few kinks that need to be worked out, like being able to wake the PC from sleep. Another thing that's good on this PC (compared to some others) but not perfect is using two fingers to drag and drop something. With a mechanical touchpad, it's fine; you just press with one finger, drag, then press with a second finger before using that to drag. With some haptic touchpads, it doesn't pick up that second finger properly, making drag and drop operations a pain. Like I said, this one is pretty good and you probably won't notice significant issues.
Speaking of not being able to wake it with the touchpad, you can of course use the power button, which is located to the top-right of the keyboard. It's got a fingerprint sensor built into it, one of my favorite features of MateBooks in general. It scans your fingerprint when you first press it, so you don't have to touch it again after the PC boots up. It just logs you in. Huawei makes really good fingerprint sensors too, so it's accurate.
One other thing that's awesome is that if you're in the Huawei ecosystem, this thing is amazing. It has Huawei Share built in, so you can tap your Huawei phone against it and share a bunch of photos and videos. Also with things like Multi-screen Collaboration, the company has really been focusing on tight integration between its products.
Performance and battery life
The configuration of the MateBook X Pro that Huawei sent me includes an Intel Core i7-1165G7, 16GB RAM, and a 1TB SSD. Indeed, it's the fully specced out model, although the Shenzhen firm really doesn't allow you to make a lot of compromises. You can get it with a Core i5-1135G7, 16GB RAM, and a 512GB SSD, but there's no option for 8GB RAM or 256GB of storage. I'm a big fan of not allowing consumers to make bad choices.
This is actually the first version of the MateBook X Pro that doesn't have dedicated graphics. Historically, it's used something from Nvidia's MX series, which is for thin and light ultrabooks for this. Indeed, the MX series has never been particularly good, but it's always just carried that label of being better than integrated graphics.
What's changed now is that Intel's integrated graphics are good, really good in fact. It's called Iris Xe, and I assume that Huawei just decided that Iris Xe was good enough to not use something like an MX450 GPU. Indeed, I don't feel like we're missing out on anything.
Intel's 11th-gen processors are pretty great for anything from productivity to FHD gaming to creative work. In fact, it's worth notiong that with the previous MateBook X Pro, Huawei actually used 10th-gen 'Comet Lake' instead of Ice Lake, so it didn't use Iris Plus Graphics. That means that this year's model is that much more of an upgrade.
With the power slider on one notch above battery saver and the screen at around 33% brightness, I was able to get seven to eight hours of battery life with regular usage. That actually really impressed me because Huawei's own specs page said that it gets 10 hours of local video playback, so it's not making any bold claims like Windows OEMs typically do. Typically, it's the companies that are promising 18 hours of batter life that are putting out machines that get eight hours of juice. I'm sure that if I left a local video on a loop, it would get at least 10 hours, perhaps even more at the settings that I used.
For benchmarks, I used PCMark 8, PCMark 10, Geekbench, and Cinebench.
MateBook X Pro
Core i7-1165G7
MateBook X Pro
Core i7-8565U, MX250
IdeaPad Slim 7
Ryzen 7 4800U
Spectre x360 14
Core i7-1165G7
PCMark 8: Home
3,839
3,186
4,566
4,094
PCMark 8: Creative
4,598
3,471
4,861
4,527
PCMark 8: Work
3,541
3,305
3,926
3,896
PCMark 10
4,692
3,774
5,252
4,705
Geekbench
1,518 / 4,929
1,414 / 4,470
Cinebench
1,361 / 4,119

Conclusion
There's a lot of good here, and unfortunately, one major deal-breaker. Huawei took what's historically been a winning formula and basically bumped up the specs. It's got a new Emerald Green color and a haptic touchpad, but for the most part, the thing that's new here is the addition of 11th-gen processors and the lack of a dedicated GPU. And being that this has always been a winning formula, it's understandable to see why Huawei didn't think to change it.
Unfortunately, the webcam is unusable. I'd never show up in any professional setting using a webcam like this, especially when we're well over a year deep into a pandemic. Seriously, we all should have figured out proper webcam set-ups right now where we can at least be close to eye-level.
If you're buying a PC and for some reason, you have no interest in the webcam, then you're good to go here. I just don't know how common that can possibly be right now. The recent spike in PC sales is due to people needing to work from home, and if you're working from home, then you need a proper webcam.
It's a shame because the rest of this laptop is just so good. The Emerald Green color is bold and sexy, and Huawei gives us a 13.9-inch display that's just a bit bigger than what you'll find on the 13.5-inch Surface Laptop or Surface Book. It also comes with phenomenal audio quality, better than most laptops on the market. All around, this really is a fantastic machine, just with a terrible webcam.
If you want to check it out, you can find it here.
Pros
Beautiful design Great performance Big 3:2 display Audio quality Solid keyboard