The Xbox One has had a few issues with Headsets since it launched late last year. The Optical out-option on the Xbox One has only recently allowed Dolby 5.1 surround sound out of it and it even took until March for Microsoft to release proper headset support via their Stereo Headset Adapter.
The good news is that most of these issues have been rectified, and despite my personal disappointment that the Xbox One can't do at least 5.1 surround sound via the headset adapter to reduce cabling I'm pleased to say my first foray into Xbox One headsets thanks to the Turtle Beach XO Seven has been pleasing.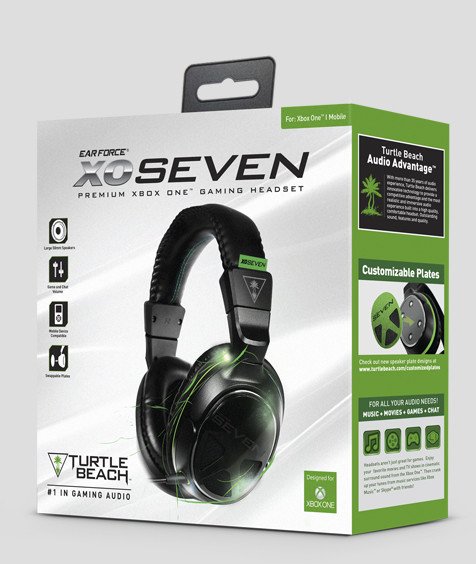 Turtle Beach have been some of my favourite headset makers for some time. I find their headsets comfortable to wear for long stretches of gaming which makes all the difference at times. They are also highly configurable with removable mics, settings and more.
So the XO Seven is classed as a premium Xbox One Gaming Headset. It's certainly well-built and weighty with a good look to it. The trim of the headset mixes in blacks with the Xbox's token green colours. It comes with swappable speaker plates which you can buy online from Turtle Beach in varying designs for around £12.50 each.
The feature list is pretty much what you would expect from a wireless headset designed specifically for the Microsoft console:
Wireless to the Xbox One™ Console
Full Chat Functionality on Xbox One
Game and Chat Volume Mix Controls
Swappable Speaker Plates
Premium 50mm Neodymium Speaker Drivers
Noise-Isolating Memory Foam Ear Cushions
Mobile device compatibility
The XO Seven is a breeze to setup, it is as simple as making sure that your Xbox One is up to date with the latest firmware and that you also update the controller firmware too. Doing this involves connecting up your controller via a provided USB cable and running the firmware update option within the Xbox One settings.
Once the firmware update is done, attach the Microsoft headset adapter to the Xbox One Controller and then the XO Seven to the Adapter via the provided Headset Breakaway Cable. Then you are ready to go, it is as simple as that.
There are no other cables to attach (other than the boom mic if you want in-game chat) unlike most surround sound headsets, this is down to the fact that the XO Seven operates in stereo only.
If you have previously updated your controller firmware, you really must make sure you have updated to the latest version. The reason I say this is that the older build caused crackling and breakup for some people (Including me) and this has been eradicated in the latest version and sound quality is far better than before.
This headset is comfy, so comfy that now and then I forgot that I was even wearing them, which can only be a good thing. Sound quality is great, despite the lack of the surround sound. Playing games like Titanfall fill up the headset with all manner of noises and the XO Seven doesn't flinch once and remains clear even at higher volumes.
For those who like to game as quietly as possible so as not to disturb anyone else in your household, you will be pleased to know that the noise isolation works well with only a small amount of sound escaping, compared to another headset I'm currently reviewing you hardly hear a peep.
Chat is an important part of this headset and from the party chats and in-game chatter I have had with other people while playing games such as Plants Vs Zombies: Garden Warfare and Titanfall, everyone has said how clear the audio is coming directly from the XO Seven mic. Voice quality coming back through the headset from other gamers always varies in quality, though this is due to connection speeds, varying headsets and more, rather than any issue with the XO Seven headset itself.
Final Thoughts:
Overall the XO Seven is excellent, voice quality via the mic has been superb and the audio levels and clearness of sound when in-game is great. The XO Seven is also very comfortable to wear for long lengths of time and this is where it differs from many other cheaper headsets. The lack of needing to charge it despite being wireless is also a plus for many users who don't want all the cables around.
Yes you could argue that the price is a little high for a stereo headset, but the sound is great and the build quality is a step above anything else you'll find right now.
Pros
Great build quality Excellent Mic Great sound range