Get free copies of MP4 To MP3 Converter to extract MP3 audio from MP4 and more video formats immediately. Powerful Tool to Convert MP4 To MP3, Get it For Free!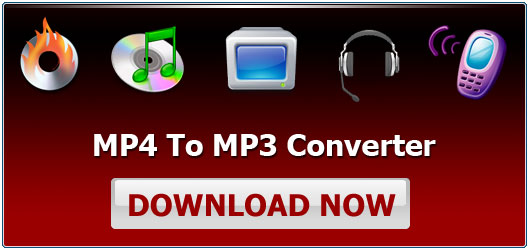 The MP4 to MP3 converter software is a shareware windows application which is designed to extract audio files from MP4 and other popular video formats. This software can convert almost 20 audio and video formats to the standard MP3 format. MP3 audio format is a highly accepted format in the market. Many audio and video players today mainly support WAV and MP3 format. Thus, by using this software users can convert MP4, AVI, MOV, FLV, WMV and other video formats to audio formats such as FLAC, WMA and MP3. This audio conversion software offer accurate conversion at great speeds. The converter software is designed simple to be user friendly. Complex programming is involved in the software to convert the media files from one format to another. The process of conversion of one media format to another is just 3 steps away. The first step is to add the desired files to the software for conversion. The MP4 to MP3 converter software also offers a batch mode conversion option to convert multiple files to a particular format at the same time.

You can use MP4 To MP3 Converter as:

- YouTube to MP3 Converter
There are many online and free YouTube downloaders on the web, so users can download their favorite music videos from YouTube as MP4/MPEG4 format. With MP4 To MP3 Converter, they are able to convert MP4 videos to MP3 music for portable devices.

- Video to MP3 Extractor
Besides MP4 format, MP4 To MP3 Converter also supports several popular video formats like MPEG, MOV, WMV or AVI etc. It can extract MP3 from most of popular video formats.

- WAV to MP3 Encoder
WAVE is a lossless audio format but WAV files are big. People can encode WAV to MP3 format and set a better bitrate for conversion immediately with MP4 To MP3 Converter.

- MP3 Cutter
Converting MP4 to MP3 is not enough for users. With Cut Feature (in Settings), users can cut audio files to a piece of MP3. That means they can make ringtones from MP4 videos.

This giveaway is 100% clean and free and the giveaway is available here. The giveaway will be closed on 2012 April 13th, and estimated to give away more than 50,000 copies, which is worth $1500K USD at least.