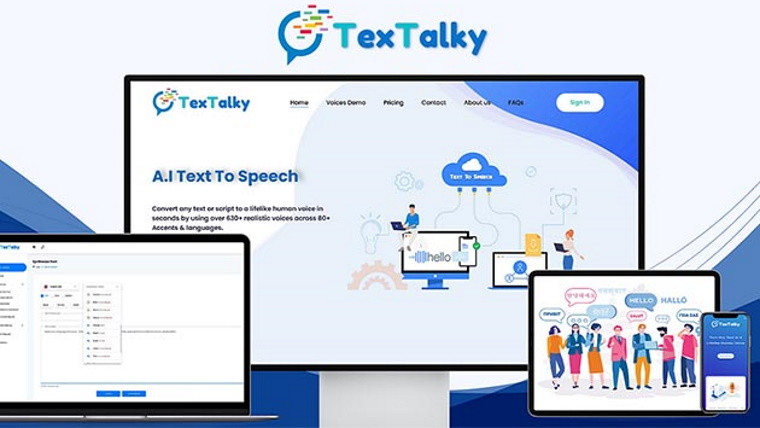 Today's highlighted deal comes from our Apps & Software section of the Neowin Deals store, where you can save 93% off TexTalky AI Text-to-Speech: Lifetime Subscription.
---
Turn any text or script to a lifelike natural human voice in easy 3 steps using Textalky, a powerful AI text-to-speech synthesizer. No robotic voices! TexTalky uses the latest cloud-based AI technology powered by Google, IBM, Microsoft, and Amazon. It covers more than 128 international languages & accents and over 745 kinds of lifelike human voices that meet most of your needs. Unlimited use cases! From YouTube narration and marketing content to documentaries and podcasts, you can choose your synthesized audios to turn out exactly how you need them.
Text-to-speech. Converts any text to lifelike human voice in seconds
Latest AI technology. Cloud-based; powered by Google, IBM, Microsoft, & Amazon
International accents & languages. 745+ realistic male/female voices across 128+ languages
Cloud-based. No app installation required; it's all online
Fast, easy sharing. Export file as MP3, OOG, or WAV
Unlimited use cases. YouTube narration, marketing content, audiobooks, podcasts, & more
Features & Benefits
Lifetime access to Textalky
2,000,000 Characters first, Then 300,000 Char./Month Forever!

All available languages & voices

50,000 characters monthly for lifetime (after the end of welcome credits)
745+ type of voices (male & female)
128+ languages & dialects
SSML tags support (voice effects)
Free commercial use of all voices
Here's the deal:
This TexTalky AI Text-to-Speech: Lifetime Subscription normally costs $540, but it can be yours for just $37 for a limited time, that's a saving of $503 (93%) off! For full terms, specifications, and license info please click the below link.
More Neowin Deals.
---
We post these because we earn commission on each sale so as not to rely solely on advertising, which many of our readers block. It all helps toward paying staff reporters, servers and hosting costs.
Other ways to support Neowin
The above deal not doing it for you, but still want to help? Check out the links below.
Disclosure: An account at Neowin Deals is required to participate in any deals powered by our affiliate, StackCommerce. For a full description of StackCommerce's privacy guidelines, go here. Neowin benefits from shared revenue of each sale made through our branded deals site.