If you've been thinking of buying a nice shiny new Android device, now might be a good time to take the plunge - as long as you don't mind AT&T. The US carrier is running a rather nice little promotion which might just help to sweeten the deal for you.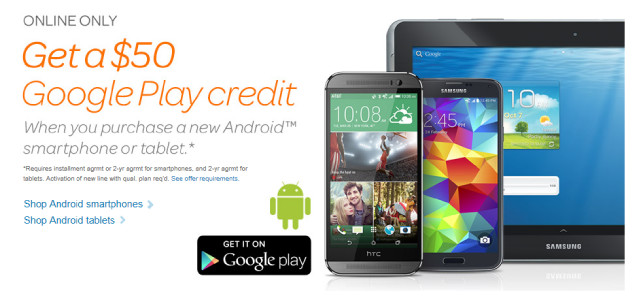 Between now and June 17 2014, anyone purchasing an Android smartphone or tablet with a two-year plan, or on finance through an AT&T Next installment agreement, will get $50 of credit to spend on Google Play. The offer is valid only for those purchasing their device online via att.com, so if you buy yours in an ol'-fashioned brick and mortar store, there'll be no free Google-bucks for you. 
The voucher code will be sent to those whose purchases qualify within seven business days of purchase, and can be used not just on Android apps, but also on stuff like music, movies and books too. However, you won't be able to spend it on any purchases of hardware or subscriptions available on the Play store. 
The code itself must be redeemed by July 31 2014, but once it's been redeemed, it will be valid through to May 15 2015, giving you plenty of time to spend it.