Lenovo's Yoga C640 has an Intel processor this time around, unlike the Snapdragon-powered Yoga C630. It's the entry level for the company's Yoga series of convertibles, starting at $599. For that price, you get an Intel Core i3-10110U, 8GB RAM, and 128GB of storage.
It's a solid build, and just what I'd expect for around $600. The only problem is that I think you could do a bit better with your money. Lenovo also offers the Flex 5 with AMD Ryzen 5 4500U processors for right around the same price, and I'm having trouble why I shouldn't tell you to buy that instead. Not only does it have a far superior processor, but the pen comes included in the box.
Standing on its own, the C640 definitely feels like a winner, with a premium build quality and surprisingly good performance for a dual-core Core i3 processor.
Specs
CPU
Intel Core i3-10110U (2.1GHz)
GPU
Intel UHD Graphics
Body
306x204.48x16.95mm (12.05x8.05x0.67in), 1.35kg (2.98lbs)
Display
13.3" (1920 x 1080) IPS, 300 nits, anti-glare multi-touch
Memory
8GB (DDR4-2666)
Storage
128GB SSD
Ports
(1) USB 3.1 Type-C Gen 1 (with the function of Power Delivery, DisplayPort)
(2) USB 3.1 Type-A Gen 1 (Always On USB)
(1) 3.5mm stereo audio / microphone combo jack
Connectivity
Wi-Fi 2x2, Wi-Fi + Bluetooth 5.0, M.2 card, CNVi
Camera
720p HD fixed-focus, TrueBlock privacy shutter
Audio
Lenovo speakers with Dolby Atmos certification 2W x 2 dual-array microphone
Battery
60WHr
Color
Iron Grey
Material
Top: Aluminum
Bottom: PC+30% Glass Fiber
OS
Windows 10 Home
Price
$599

Day one
Design
The Lenovo Yoga C640 has that sleek and modern design that I'd expect from a Yoga convertible, made of aluminum and weighing in at less than three pounds. Unfortunately, it's both heavier and thicker than its predecessor, but that's what you'll get when switching from Qualcomm to Intel. Not only does the PC require a fan now, but it also ditches perks like 4G LTE connectivity.
It comes in the Iron Grey color that should be familiar to anyone that follows the Yoga line, and the Yoga logo stamped in the lid should be equally familiar. In other words, there's really nothing new where the design is concerned. It follows all of the Yoga standards that we've seen over the past few years.
With a thicker body, however, comes more ports. Last year's yoga C630 WOS (Windows on Snapdragon) only had a pair of USB 3.1 Gen 1 Type-C ports. This year, it adds back the USB Type-A ports, both of which are USB 3.1 Gen 1. You'll find one on the left side, along with the 3.5mm audio jack and a barrel charging port.
There's another one on the right side, along with a USB 3.1 Gen 1 Type-C port and a power button. There's some bad news here, which is that you can't use the USB Type-C port for charging. This, to me, is inexcusable. Again, this is something that the Flex 5 does offer.
USB Type-C charging is something that's tremendously useful. Even if it doesn't ship with a USB Type-C charger, it's nice to be able to do it. It means that you can use the same charger for different devices, and I can guarantee that at some point in the lifetime of the PC, you'd find that useful.
Display and audio
The Yoga C630 includes a 13.3-inch FHD touchscreen, and the resolution gives you a big enough pixel density for a 13-inch device. The brightness comes in at 300 nits, so you might have an issue in direct sunlight. If you work outdoors a lot, you should definitely look into something that's a little bit brighter. Also, Lenovo calls this screen anti-glare, but it's still pretty glossy.
The display does support pen input, although the pen doesn't come in the box. You'll have to shell out an additional $69.99 for the official Lenovo one, or you can pick up a third-party pen. I normally wouldn't fault Lenovo for not including a pen. To me, it's a common sense way to shave a few dollars off the price and hit that budget price point. However, and I know I keep bringing up the Flex 5, but that does come with the pen.
The bezels are about what you'd expect. They're fairly slim on the sides, while the top and bottom are larger, with the top bezel fitting a webcam. The webcam has a privacy guard built into it, so you don't have to worry about putting a piece of tape over it or anything like that. There's also no IR camera, which can be frustrating to use if you make use of the privacy guard. Luckily, there's a fingerprint sensor for biometric authentication.
The yoga C640 includes dual 2W Dolby Atmos speakers, and I have to say, they sound great in terms of both clarity and volume. The speakers sit on both sides of the keyboard deck, so they fire right up at you. Unfortunately, that also means that if you're using it as a tablet, they're firing away from you, or if you're using it in presentation mode, they're firing down.
Still, these are definitely impressive speakers at the $600 price point. It's something that you won't often see at the entry level.
Keyboard and trackpad
If you follow my reviews, than you know that I always like Lenovo's keyboards, whether it's on a ThinkPad or a consumer PC. The interesting thing about that preference is that ThinkPads and Lenovo's consumer lineup have completely different keyboards. Frankly, the company is just really good at making keyboards.
The difference is that consumer PCs tend to have shallower keyboards than a ThinkPad. However, they still have the proper resistance to feel comfortable while typing. They're always accurate too, as I never find that I've missed a key stroke, or that I've double-typed a character. The Yoga C640 holds up to this.
If I could wish for an improvement, it would be that the keys be a little bit quieter when typing. This keyboard does have a certain clacking sound that Lenovo has solved in other laptops. Other than that, this is a great keyboard, and to be clear, that's probably the most important feature since that's the primary way of interacting with it.
The other way of interacting with it in laptop mode, of course, is the trackpad. It uses Microsoft Precision drivers, to it's fast, responsive, and supports all of the gestures that you're used to. The size is pretty average, with Lenovo using up the available landscape that it has on a 13-inch laptop.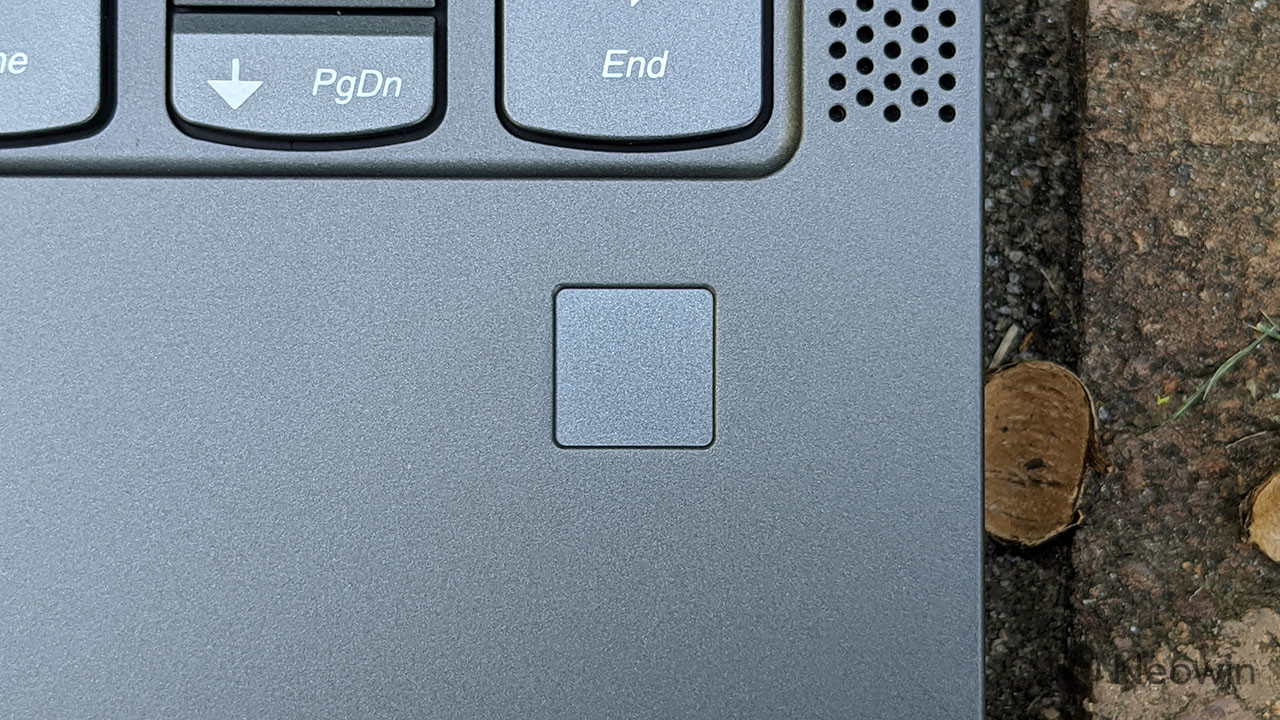 Also found on the keyboard deck are the speakers to the left and right of the keys, and a fingerprint sensor to the bottom-right. Almost every Lenovo PC I've ever reviewed comes with a fingerprint sensor, and in fact, Lenovo was among the first to use one with its ThinkPad lineup. As always, it's nice to have, especially when there's no IR camera.
Performance and battery life
The Lenovo Yoga C640 that the company sent me includes an Intel Core i3-10110U processor, a dual-core 15W CPU with four threads. As a general rule, I recommend getting at least a Core i5, which has twice as many cores and thus twice as many threads. The good news is that you can get this device with a Core i5-10210U, although at that point, now the price starts at $689.99, and it leaves me wondering even more why you wouldn't go for the Flex 5.
I have to say though, performance was pretty solid for what I expected from a Core i3. It's been a long time since I've used any i3, and my experiences have not been positive. This is more than adequate for basic productivity tasks like writing, checking email, and so on. You'll start running into trouble if you start multitasking with stuff that would require more threads. You'll also want to stay away from any creative work like Photoshop.
Intel's Comet Lake family, which is where the i3-10110U comes from, is still built on a 14nm process, the same as it's been for years. Ice Lake is 10nm, but Intel actually had to turn down the clock speed to get to that size, and it made up for that by using Iris Plus Graphics. Still, the Ice Lake Core i3, the Core i3-1005G1, doesn't have Iris Plus, so Comet Lake is the better choice from all angles.
As far as battery life goes, it's pretty great. Depending on your power settings, you can get a solid eight hours out of it, more if you really stretch it with battery saver. While eight hours is about what you're looking at with average usage and average power settings, I was still able to get it down to about four hours, just by trying to perform some heavy tasks.
For benchmarks, I used PCMark 8 and PCMark 10.
| | |
| --- | --- |
| PCMark 8: Home | PCMark 8: Creative |
| | |
| | |
| PCMark 8: Work | PCMark 10 |
| | |
| | |

We can compare this to the Dynabook Portégé X30L-G that I recently reviewed, which has a Core i5-10210U. That got 3,616 on Home, 3,511 on Creative, 3,679 on Work, and 3,906 on PCMark 10, so it's a big difference.
Conclusion
Don't get me wrong; the Lenovo Yoga C640 is a solid convertible and offers a lot of value at its $599 starting price point. But again, it just seems to me that there are better options for that price on the market, and some of those options even come from Lenovo. Like I said, the Flex 5 that I'll be reviewing next has a much more powerful AMD Ryzen 5 4500U processor, it actually comes with the pen, and more.
We're also missing out on a bunch of perks that came with last year's yoga C630, such as 4G LTE that came standard. The C640 doesn't even have it as an option. In fact, a more suitable successor is probably the Yoga 5G, but that's neither here nor there. But another issue with switching to Intel is that the C640 is now thicker and heavier than its predecessor.
But the biggest deal-breaker for me is that it doesn't support USB Type-C charging. This is something that should be in every laptop without a dedicated GPU at this point. I can get a $200 smartphone that charges via USB Type-C, so I don't understand why it wouldn't be a feature in a $600 laptop.
Other than that, the Yoga C640 is pretty great, packing the tried and true Yoga design, an impressive FHD display, and a great keyboard. It's a convertible at a $599 price point, and it has pen support. While I love recommending Lenovo PCs, I just don't think I can recommend this one.
Pros
Comet Lake performance Display and audio Great keyboard Battery life Audio quality
Cons
USB-C doesn't support charging Better product for similar price Drops standard LTE Thicker and heavier