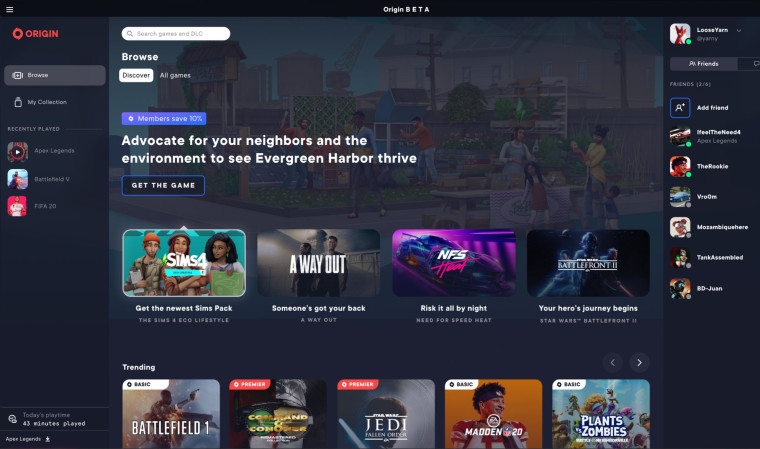 Just a few weeks ago Electronic Arts rebranded its subscription services across all platforms, dropping the EA Access and Origin Access names and giving them the shared title EA Play. However, the behemoth publisher isn't done yet, as it has now revealed that the Origin games client on PC will be sporting a new name when its upcoming beta comes through: the EA Desktop app.
"The EA Desktop app is being designed to deliver a frictionless and socially connected experience that is faster for players to get into their games," EA senior VP Michael Blank revealed in a VentureBeat interview. "We have revealed some of this, but we haven't revealed all of it." EA is promising a more streamlined UI that requires fewer clicks for jumping into games, cross-platform friend lists, faster downloads, and a better updating experience, among other features for the new client.
In a separate interview with GamesIndustry.biz, Blank added that the recent rebrands and expansions onto other platforms - such as Steam and Xbox Game Pass - are about making EA a brand that's known for connecting players across platforms:
"All of that is signaled by creating a common and consistent brand that is centered around EA and what EA stands for, and what signals it is this inflection about how EA stands for bringing your players together around the games they want to play on the platforms they want to play on. So yeah, it's not just a name change. It really signals an ethos that is critically important to us and that we know that's important to our players."
Sign-ups for the new EA Desktop app beta are now live, and anyone with an EA account can register for a chance to test the new facilities. All existing game installations, EA Play and EA Play Pro subscriptions, game progress, and other profile information from the regular Origin client will transfer over fully when switching to the new beta client.
Sources: VentureBeat and GamesIndustry.biz