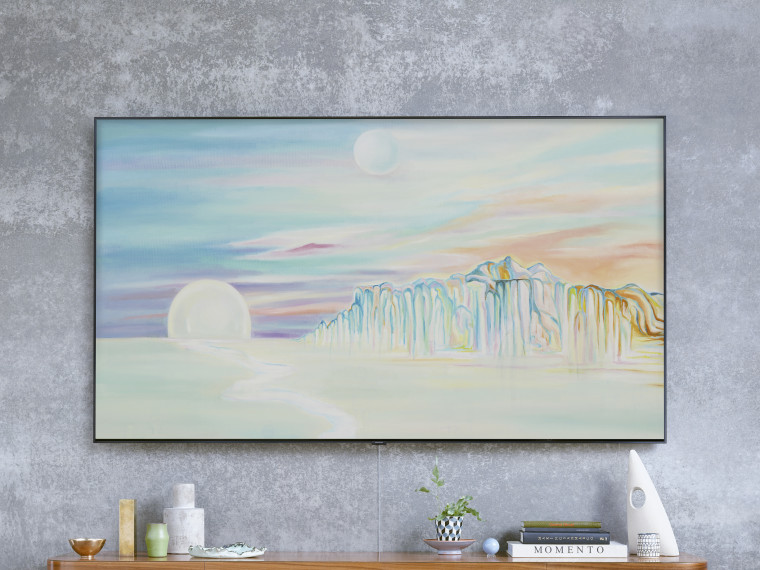 Samsung has announced that its 2019 line-up of QLED TVs will come with a new passive tool called Ambient Mode. Ambient Mode will kick in when the TV screen is off and will display a variety of content "designed to enhance consumers' daily lives". The concept is not dissimilar from Samsung's Frame TV which displays artworks when the TV screen is off.
Ambient Mode has a range of content to display to users including world-renowned artworks, news headlines, weather updates, photos, and music making the TV useful even when not being actively used. Artworks come from collaborators including Tali Lennox and Scholten & Baijings.
Discussing the feature, Jongsuk Choo, Executive Vice President of Visual Display Business at Samsung Electronics, said:
"We are proud to offer the Ambient Mode, which not only adds new value to the TV screen when it is turned off, but also brings new lifestyle benefits to our customers, moving beyond conventional TVs. We plan to expand content for Ambient Mode by collaborating with young, talented artists over the next several years to give our customers more meaningful ways to enjoy their QLED TVs."
The 2019 QLED TV range consists of six models, the Q900R, Q90R, Q80R, Q70R, and the Q60R. To find out more head on over to the Samsung TV website.