I'm always a fan of Lenovo's ThinkBook series. It's like a modern take on a ThinkPad, which is stuck in the past with its TrackPoint and black design. But any fundamental changes to ThinkPad would spark outrage among the community, so that's where ThinkBook comes in. Right now, this brand is aimed at small- to medium-sized businesses (SMBs).
The ThinkBook 15p is an interesting beast, because it packs a lot of really cool stuff, and then at the same time, it makes some really weird compromises. For example, it has this awesome matte 600-nit 4K display, and packs some power with Nvidia GeForce GTX 1650 Ti graphics and a 45W Intel processor.
But then at the same time, the sole USB Type-C port only supports data. While this laptop is clearly aimed at creators, you can only connect an external monitor via the HDMI port. It also doesn't have an IR camera for facial recognition. It's a strange omission for a laptop that starts at $1,469.
Specs
CPU
Intel Core i7-10750H
GPU
Nvidia GeForce GTX 1650 Ti with Max-Q 4GB GDDR6
Body
14.13x9.82x.78" (359x249.5x19.9mm), 4.19lbs (1.9kg)
Display
15.6 inches, UHD (3840 x 2160), IPS, 1500:1 contrast, 600 nits, 100% Adobe color gamut
RAM
16GB DDR4-2933
Storage
512GB M.2 PCIe NVMe SSD
Battery
57Wh, supports Rapid Charge (up to 80% in 1 hr)
Audio
2x2W Harman Brand Speakers with Dolby Audio, Dual Array Microphones
Keyboard
6-row, Spill-resistant, multimedia Fn keys, LED backlight, Buttonless Mylar surface multi-touch touchpad, supports Precision TouchPad
Camera
720p with ThinkShutter
Security
Power-on password, hard disk password, supervisor password, security keyhole
Discrete TPM 2.0, TCG Certified, Optional Intel vPro technology
Material
Aluminum
Color
Mineral Gray, dual tone design
OS
Windows 10 Pro
Price
$1,334.99

Here's another strange bit. I can't find this configuration on the internet anywhere. All Lenovo.com sells is the base model right now with a Core i5-10300H, an FHD screen, 16GB RAM, and a 256GB SSD. I reached out to Lenovo to see if I can get exact pricing on this unit.
Update: Lenovo got back to me and this configuration is actually available on CDW. Interestingly, it costs less than the base model on Lenovo.com.
Day one
Design
Like all of the ThinkBooks that I've seen so far, this one is made out of aluminum. In my opinion, ThinkBooks tend to have very clean and minimalist designs, and it's something that I really appreciate about the lineup.
The color is called Mineral Gray, but what I really like is the two-tone look. It's something that's a bit different from the rest of the market, and yet it didn't have to make any flamboyant changes to do it. I like it a lot.
It's also big, making it feel a bit less sleek than previous ThinkBooks that I've used. It weighs in at 4.19 pounds, which is heavy in general, but roughly average for this class of laptop, meaning one with a 45W CPU and dedicated graphics.
While the ThinkBook 15p has a wide array of ports, I'm not a fan of the selection. On the right side, there's an SD card slot and a USB 3.2 Gen 1 Type-A port for 5Gbps data transfer speeds. The issue is that USB 3.2 Gen 2 is out with 10Gbps speeds, and it's becoming more common.
On the left side, there's another USB 3.2 Gen 1 Type-A port and a USB 3.2 Gen 1 Type-C port. Seeing a pattern? This is not an inexpensive laptop, so I'm a bit frustrated that it doesn't have Thunderbolt 3, let alone that the USB Type-C is using a last-gen standard and is limited to data transfer. Indeed, you cannot connect an external monitor to the USB Type-C port.
To connect an external monitor, you can use the HDMI 2.0 port, so at least HDMI is a current-gen port, meaning that you can plug in a 4K monitor without sacrificing your refresh rate. Other ports include Ethernet and AC power; yes, it does require a 135W adapter. USB Power Delivery doesn't support 135W, not that the USB Type-C port would support it if it did. I complained about the lack of Power Delivery on previous ThinkBooks like the 13s, although that one had DisplayPort in the USB Type-C port.
You might be tired of hearing about the lack of proper ports, but keep in mind that this is a creator laptop and a business laptop. Ports are a necessity here.
Display and audio
The Lenovo ThinkBook 15p has, you guessed it, a 15.6-inch display, which is available in 1080p and 4K flavors. The company send me the 4K model, and it looks awesome. It's a matte anti-glare screen, which makes it great for use in any kind of lighting, but it's also super-bright at 600 nits. Even as I'm writing this right now, it's only at about 33% brightness. For most laptops, I'd struggle at that brightness. The colors are accurate too, and it supports 100% Adobe color gamut.
There's not touch, and it's 16:9. This was actually announced back in September, so it beat the great 16:10 boom by a few months. I don't mind though. I like a nice big 16:9 display, as two apps side-by-side look great.
The side bezels are narrow with a bit more space on top for the webcam. While there's no IR camera for facial recognition, there is a physical privacy guard built into it, so you don't have to worry about putting a piece of tape over it or anything.
The speakers are located on the bottom of the laptop toward the front. And while I usually find two 2W Harman speakers to be pretty impressive in terms of volume, I'm not finding that to be the case here. I listen to music at 100% volume, and while it's definitely loud enough, I think that 100% volume should make me uncomfortable. The quality of the sound is quite good though, not having the tinny noise that I still see from so many laptops.
Keyboard and touchpad
I really like ThinkBook keyboards. To me, it feels like they have the quality of the renowned ThinkPad keyboards, but without the legacy features. For example, ThinkPads are known for having great keyboards, but they have one of the longest key throws around, and of course, they have the TrackPoint right in the middle.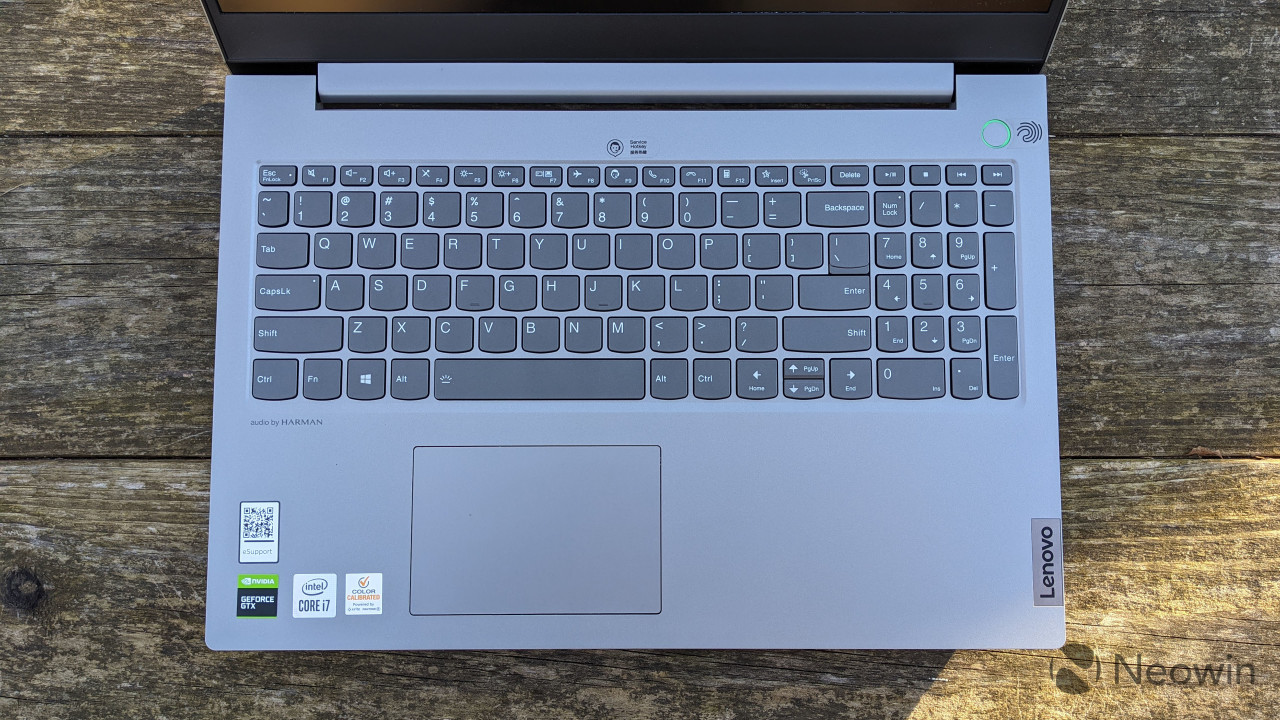 Not only will you not find a TrackPoint here, but you'll also find shallower keys. You still get quality, and yet it feels modern.
As you can see, this laptop has a numpad, something that I never use. It's not uncommon for a laptop that's this big though. After all, Lenovo needs to do something with that space, and there are lots of people that like to use it.
The clickable touchpad doesn't have any physical buttons on top of it, something you'd find on a ThinkPad. One thing that I don't like is how small it is. Lenovo didn't even come close to using all of the available real estate. That would have been a hidden gem of a feature for sure.
While there's no IR camera for facial recognition, there is a fingerprint sensor in the power button, and it's one of my favorite things about ThinkBooks. For one thing, it's fast and accurate. But also, it scans your fingerprint when you first press the power button, so you don't have to touch it again after the PC boots up. It just automatically logs you in.
Note that on ThinkPads, the fingerprint sensor is its own dedicated piece of the keyboard, so they don't have this feature. It's a shame.
Performance and battery life
The ThinkBook 15p that Lenovo sent me has an Intel Core i7-10750H, a 45W hexa-core CPU, although the base model comes with a Core i5-10300H. Also, this one came with an Nvidia GeForce GTX 1650 Ti, while the base model has the regular 1650.
This is the type of machine that can handle some powerful tasks, especially with 16GB RAM coming standard. It's great for photo and video editing, although if you're going for super-high resolutions or frame rates, you might want to get something more powerful. It's also great for FHD gaming. With the 4K display, doing creative work on here is a dream.
It's great all-around for productivity and creativity, but all of that comes at a cost of battery life. With the screen at 33% brightness and the power slider a notch above battery saver, I was able to get around six hours, which is actually better than I expected. Naturally, if you start moving the power slider and increasing the screen brightness, that will change. It will also change if you're doing more powerful tasks like video editing and gaming, but my quotes are always around general productivity usage with screen brightness at a comfortable level.
For benchmarks, I used PCMark 8, PCMark 10, 3DMark, VRMark, Geekbench 5, and Cinebench.
ThinkBook 15p
Core i7-10750H, GTX 1650 Ti
Legion 5
Ryzen 7 4800H, GTX 1650 Ti
Yoga 9i 15
Core i7-10750H, GTX 1650 Ti
PCMark 8: Home
3,343
3,819
3,936
PCMark 8: Creative
4,566
5,711
4,693
PCMark 8: Work
3,210
3,904
3,817
PCMark 10
4,779
5,519
5,159
3DMark: Time Spy
3,791 (GPU 3,609 / CPU 5,311)
4,150 (GPU 3,780 / CPU 9,324)
3,643 (GPU 3,375 / CPU 6,633)
VRMark: Orange Room
5,042
5,608
5,039
VRMark: Blue Room
1,134
1,163
Geekbench 5
1,116 / 5,204
1,185 / 7,971
1,232 / 5,608
Cinebench
1,213 / 6,415

I didn't compare it to too many other PCs because honestly, this config has crossed my desk so many times. Indeed, Comet Lake H has been out a while, and we're going to see 11th-gen H-series processors on the market soon. Comet Lake is based on a 14nm process, while AMD is down to 7nm, but still, this machine scored lower because of the 4K display; it happens.
Conclusion
Here's the good news: this is an excellent overall PC. It does a lot right, with a beautiful 4K display, an excellent keyboard, and more. It also does a lot wrong, such as not including DisplayPort out in the USB Type-C port. I'd also love to have seen better ports in general, a larger trackpad, and an IR camera. Still, you get a lot for the price.
The lack of an IR camera is made up for with the excellent fingerprint sensor. If you're booting up the PC with the power button, you don't even have to worry about facial recognition because the fingerprint did the hard work. And if you don't need external monitors, then you're probably not even going to notice that the USB Type-C port is data-only, especially since it wouldn't have Power Delivery even if Lenovo wanted to put it in there.
It's also got a stylish two-tone design, giving it a unique look without trying to look flashy in the workplace. Honestly, I do truly love ThinkPads; I just wish Lenovo wouldn't put these weird limitations on otherwise awesome PCs.
If you want to check it out on Lenovo.com, you can find it here.