Lenovo's ThinkPad C13 Yoga Chromebook Enterprise is a mouthful to say, but that's only on account of the redundant branding. Indeed, the 'C' already means it's a Chromebook, and the 'Think' already means it's a business PC, but here we are. I haven't been able to confirm this, but I suspect that it's a requirement that a portable Chrome OS PC has to have the word "Chromebook" in the name.
Anyway, if you think of this laptop as something along the lines of a ThinkPad L13 Yoga running Chrome OS, you wouldn't be too far off. There are some interesting design changes though, such as a pretty blue color that it comes in, a physical volume rocker, and USB Type-C ports on both sides of the laptop.
It also uses AMD's new Ryzen 3000C series processors, and you guessed it, the 'C' stands for Chrome OS there too. Indeed, these are basically Ryzen 3000 processors that are repurposed for Chrome OS, not that that's a bad thing.
Specs
CPU
AMD Ryzen 5 3500C
Graphics
AMD Radeon Graphics
RAM
8GB
Storage
256GB
Display
13.3in, FHD (1920x1080) IPS Anti-glare multi-touch - 300 nits
Body
12.09x8.35x0.61-0.7in (307x212.1x15.5-17.9mm), 3.3lbs (1.497kg)
Ports
(2) USB 3.2 Gen 1 (Always On)
(2) USB 3.2 Type C Gen 1
(1) MicroSD card reader
(1) HDMI 2.0
(1) Microphone / Headphone Combo Jack
Connectivity
Intel Wi-Fi 6 AX200 + Bluetooth 5.0
Camera

HD720p camera with ThinkShutter
Optional world-facing camera, 5MP, autofocus, w/ single microphone

Input
Chrome 6-row, spill-resistant, LED backlight
TrackPoint pointing device and buttonless Mylar surface
Audio

HD Audio, Realtek 5682I-CGT codec / stereo speakers, 2W x 2
Dual array far-field microphone and a single microphone on models with 5MP rear camera)

Battery
51 watt-hour Li-ion, supports Rapid Charge
Material
Aluminum
Color
Abyss Blue
OS
Chrome OS
Price
$975.65

Day one
Design
The ThinkPad C13 Yoga Chromebook Enterprise is an interesting mix between a familiar ThinkPad, and a Chromebook. I say this because Lenovo has certain design elements that go into every single ThinkPad, but Google has its own requirements as well. It's a nice blend, and I do wish that Lenovo would bring some of these changes over to the Windows side of things.
Unlike other ThinkPads, this one comes in Abyss Blue, a color I've only seen elsewhere on a ThinkBook 14s Yoga. It's also made entirely of aluminum, another rarity for a ThinkPad. Due to the aluminum build, it weighs in at just under three and a third pounds, which is probably just a bit heavier than what you'd consider to be average.
But while it's a different color and a different material, there's a lot that's familiar, such as the silver ThinkPad logo in the corner with the red dot in the 'i' that lights up.
Another thing that's familiar is the pen garage, a staple of any ThinkPad convertible. That means that the pen is always with you, and it's always charged. It also doesn't get in the way like it does with magnetically attached pens.
On the left side, there's one USB 3.2 Gen 1 Type-C port, two USB 3.2 Gen 1 Type-A ports, a 3.5mm audio jack, and a microSD card slot. First of all, I'm disappointed that we're still seeing so much of USB 3.2 Gen 1 across the industry. It gets 5Gbps data transfer speeds, and the 10Gbps USB 3.2 Gen 2 has been around for a while now.
But there's also a key design change here. ThinkPads typically have two USB Type-C ports on the left side, which is always a pain point to me. You should be able to use whichever side you want, and that's exactly what you get with the ThinkPad C13 Yoga.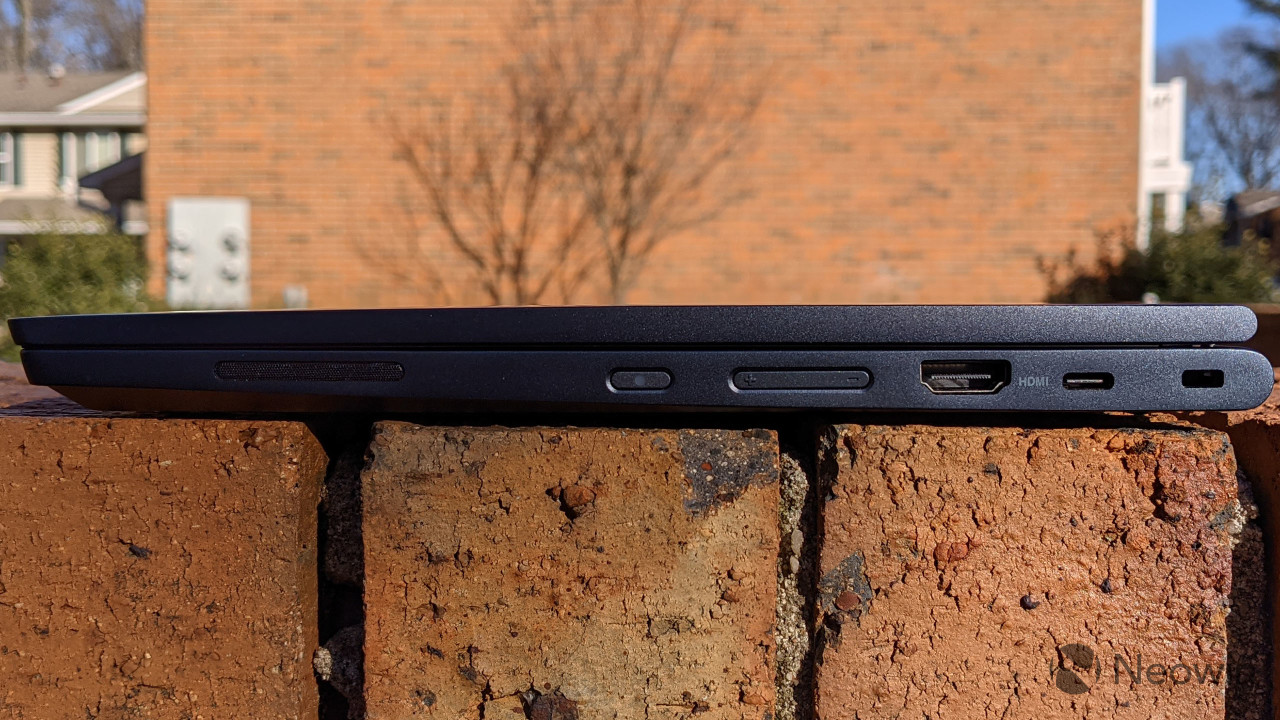 Indeed, the right side has a USB 3.2 Gen 1 Type-A port as well. The one on the left has an icon to indicate that it's for charging, which is odd since both ports have the same capabilities. The only real downside to this is that it doesn't support Lenovo's mechanical docking stations like other ThinkPads do.
Also on the right side, you'll find an HDMI 2.0 port, a volume rocker, and a power button. The physical volume rocker is also a change from the traditional ThinkPad look, and like having USB Type-C ports on both sides, this is part of the Google spec.
There's a lot that I really like here, and I wish we saw more of it on Lenovo's Windows PCs. Having USB Type-C ports on both sides is something that I've been calling for for a long time, and it only seems to happen on Chromebooks. I also love the Abyss Blue color and the aluminum build, which passes over a dozem MIL-STD-810G tests.
Display and audio
The Lenovo ThinkPad C13 Yoga Chromebook Enterprise comes with a 13.3-inch screen in either FHD or UHD flavors, and frankly, it's pretty cool that Lenovo offers a 4K variant for this. The model that it sent me, however, is the FHD one.
It's a nice display, but it's a bit dim at 300 nits. It's something worth noting because the 4K model is actually 400-nit, so if you're planning on using this outdoors often enough, you'll want to go for that brighter screen. Other than that though, there's no noticeable pixelation with FHD at this size. While the color accuracy is fine, that feels less important with a machine like this, since photo and video editing is something you'd probably do with an OS that has a native desktop app ecosystem.
It also comes with pen support, obviously, since it has a pen garage. When you remove the pen, a pop-up menu appears (which can also be accessed from an icon in the taskbar) with a series of options, so you can use it to take a note, take a screenshot of either the whole screen or a portion of it, or you can use it as a laser pointer or magnifying glass.
The laser pointer one might seem a bit strange, since the pen actually has to be touching the screen, but if you're mirroring your screen for a presentation, it can come in handy.
Sadly, the display is 16:9, which isn't great for tablets. We're seeing this trend toward 16:10 and even 3:2 screens across the PC industry, and that includes the rest of Lenovo's 13-inch ThinkPads. Sadly, the taller screen that would feel more natural in portrait orientation didn't make it into this one.
As far as audio quality goes, it's not very impressive. I suppose it gets loud enough, but the speakers sound, well, awful. Lenovo recently started using Dolby Audio and Dolby Atmos in so many ThinkPads, but this one reminds me of how ThinkPad audio used to be a few years ago, which was bad.
Keyboard and touchpad
Out of all of the things that are different about the ThinkPad C13 Yoga, the keyboard and touchpad kept what make a ThinkPad a ThinkPad. Indeed, there's a TrackPoint right smack in the middle of the keyboard. And of course, ThinkPads are renowned for their keyboards, so that's not something that you want to change.
The keys feel comfortable and they're accurate, although it does feel a bit small. There's plenty of real estate on the sides, so I'm not sure why the keyboard wouldn't be a bit wider.
As you can see from the image, plenty of the keys are different, thanks to Chrome OS, although one Chrome OS staple that you won't find are lowercase letters. The Caps Lock key is replaced by a search key, and there are no F-keys at the top for different functions in apps; rather, the function keys here are specific.
It's really interesting to me that this thing comes with a TrackPoint, which is a relic from the days when Windows laptops came with terrible touchpads. For all of its faults, Chrome OS is a modern operating system, and yet this Chromebook is shipping with the most legacy of components. If you like it, and it does have a following, it's there. If you don't like it, you can ignore it.
The clickable touchpad is the same too, even if it's blue instead of its usual black. It's got physical buttons across the top, which are really meant for use with the TrackPoint. That middle one can be used for scrolling.
It comes with a fingerprint sensor as well, something that ThinkPads actually did before anyone else, so if this isn't a ThinkPad traditional feature, I don't know what is. Also, it's grgeat to have biometric authentication on a machine like this. I feel like I don't see it too much on Chromebooks.
Finally, above the keyboard, you'll find what's called a world-facing camera. This is something that you'd use if you're using the PC in tablet mode, so it would be rear-facing. Personally, I'd never use it because I don't believe in taking pictures with tablets, but it's there if you need it.
Performance and battery life
The ThinkPad C13 Yoga comes with AMD's Ryzen 3000C processors. Ryzen 3000C is a 12nm chip, which is the last-gen series from AMD. On the Windows side of things, the company is using the 7nm Ryzen 4000 and 5000 now. Ryzen 3000C is pretty new though, as it was announced in September.
Really though, it's repurposed Ryzen 3000 processors, which is fine. Chrome OS requires fewer resources than Windows does, and the battery life is better. That means that the processor not only doesn't have as be as powerful, but it doesn't need to be efficient. The Ryzen 5 3500C that's in the unit that Lenovo sent me is probably about the same as an eighth-generation U-series Core i5.
When using Chrome, performance is fantastic. After all, the Chrome browser is mostly what Chrome OS is, hence the name. It does have the Google Play Store on it though, so you can use it to install and run Android apps. The issue with Android is really more that apps aren't optimized for the big screen. Chrome OS also really just isn't great for multitasking, so if you run a bunch of apps at once, it starts to choke up.
My desktop usage primarily consists of tabs in the browser, and with 8GB RAM and a great processor, this thing can handle plenty of those. Rather than using Android apps, I found myself just using things like OneNote on the web, Skype's web app, and so on. OneNote was a pain though, because the website kept trying to force me to open notebooks in the OneDrive Android app, which tried to force me to open the OneNote Android app. I just uninstalled them all.
I also installed Microsoft Edge twice. Yes, there are many things that you can have several instances of on Chrome OS because since it doesn't really have a native app platform, it has a couple of others, like Android and Linux. Indeed, if you want to use Skype, you can use the web app, the Android app, the Linux app, or all three at once. So yes, I played around with Edge for Android and Edge for Linux on here.
Battery life is fantastic, pushing on 10 hours. It's pretty great, but I also wasn't able to do anything to push it beyond its limits.
The thing that always frustrates me about Chrome OS is that it locks me into the Google ecosystem in a way that no other operating system, desktop or mobile, does. There's no way to install a OneDrive sync client on here, so instead you have to use Google Drive. And running Edge on Linux isn't an optimal experience.
Conclusion
Like the title says, it's a ThinkPad with Chrome OS, which is actually pretty cool. If you love ThinkPads, and the things that make a ThinkPad a ThinkPad, but you want Chrome OS, then this is the machine for you.
There's some bad news too, of course. I'd like to have seen faster USB ports, and I'd really like to have seen a brighter, taller display. 16:9 is fine in a clamshell, but this thing is clearly made to be used as a tablet, at least sometimes.
But again, it's a ThinkPad. That means that it has phenomenal build quality, probably the best keyboard on a Chromebook, and more. It's all-aluminum, and it comes in a beautiful Abyss Blue color. If you want to check it out on Lenovo.com, you can find it here.