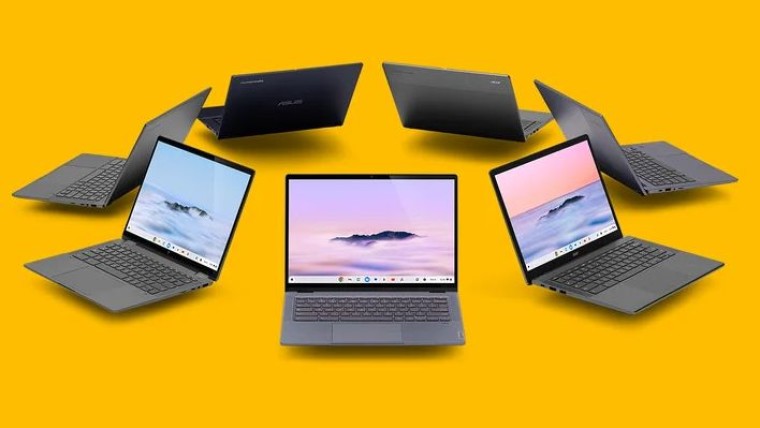 Earlier this year, rumors hit the internet that Google was working to launch a new category of its ChromeOS-based Chromebooks, with the name Chromebook X. Today, Google officially announced that effort, under the new brand Chromebook Plus.
In a blog post, Google stated the Chromebook Plus laptops would have double the performance compared to the top-selling Chromebooks of July and December 2022. It stated:
All Chromebook Plus laptops offer faster processors and double the memory and storage, giving you the power to get more done, easily. All Chromebook Plus laptops also come with a Full HD IPS display — which means you get a full 1080p HD experience when watching streaming content, and crisp, clear viewing for reading, creating content or editing photos and videos. Finally, there's a 1080p+ webcam with temporal noise reduction for smoother, more lifelike video calls.
All Chromebook Plus laptops will have hardware that will match or exceed the following specs:
CPU: Intel Core i3 12th Gen or above, or AMD Ryzen 3 7000 series or above
RAM: 8GB+
Storage: 128GB+
Web camera: 1080p+ with Temporal Noise Reduction
Display: Full HD IPS or better display
Asus, Acer, HP, and Lenovo will each launch two Chromebook Plus laptops this fall, with pre-orders beginning on October 8. The starting price for the laptops will be $399. (Dell, another major Chromebook maker, was not announced as a Chromebook Plus partner today)
In addition to the hardware, Chromebook Plus laptops will have new software features as well. Google stated:
In addition to equipping each Chromebook Plus with a 1080P camera, these new powerful Chromebooks have built-in AI to help enhance your call's clarity and lighting, cancel background noise and blur backgrounds with just a couple of taps. This works no matter what video conferencing app you use, whether that's Google Meet, Zoom, Microsoft Teams or others. Users will see these options amongst the array of built-in ChromeOS software video call tools available on their Chromebook's app shelf.
Chromebook Plus laptops will also have the Magic Eraser feature found in Pixel smartphones to use in Google Photos. It will add a new File Sync feature that will automatically download your stored files on Google Drive.
In 2024, Chromebook Plus devices will get some new generative AI features, including image generation software, along with writing assistance, background removal for video calls, and more.
In addition, a number of current Chromebooks will get software updates that will add some features that will be included in the Chromebook Plus devices. The software update will roll out on October 17. The list includes:
Acer Chromebook Spin 714 (CP714-1WN)
Acer Chromebook Spin 714 (CP714-2W, CP714-2WN)
Acer Chromebook 516 GE (CBG516-1H)
Acer Chromebook Vero 514 (CBV514-1H, CBV514-1HT)
ASUS Chromebook CM34 Flip (CM3401)
ASUS Chromebook Flip CX5 (CX5601)
Dell Latitude 5430 Chromebook
Dell Latitude 5430 2-in-1 Chromebook
Framework Laptop Chromebook Edition
HP Chromebook 15.6 15a-nb0xxx (xxx: 001~999)
HP Chromebook x360 14 inch (14c-cd0xxx) (xxx: 001~999)
HP Dragonfly Pro Chromebook
HP Elite Dragonfly Chromebook
HP Elite c645 G2 Chromebook
Lenovo Flex 5i Chromebook 14" (IP Flex 5 Chrome 14IAU7)
Lenovo IdeaPad Flex 5i Chromebook (14", 7) (IP Flex 5 Chrome 14IAU7)
Lenovo IdeaPad Gaming Chromebook 16"
Lenovo Slim 3i Chromebook 14"
Lenovo IdeaPad Slim 3i Chromebook (14", 8)
Lenovo ThinkPad C14 Chromebook
Lenovo 5i Chromebook 16"
Lenovo IdeaPad 5i Chromebook (16", 7)
Lenovo 14e Chromebook Gen 3
A few weeks ago, Google announced that in 2024, all new Chromebooks would get support for software updates for the next 10 years.