Qualcomm's Snapdragon 820 processor, 4GB of RAM and a QHD display - these are given prerequisites for a company that is trying to build a high-end flagship smartphone for the first half of 2016. When you couple the above specifications with a quality camera and package it into a sleek shell - you end up with a contender for what could capture the title of "world's best".
For a company trying to build the best, there are very few options when it comes to customization - the internals are virtually identical, if not exactly the same and perhaps the only area that can be unique is in the external appearance and build materials. Although innovation in the smartphone space has undoubtedly stagnated, this has allowed companies to focus on the fine details, as every year we get to see a small degree of refinement from the world's manufacturers.
For quite some time, Samsung has held the crown when it comes to Android handsets. This year's S7 and S7 edge are without doubt - a refinement of last year's S6 and S6 edge - melding style, quality materials and power. In the minds of many, Samsung is the undisputed champion.
But, there are two sides to every story, and for all of Samsung's success, there are companies like LG, Sony and others that are building solid handsets and are still struggling. Last year's LG G4 was an excellent contender, but fell short in respect to its build quality and materials. LG has continuously compromised style and materials by offering a removable cover that allows access to a swappable battery - which was once highly coveted - but has slowly been overshadowed by better battery life and quick charging solutions.
At this year's Mobile World Congress, LG presented the world with its next iteration in the G-series, the G5. The handset had a bold new design that almost completely dismissed LG's previous vision. Despite a complete revamp, LG couldn't abandon the past and introduced an evolution to the idea of a replaceable battery by offering a swappable modular accessory array. This was LG's way of distancing themselves from the competition - a top-tier smartphone with comparable specs that offered something no other manufacturer was offering. But does this gamble pay off?
Specifications
LG G5
Display
5.3-inch QHD display
2560 x 1440 pixels
554 ppi pixel density
Processor
Qualcomm Snapdragon 820
Graphics
Adreno 530
RAM
4GB
Storage
32GB with microSD expansion
Connectivity
Wi-Fi 802.11 a/b/g/n/ac
Bluetooth v4.2
Camera
16MP rear camera / 8MP wide angle camera (OIS, LED flash, laser focus)
8MP front-facing camera
Ports
USB Type C
Sensors
Accelerometer
Fingerprint reader
Gyroscope
Light sensor
Proximity sensor
Battery
2800mAh
Launch OS
Android 6.0
Launch Date
April 2016
Size & Weight
5.88 x 2.91 x 0.30 in
5.61 oz
Price
$629 USD without contract on T-Mobile US
Design / Display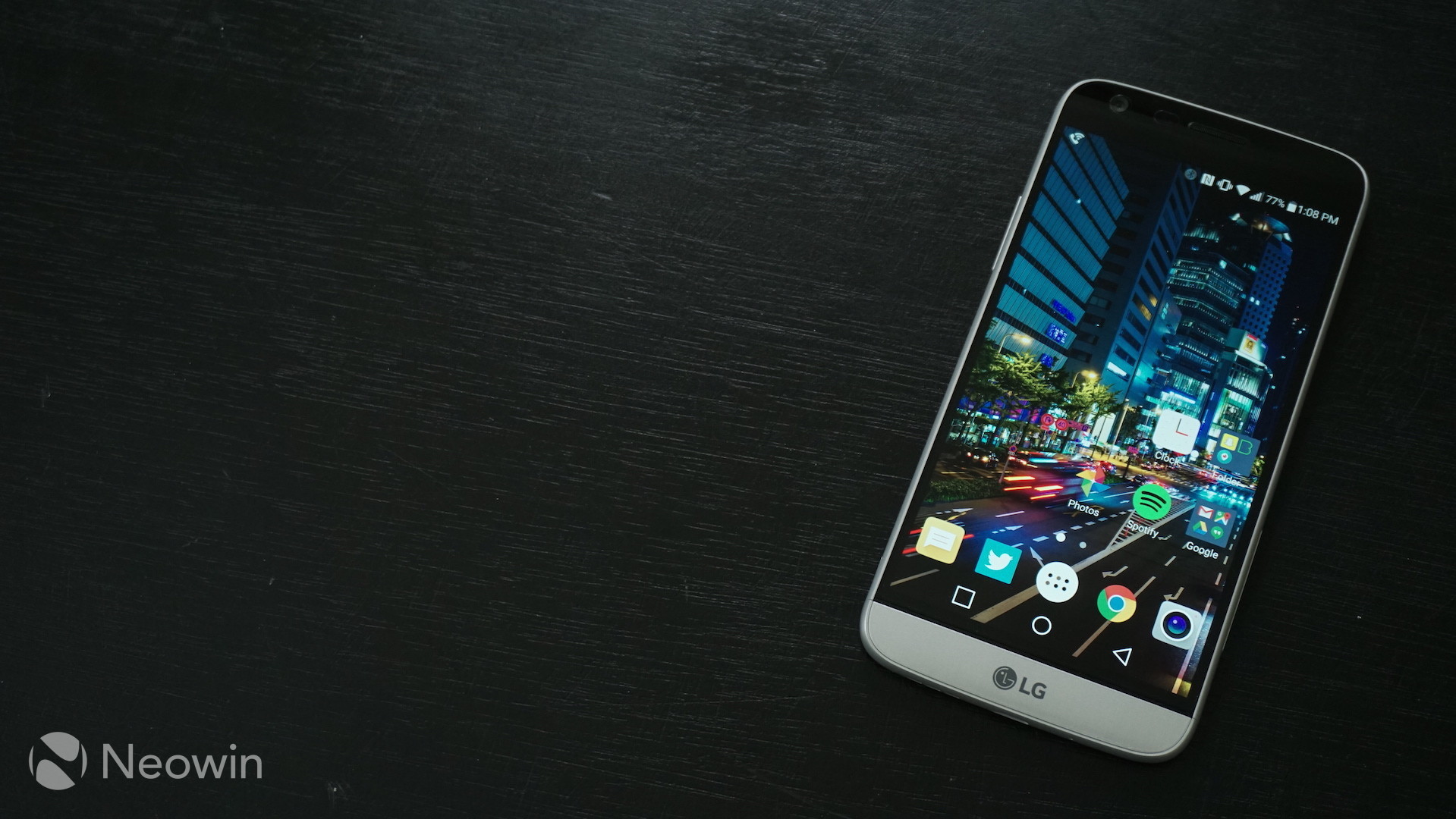 If there's one thing that can be said about the G5 - it's that it's different - largely due to its new modular system. Although a majority of the look focuses around the interchangeable modules, named "Friends", LG has also clearly taken risks when it comes to materials. With the competition quickly moving towards "premium", 2016 has become LG's tipping point, forcing a transition.
The G5 offers few remnants of LG's past, as they have completely abandoned what they built with the G2, G3 and G4. The G5 doesn't scale up this go around, but instead scales down, offering a smaller 5.3-inch QHD display, compared to last year's 5.5 inches on the G4. The LCD display is crisp, color reproduction is accurate and brightness is at an all-time high at 800 nits - pretty much what you have come to expect from a high-end handset. Perhaps the more interesting aspect of the display is in its design: the top-end, near the earpiece, offers a subtle sloping curve, what LG is calling 3D Arc Glass. This gives an otherwise flat device, a satisfying design edge. It isn't as extravagant as Samsung's edge glass, but it offers enough to keep an otherwise simple handset interesting.
Although the screen size has been reduced, the body of the device is actually longer and thicker than its predecessor. In order to diminish some of the effects of this, the handset has been made easier to hold thanks to its rounded corners and narrower body.
While it does feel good in hand, it won't invoke that same premium feeling one comes to expect from a top tier handset. Although LG has transitioned from plastics to metal, the G5 offers a primered surface that is meant to protect the underlying metal material. Unfortunately, this means that the handset will feel like plastic, and while it is a little different, almost reminiscent of a ceramic material, it is by no means as polished as the competitors' offerings. As for the durability of the outer material, after a couple of weeks of using the device, the back has noticeable scratches, which is, to say the least, a bit of a disappointment.
With all of the above said, the G5 isn't the most beautiful handset on the market and is more of an example of what happens when a company puts more emphasis on the device's functionality. It is clear that in order to make LG's modular vision a reality, the handset maker had to sacrifice style and materials.
Unfortunately, I did not have access to modular pieces like the camera grip or the audio DAC. But, using the battery as an example, I can say that it does feel solid when ejecting a module and even more so when reinserting the module backing into the device. Hopefully, I'll be able to update this section in the near future, if I'm able to get my hands on the other modules.
With this handset, LG is starting from square one, and although it may be the fifth entry in the G-series, the G5 is very much a first generation product. LG won't be competing at the same level as other companies this year and will have to refine their offerings over the next few years. But the real question remains whether LG's modular vision will persist over time. While the idea of modular design is interesting, the bulk that the current generation of add-ons pack simply isn't worth the price of admission - both literally and figuratively. After all, the beauty of owning a smartphone is having everything included into an attractive svelte package.
Software
LG's customized skin over Android 6.0 is buttery smooth and while a majority of the interface is similar to what the company has offered in the past - there is one notable difference. Android users picking up the G5 for the first time will be quick to notice the absence of an app drawer. The app drawer has long been a staple in Android, offering users a way to tuck unused app icons neatly, storing them for later use.
If you choose to stick with the new interface, you'll be forced to tuck away all apps into folders and keep them organized on the home screen. If you want a more traditional look, LG does offer a download via its own app store that will resurrect the app drawer or you can simply rely on a third party launcher.
LG's approach to Android has always been to offer as much as possible, and with the G5, nothing has changed. For the most part, I have no qualms when it comes to use and functionality, as LG has done an excellent job of offering a good experience without performance compromises.
Performance and Battery Life
Qualcomm's Snapdragon 820 paired with 4GB RAM allows the G5 to scream through most, if not all tasks. The navigation through menus is buttery smooth, while things like web browsing, gaming and other intensive tasks are dealt with in a manner that you would expect from a top end handset.
The G5 offers reasonably good battery life from its 2800mAh battery. Personally, I found the battery life a bit below what I am used to, since a majority of the handsets I have reviewed over the course of a year have featured batteries equal to or in excess of 3000mAh. While most times I was able to get through a day, there were many days when I was dangerously close to hitting the 5% mark before arriving home. The G5's modular design allows users to swap batteries on the fly, but most will simply rely on the device's Quick Charge 3.0 feature, that can see a minimum recharge speed from 0 to 60% in 30 minutes.
The G5 offers the latest USB Type-C charging port, which will leave you most times in a bit of predicament when it comes to charging on the go. As things currently stand the chances of you being able to borrow a charging cable from a friend are fairly slim, which means you could be left with a dead device if not careful.
Camera
LG's 16MP sensor on the G5 is the same one that can be found on last year's G4 and V10. It comes as no surprise that the sensor performs just as well, with all the precision and accuracy we've come to expect. LG's camera app offers various modes that cater to a basic shooter, intermediate and someone that wants to tweak every aspect like aperture, shutter speed and more. Regardless of mode, you can be sure that you'll be getting the best when it comes to pictures and videos, day or night.
While the 16MP lens offers excellent image and video quality, the real story will be the G5's second rear camera - a 8MP wide angle lens offering the ability to shoot at a stellar 130 degrees - capturing more.
As smartphone innovation has plateaued, it's genuinely become more difficult to try and innovate in the mobile space. Clearly the wide angle lens isn't something that is considered revolutionary, but it's good to see LG offering something that can really make a difference in day to day use.
Although the quality is lower at 8MP, there's certainly no replacement for the lense's ability to shoot wide shots. The ability to switch seamlessly between lenses makes taking photos and videos pleasant. If LG is going to continue this trend into the next handset, the only real improvement that can be made is to bump up the camera to a 16MP sensor.
Conclusion
The LG G5 isn't the handset most people are going to pick up when they go into their local retailer or wireless carrier. Samsung has done an exceptional job of refining its offering this year to diminish previous flaws, while LG has taken extra care to eviscerate themselves temporarily with their latest entry.
While that may sound harsh, the G5 isn't a bad handset mind you, just one that isn't ready to compete with the likes of Samsung, Sony or even HTC. While the former have been fine tuning their offerings over the past couple of years, LG is starting from scratch, with little that can actually top the competition. Sure, the internals are great, the camera is equal amongst its peers, but the harmony that's required to make it a cohesive product is simply missing.
LG's bet on creating something different, was bold, but its execution is poor. The modular components left a handset that has fit and finish issues and something that clearly can't compete. Although the modular design is currently a crux, if LG can find a way to better offer the components and meld it with a handset that can stand on its own, they might have a powerful combination in the future. But until then, LG will most likely spend the next couple of years rebuilding, hopefully for the better.
Pros
display performance camera dual-camera setup
Cons
hardware design modular components battery