Introduction
I have used a number of cheap generic Bluetooth keyboards over the years, and a common trend among them has been that the keys are either too small, or too closely spaced in an effort to keep the overall keyboard dimensions compact by the manufacturer. This ultimately makes typing anything of length quite difficult.
Enter the Zagg universal keyboard!
It boasts compatibility with Android, iOS and Windows. This includes both desktop and mobile versions, with special function keys available to each one.
The review sample kindly sent to me by MobileFun has the model number ZKUNIBLK, and is available from both the UK and USA stores.
At £60 ($62.49), it isn't cheap, but it does seem to offer extended compatibility and features, as well as the Zagg brand name which is often associated with quality and reliability.
Features
On the right side of the keyboard, there is a power switch and Bluetooth pairing button. I found pairing speed to be very quick on all platforms. and there were no special codes to deal with.
The left side has only a Micro-USB port for charging the battery.
Sadly, there are no additional technical specifications I can provide, as both the Zagg website and included instruction booklet provide no such information.
What I can confirm is that the ZKUNIBLK has a battery that charges in two to four hours, and lasts three months with typical use. Typical being around two hours of use per day according to Zagg. Physical dimensions are 17.78 mm (H) x 259.08 mm (W) x 137.7 mm (D), and weighing in at 295 g.
MobileFun have a confirmed list of compatible portable devices for this keyboard. This can be viewed here.
There is a battery level indicator, but it is only a single LED that flashes three times in red, yellow, or green. I was never a fan of this kind of battery level indication due to it being too vague. For example, three green flashes mean the keyboard has 50% or more battery remaining, while three yellow flashes mean that there is 25-50% power remaining.
Finally, three red flashes indicate less than 25%, and a single red flash every five minutes means the battery is at a critical level.
The underside has four rubber feet, and the platform selection switch. I prefer the switch being out of the way here, there is no way to accidentally change platform like on some other keyboards.
It is a shame that the sliding cover which turns into the tablet/phone stand has no rubber feet on its underside. I found that the stand ended up sliding about on wooden tables too easily if the table was bumped, or tablet nudged slightly.
There is no tilt angle adjustment on this keyboard. I did not find this to be an issue because the fixed angle is almost perfect.
Build quality
The construction is all plastic, but not the same grade as cheaper keyboards out there. I found no abnormal flexing, and the finish is lightly textured for added grip.
An aluminium fascia would have been more desirable at this sort of price, but I guess we can't have it all.
Having said that, I should point out that the size and spacing of the keys are very good as far as portable keyboards go. I found myself making very few errors on day one as I got used to it, and the key throw is just like a laptop keyboard with chiclet keys.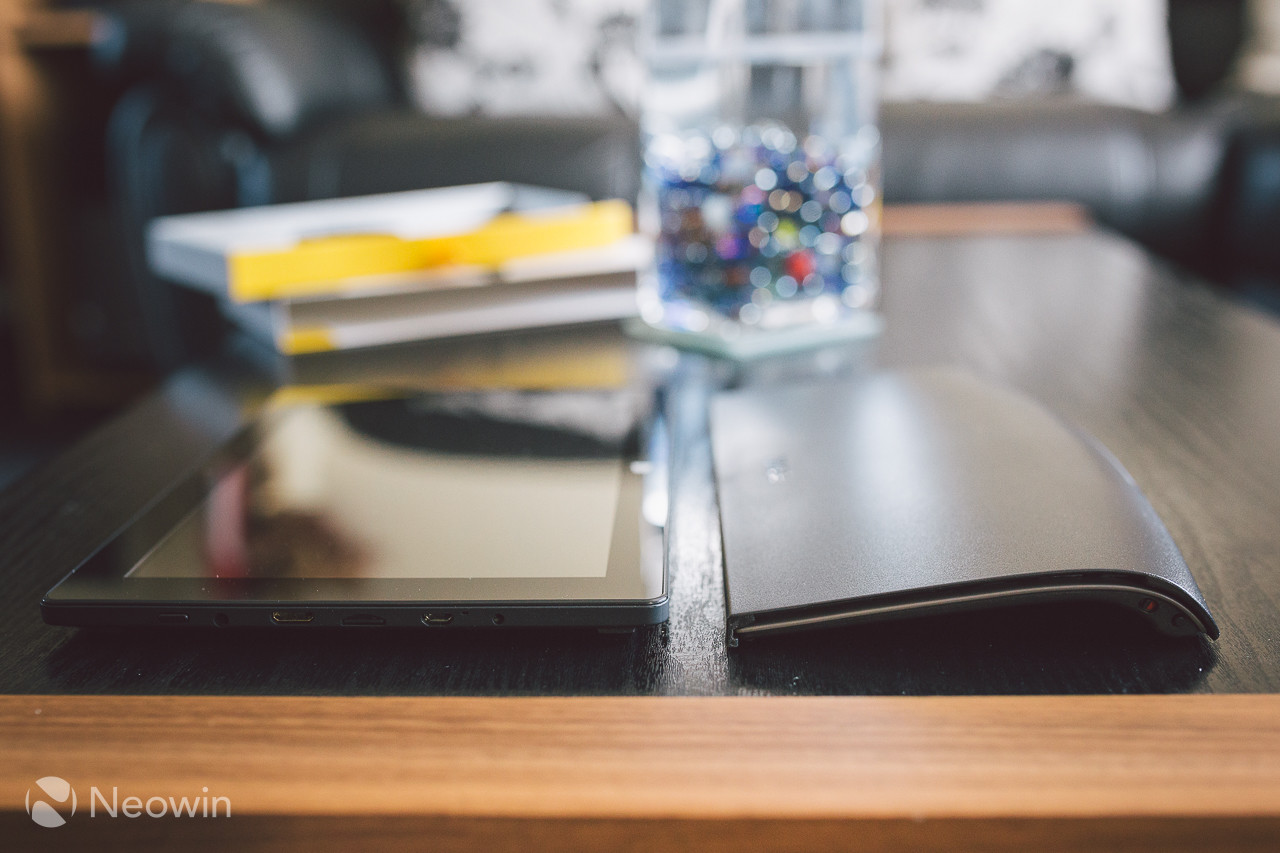 The keyboard has slightly more height than a standard tablet. Above is my Lynx 10 Windows tablet next to it to give you a visual idea.
Performance
I don't know what the official distance rating is for the Bluetooth on this keyboard, but can confirm that by the time you get far enough to lose reception with a tablet, it is going to be nearly impossible to see what you are typing on the screen anyway. So, the distance is shall we say, quite far!
Even though the universal keyboard is aimed at tablet users, it is perfectly usable on smartphones as well as anything else with Bluetooth input device support. I had no problems pairing and using it with my Galaxy S7 edge and Android TV set-top boxes.
I found there was no input lag when typing fast, and special functions worked as intended in most instances. I say most because on my Lynx tablet running Windows 10, the "start" key at the bottom didn't open the Start Menu, but the "Esc" key (special function: Home) did, which is a bit weird.
The Lynx 10 is 10.5 mm thick, and from my testing, this is really the maximum tablet thickness the stand will take.
Conclusion
Comfort and typing efficiency appear to be Zagg's top priority with this keyboard, and I can't fault them here. I used the ZKUNIBLK for a few weeks on and off, and found no fault in this regard. I even tried it on Apple devices with little drama, and no issues.
A few function key quirks in Windows 10 aside, this keyboard offers very good universal compatibility in a high quality keyboard.
I think everything that it does really well makes up for what isn't so great about it. Namely the lack of rubber feet on the stand, and the function key bugs with Windows 10.
It would have been nice to see a proper battery level indicator, because only Apple offers you the ability to see Bluetooth device battery percentage at an OS level. So those of us who primarily use the keyboard with Android or Windows must rely on the somewhat vague flashing LED instead.
Overall, I am happy to give this a rating of 7. While it isn't cheap, it does offer excellent ease of use, battery life, and build quality. I feel that a few marks need to be taken off for those few oversights mentioned.
Pros
Well spaced & sized keys Ease of use Battery life Construction
Cons
Price Function key quirks No rubber feet on stand Battery level indicator