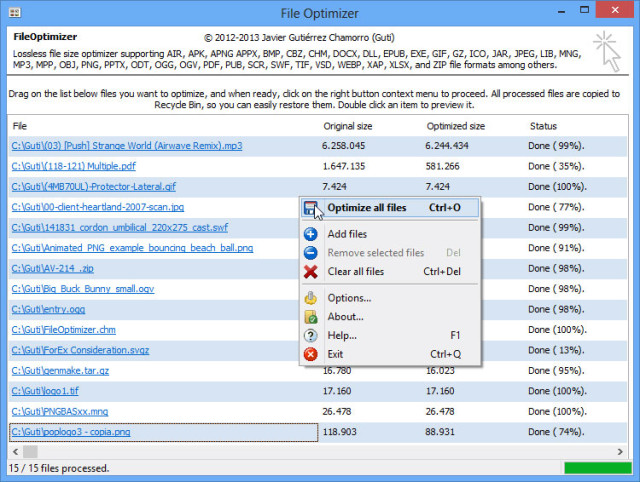 FileOptimizer is a lossless file size optimizer supporting AIR, APK, APNG APPX, BMP, CBZ, CHM, DOCX, DIB, DLL, EPUB, EXE, FAX, GIF, GZ, ICO, JAR, JPEG, LIB, MNG, MP3, MPP, OBJ, PNG, PPTX, ODT, OGG, OGV, PDF, PUB, SCR, SWF, TIF, VSD, WEBP, XAP, XLSX, and ZIP file formats among others.

It keeps the behavior of the file untouched, but with its size reduced thanks to several re-compression and optimization techniques.
Key features:
Suitable for home users that need to speedup file transfers no matter if they are in email attachments, P2P or shared upload servers.
Suitable for webmasters to increase the page load speed.
Suitable for web developers to reduce content weight.
Suitable for desktop developers in any platform (Windows, Linux, MacOS, ...) to reduce distribution sizes and reduce load times.
Suitable for mobile developers (Android, iOS, Windows Phone, ...) to reduce distribution sizes and reduce load times.
Suitable for server administrators that could integrate FileOptimizer via command line.
Suitable for content creators and distributors to reduce content weights.
What's new in this version:
Added ini option EXEDisablePETrim=false to disable PETrim when processing EXE files. Resulting executables will be larger, but it will prevent broking some SFX and installers as well as stripping digital signatures (Ascend4nt).
Added ini option DoNotUseRecycleBin=false to prevent copying original files to your Recycle Bin. Be aware that enabling such option will prevent recovering original files (Runner112).
Much improved WebP optimization by using cwebp and dwebp in libwebp (Runner112).
Improved PDF compression upgrading to Ghostcript 9.10.
Updated to ImageMagick 6.8.6.9.
Download: FileOptimizer 5.90 Build 267 | 18.0 MB (Open Source)
View: FileOptimizer Website