Today on offer via our Gear + Gadgets section of Neowin Deals, you can save 21% off a Axis VIDIUS FPV-Camera Drone. Introducing the world's smallest first person view drone!
What's it all about?
You don't need a bulky, FAA-registered drone to get a view from the pilot's seat. The Axis VIDIUS Drone may be small, but it offers a live first person view from its built-in video camera! You can flip, roll, speed through narrow spaces, and more while streaming and recording your every move. The live video feed is transmitted to your Apple or Android device via Wi-Fi, and can even be shared instantly with the VIDIUS Drone App. Plus with an 100-foot range, you can explore far and wide without lifting a foot.
Control flight with included 2.4 gHz controller, smartphone or tablet
Stream & record live video & still images in 420p during flight
Fly for 5-7 minutes per 20 minute charge
Choose your desired level of flight sensitivity with 3-speed pre-programmed functionality
Keep the drone stable & centered with 6-axis gyro stabilization
Seamlessly adjust orientation with 360-degree rotational yaw
Enter pre-programmed "Trick Mode" to pull off amazing flips & rolls
Fly at night with the bright LED colored lights
Don't worry about FAA registration!
Full specs and terms of shipping can be found here. Below is a one minute promo for this drone.
How do you benefit?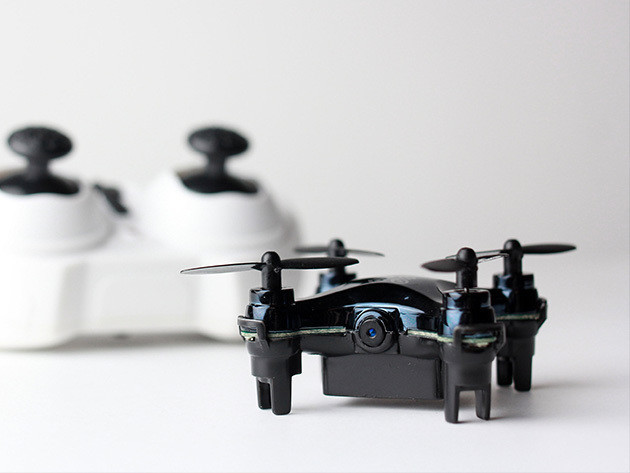 The Axis VIDIUS FPV-Camera Drone normally retails at $95, but you can pick it up for just $74.99 for a limited time, with free shipping thrown in!
In addition, if you refer any of the deals via social media (below the Add to cart button) which results in a purchase, you'll get $10 credit added to your Neowin Deals store account.
Get this deal (Continental US only) or learn more about it.
---
Not for you?
That's OK, if this offer doesn't interest or apply to you, why not check out other discounted items and giveaways on the Neowin Deals web site? There's also always a bunch of freebies you can check out and pick up here.
Disclosure: This is a StackCommerce deal in partnership with Neowin; an account at StackCommerce is required to participate in any giveaways or deals. For a full description of StackCommerce's privacy guidelines, go here.