Apple and Google have both announced the next major version of their mobile operating system that's due to release later in the year. Google was the first to announce Android 11 with a focus on conversations, people, and privacy, and Apple followed suit last month with iOS 14 at WWDC 2020.
While both iOS and Android are very mature operating systems at this point, there's still a feature disparity between them in some aspects. It is also quite common for both companies to take inspiration from each other for new features in their OS. For example, Apple added widgets support to the home screen in iOS 14, a feature that has been available in Android since its first public release. Similarly, the new screenshot preview interface in Android 11 is very similar to that of iOS. So, on similar lines, below is a list of features that I hope Google ends up adding to the next release of Android after taking inspiration from iOS 14.
1. Widgets Stack
Apple might have taken its own time to add widgets support to the iPhone's home screen but in some ways, its implementation is superior to what Google has done in Android. Widgets Stack in iOS 14 will basically allow users to stack one widget on top of another. This way, they can have multiple widgets on their home screen but only have to make space for one. The stacked widgets in iOS 14 will automatically cycle depending on the location and time of the day to show you the most relevant widget. You can also cycle through them by swiping up or down.
Widgets in Android are more powerful compared to Apple's implementation in iOS 14 since they are interactive, but Google needs to add the ability to stack them on top of each other to help boost their adoption.
2. Universal Search
Ok, technically this is a feature that's a part of iPadOS 14 and not exactly new, but one that's still worth mentioning because of how useful it is. With Universal Search in iPadOS 14, you can search through your contacts, apps, app data, music library, web, and more. The Google app in Android had a universal search feature before Google got around to removing it for some reason. While at it, Google should also make it easier to trigger the search with a simple gesture as it works on the iPhone and iPad with a simple swipe down gesture on the home screen.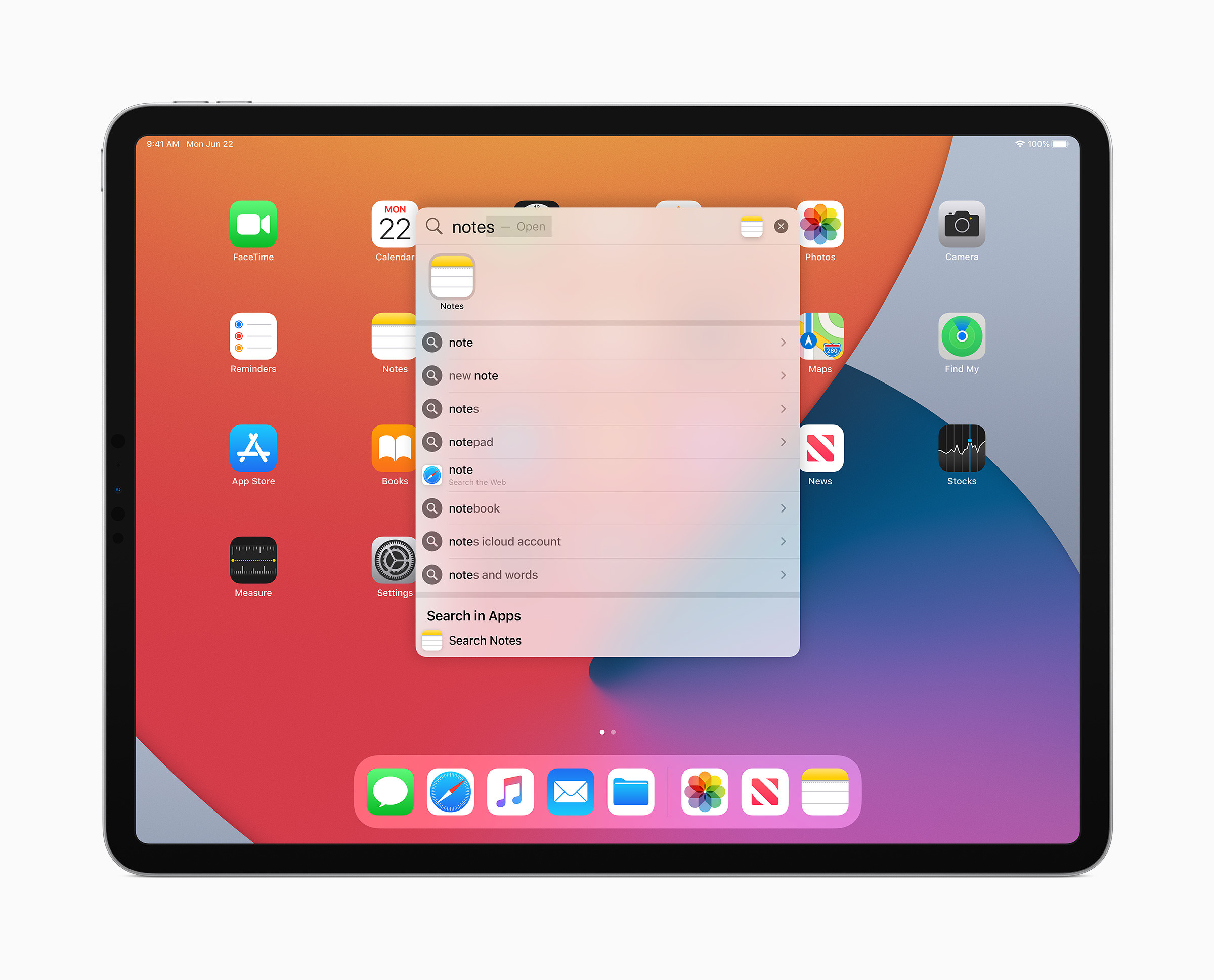 3. Digital Car Key
How cool would it be if you could use your Android smartphone as your car keys? With iOS 14, Apple is basically making that possible by working closely with BMW. Starting next year, you can simply walk to your BMW car with the iPhone in your pocket and unlock it. Then, you can put the device on the wireless charger in the dashboard of the cabin and then proceed to start the car, all without needing the physical key. You can even share the car keys digitally over Messages with your friend or family and give them temporary access to your vehicle.
The digital Car Key feature is going to be available for a number of BMW vehicles manufactured on or after July 1, 2020.
Google will need to work closely with some car OEMs for this, but it would definitely be cool if the next version of Android is able to turn your smartphone into a digital car key.
4. Picture-in-Picture window resizing
Picture-in-Picture is a feature that is already available on Android, long before Apple got around to adding it to the iPhone with iOS 14. However, Apple's implementation is better as it allows one to resize the PiP window to their liking. One can also dock the PiP window to the side and then bring it back on the display as per their requirement. In comparison, on Android, there's no option to change the PiP window size or dock it.
5. Ability to send voice messages
Siri on iOS 14 can be used to send voice messages in the Messages app as well as in third-party apps like WhatsApp and Telegram. This might seem like a small feature but it can have a great usability impact for a lot of people as this essentially allows users to send a message without having to worry about Siri fumbling with the voice recognition part.
Google Assistant might have better voice recognition than Siri but it lacks the ability to send a voice message to any contact. Since Google can update Assistant without having to update the entire OS itself, this feature might just make it to Android devices sooner than later.
6. Privacy-focused Chrome
Apple has always focused heavily on privacy with its services and products. The company has added a new Privacy Report feature to Safari in iOS 14 thereby allowing users to easily see the cross-site trackers that have been blocked by the browser. Considering how widely cross-site tracking is prevalent in the advertising industry, this is a big move from Apple and shows just how much it cares about user privacy. The feature is also going to be available in Safari on macOS Big Sur.
Since Google still generates a bulk of its revenue through advertisement, one can only hope that the company also gets around to adding a similar feature in Chrome for Android.
7. Mentions and Inline replies
Messaging is one area where Android heavily lags behind iOS. Despite multiple messaging apps and services from Google, Android still does not have a true iMessage replacement. The RCS-backed Messages app is gaining traction but it still feels a bit too late to the game and its adoption outside of the United States has been slow.
In iOS 14, Apple is further improving iMessage by adding support for @mentions and inline replies. Despite launching later than iMessage, the Messages app/RCS still lacks these features despite them being present in almost every other third-party messaging app.
8. Approximate location access
Google has introduced a number of privacy-focused features in Android 11 but in many ways, the company is still playing catch up to what iOS offers. In iOS 14, Apple has again taken things to the next level by allowing users to provide apps with their approximate location instead of their exact location. This way, when an app requests your location in iOS 14, you have the option of only providing it with an approximate location instead of your exact location. Similarly, iPhone users in iOS 14 can provide an app with access to only selected photos in their media library or contacts instead of providing them with access to all their data.
Google has made great improvements to the privacy model in Android with the last two releases of the OS, so here's hoping the company follows Apple in adding similar features to the next version of the OS.
---
There are actually quite a few other features in iOS 14 like App Clips and compact Call UI that Google should get around to adding or improving in the next version of Android, but the ones mentioned above are the ones I feel will have the biggest impact. One thing I must note here is that the beauty of openness of Android is that at least some of the features above can be replicated using third-party apps found on the Play Store.
What iOS 14 features would you like to see become available on Android? Drop a comment and let us know!