Acer announced some new gaming laptops today, including the Predator Triton 500 and Predator Triton 300. The former kind of steals the show, since it includes an incredibly fast 300Hz display, one of the first of its kind.
"The Predator Triton 300 completes the Triton line of gaming notebooks, providing a full spectrum of options for gamers seeking thin and lightweight gear," said Jerry Kao, Co-COO, Acer. "Following the great reception of the Predator Thronos, we've created the Predator Thronos Air, allowing more gamers to upgrade their gaming environment for a fully immersive experience."
That 15.6-inch 300Hz screen is 1080p, if it's not obvious, and it comes in a body that's 17.9mm thick and weighs in at only 4.6 pounds. It has 6.3mm bezels that give it an 81% screen-to-body ratio, and it comes with internals you'd expect, like an Intel ninth-generation CPU and Nvidia GeForce RTX graphics.
The Predator Triton 500 is coming coming to EMEA in November starting at €2,699, North America in December starting at $2,799.99, and China in Q4 starting at ¥24,999.
The Predator Triton 300 is meant to be thin and lightweight, coming in at 5.07 pounds in its aluminum chassis. It contains mainstream features, like a ninth-gen Core i7 and an Nvidia GeForce GTX 1650, along with 16GB DDR4 2666MHz memory and a 1TB PCIe NVMe SSD. The 15.6-inch screen has a 144Hz refresh rate, which weirdly seems low compared to the Predator Triton 500.
The Predator Triton 300 is slated to arrive in EMEA in October starting at €1,299.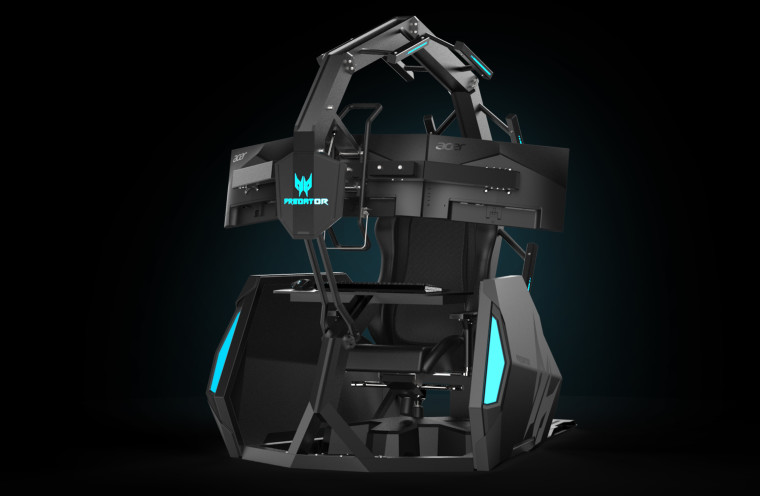 And then there's the Predator Thronos Air Gaming Chair, which as you can see from the image above, isn't just a chair. It also includes a modular desk and a monitor arm, and it's meant to give you a completely immersive gaming environment. In fact, you can pack it out with up to three displays.
The Predator Thronos Air will be coming in Q4, and it will cost €8,975 in EMEA, $13,999 in North America, and ¥79,999 in China.
Acer also introduced some new Nitro XV3 gaming monitors, all of which support Nvidia G-Sync. The XV273U S packs a 1440p resolution and a 144Hz refresh rate, and it's overclockable to 165Hz. If you want something even faster, the XV273 X is 1080p with up to a 240Hz refresh rate, DisplayHDR400, and native 5ms response time.
The XV273U S is coming in January, and will cost €649 in EMEA, $589 in North America, and ¥4,129 in China. The XV273 X is coming in September, and will cost €519 in EMEA, $469 in North America, and ¥3,299 in China.