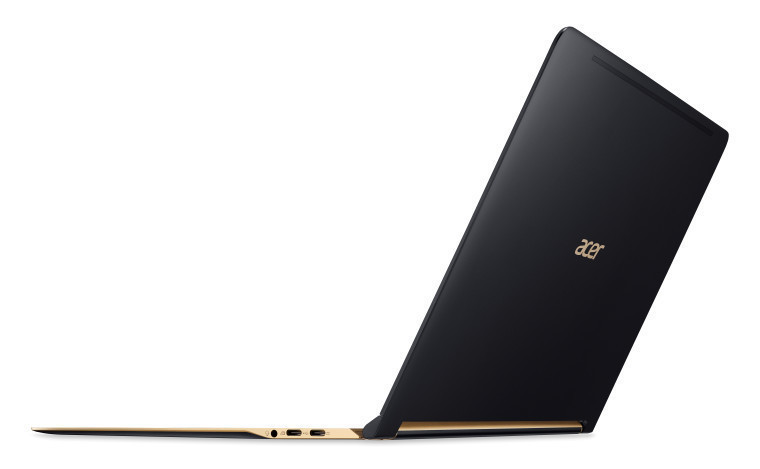 Acer has launched its self-proclaimed "world's thinnest laptop," the Acer Swift 7, which measures less than a centimeter thick at 9.98 mm while weighing only 2.4 lbs. With this model, Acer takes the title from HP's 10.4 mm-thick Spectre ultrabook that launched earlier this year.
The Swift 7 features a 13.3-inch Full HD (1920 X 1080) IPS display, a 256 GB SSD, as well as a 1.20 GHz (Kaby Lake) Intel Core i5 processor. This model comes with 8 GB of RAM and a 2770 mAh battery that Acer says is good for 9 hours of battery life.
Acer has taken a minimalist approach to ports, only including two USB 3.1 (Type-C) ports and a 3.5 mm headphone jack on the right side of the device. On the left, only the power jack interrupts the otherwise all-aluminum body.
Those interested can order Acer's black-and-gold colored Swift 7 for $1,099 from its website starting today. However, it is Important to note that both Best Buy and Amazon are offering the same model at a discount, at $1,049 and $999 respectively.
The Acer Swift 7 was announced at the 2016 IFA conference in Berlin, alongside a number of other Acer laptops, ranging from dedicated gaming machines to other ultrabooks, though none as thin and light as the Swift 7.