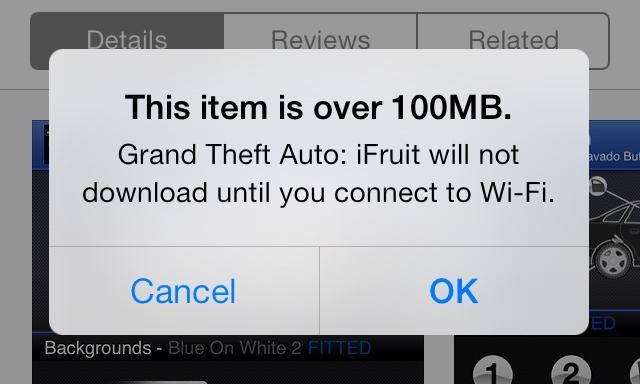 With the release of iOS 7 taking place worldwide yesterday and all of the download and activation issues that came with it, users are now finding new and improved features (sometimes by accident) that may not have made headlines during the beta testing. One of those new features is the cap on app downloads over cellular data connections.
Previously, the cap on over-the-air updates via cellular was 50MB, that has now been raised to 100MB per app as shown in the image above.
As pointed out on Ubergizmo, this cap never actually reveals itself until you download an app that's over 100MB, so according to your data plan it's something people might want to take notice of, especially those without data bundles.
This new feature is either a big win, or could become a headache for people who are not always near a WiFi source.
iOS 7 also brings a new method to search, an improved way to group images in Photos, and more. Apple has even thrown in a male voice for the first time to its Siri voice recognition system in this new update. Along with iOS 7, Apple has also made iTunes 11.1 available for download, adding in features such as iTunes Radio, where people can listen to 250 streaming radio channels or make their own. It also has Podcast Stations, where users can make their own podcast collections that automatically update with new episodes.
Source & Image: Ubergizmo