This is the sixth part of our Intel Evo vs Apple Silicon series, where we're taking a look at what each side can do better than the other. The MacBook Pro 13, Razer Book 13, Razer Core X, Nvidia GeForce RTX 2080 Ti, Samsung T7 Touch SSD, and CalDigit Thunderbolt 3 dock were provided by Intel. All opinions expressed are a result of our own testing and experience.
The Razer Book 13 was first announced back in November, and it's the company's attempt at productivity, whereas it typically focuses on gaming. It's something a bit different, but Razer really brought its premium design, and some subtle gaming features over to an ultrabook that weighs in at just over three pounds.
Given that Intel sent it to me alongside the MacBook Pro, it's a surprisingly similar product. It has that feel of being made out of a block of aluminum. Indeed, it feels premium, and it acts that way as well with solid performance and more.
Specs
CPU
Intel Core i7-1165G7
Graphics
Intel Iris Xe
Body
15.15x198.5x295.6mm (0.6x7.8x11.6in), 1.4kg (3.09lbs)
Display

13.4" Full HD Matte 60Hz
Slim side bezel
Touch display
Up to 178° wide viewing angles

Storage
256GB SSD
RAM
16GB dual-channel (fixed)
Input

Per-Key RGB, powered by Razer Chroma
Anti-Ghosting

Microsoft Precision Glass-Touchpad

Connectivity

Intel Wireless-AX 201 (IEEE 802.11a/b/g/n/ac/ax)
Bluetooth 5.1

Battery and adapter
Ports

USB 3.2 Gen 1 (USB-A) x 1
Thunderbolt 4 (USB-C) + Power x 2
HDMI 2.0 x 1
MicroSD Slot x 1

Audio

3.5mm Combo-Jack
2 Speakers + Smart Amp
THX Spatial Audio
4 Mic Array

Color
Mercury with Tone-on-tone Razer logo
OS
Windows 10 Home
Price
$1,599.99

Note that the Razer Book 13 comes in three configurations. The base model, which costs $1,199.99, has a Core i5-1135G7, 8GB RAM, a 256GB SSD, and a FHD non-touch display. At $1,599.99, the unit that Intel sent me is the middle one, and then at the high-end for $1,999.99, you can get a Core i7-1165G7, 16GB RAM, a 512GB SSD, and a UHD touchscreen.
Day one
Design
After digging into the Razer Book 13 and MacBook Pro units that Intel sent me, it's actually quite a coincidence that I ended up with the Razer Book. Intel gave me a choice between various Intel Evo PCs, and I went with the Razer Book because it was the only one I hadn't reviewed. I suspect that a lot of journalists went with similar choices just because HP and Dell (Intel offered a Spectre x360 and XPS 13 2-in-1) have much broader review programs than Razer does.
The reason I feel like it's something of a coincidence is because these two laptops are so visually similar. They both have that feel like they're built from a block of aluminum, and they both have a very minimal design. They've both got flat edges, hard corners, and they both come in a regular silver color. Looking at the Razer Book 13 from the top-down, you'd think that the Apple logo was replaced by a Razer logo.
I've always sort of disliked the term MacBook clone, although that's what this is, even if Razer's design is an improvement on Apple's (we'll get to all of that). I've just always disliked the term because it generally means that Apple owns the design of a silver aluminum laptop, and if you look at what HP is doing with its Spectre x360 designs, you can see that it's possible to get far and away from that.
One area where the design is clearly different is the ports, because indeed, this product actually has USB Type-A, although unfortunately, it's still the 5Gbps USB 3.2 Gen 1 instead of the 10Gbps USB 3.2 Gen 2. On the left side, you'll also find a Thunderbolt 4 port and a 3.5mm audio jack.
The thing I'm really enjoying about Thunderbolt 4 in this generation is that I always know that I can connect dual 4K monitors to it, something that wasn't always the case with Thunderbolt 3. In fact, with Thunderbolt 3, you really had no way of knowing what you were getting. With a single Thunderbolt 4 port, you can connect two 4K monitors, one 8K monitor, an external GPU, or get 40Gbps data transfer speeds.
On the right side, there's an HDMI 2.0 port, a microSD card slot, and another Thunderbolt 4 port. That's right; there are Thunderbolt ports on both sides, a rarity on Windows laptops, or any laptop that's not running Chrome OS. Being able to charge from either side, or connect from either side, just makes life a lot easier than when you're always forced to use one side.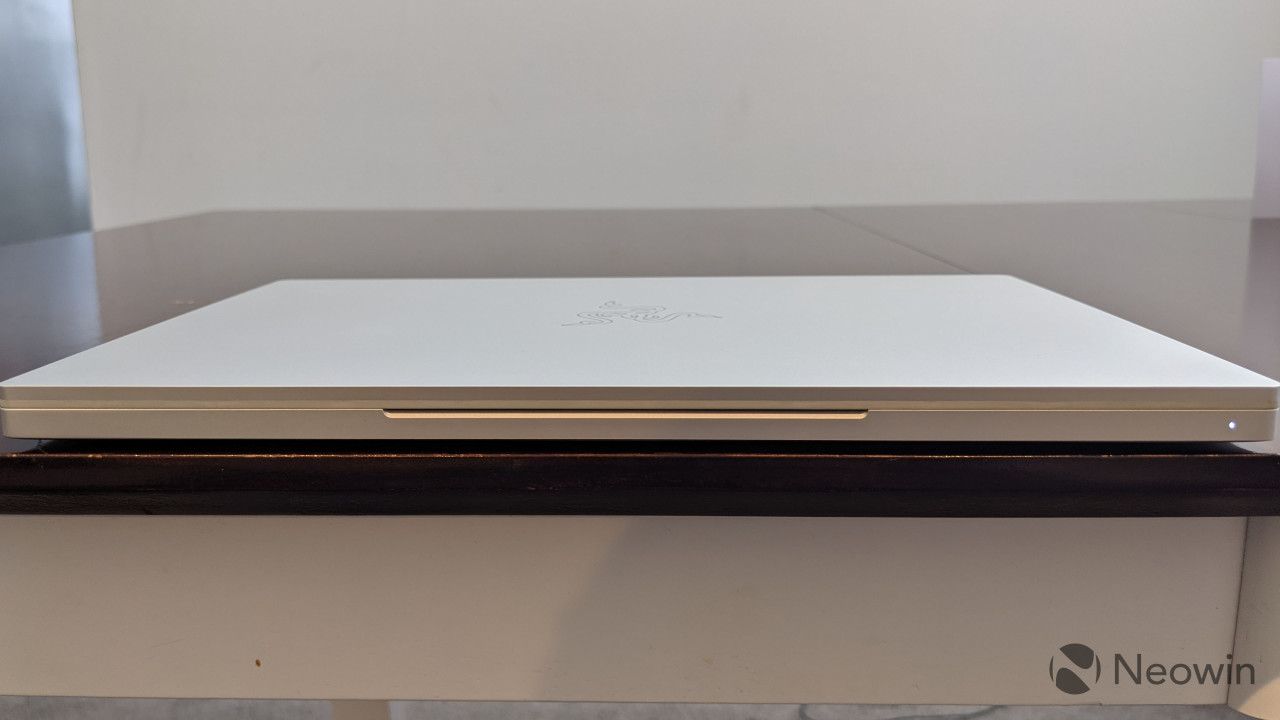 A look at the front will actually give you an idea of what the design of this laptop is like, and the weight is so well-distributed that you can easily life the lid with one finger. Everything about the design on the Razer Book feels premium, and that just translates across the company's entire portfolio.
Display and audio
The model that Intel sent me comes with a 13.4-inch FHD touchscreen, and in fact, the three configurations available come with three different screens. The base model is FHD non-touch, and the top-end model is UHD touch. This is where my issues with price start to come in, as $1,599 is pretty pricey for 256GB of storage and an FHD screen.
But to be fair, this is a really nice FHD screen. It's bright and vibrant, and there's no noticeable pixelation. As noted in the spec sheet, it has a full 178-degree viewing angle, meaning that you can look at the screen from any angle without any noticeable color distortion.
And of course, it's 16:10 rather than 16:9. It's a trend that we're seeing across the PC industry, and everyone seems to be on-board. It means that the screen is taller, quite a bit taller in fact. Screens are measured diagonally, so when you change the aspect ratio like that, you gain surface area. To me, 16:10 is just right at this size; if you go to something like 3:2, it starts to feel too narrow for me.
And as you can see from the image above, it has narrow bezels on all sides, another area in which the design is improved over the MacBook Pro. I really haven't talked about this too much in the Intel Evo vs Apple Silicon series because I'm trying to compare the platforms rather than specific hardware, but this article is about specific hardware. The Razer Book 13 just has a much more immersive experience. That tiny top bezel also includes an IR camera for facial recognition, another Windows exclusive.
Razer placed the two speakers on either side of the keyboard. They actually seem like they're made more for gaming and immersion than actual clarity. As far as volume goes, they definitely get loud, but listening to music doesn't really sound too pleasant. It sounds fine for calls and such, but for media, not so much.
Keyboard and touchpad
Did you ever think you'd see an RGB keyboard in a productivity laptop? Well, here we are, as the Razer Book 13 absolutely has one. Somehow, Razer build a professional-looking laptop that has an RGB keyboard that still manages to look and feel subtle. It generally cycles through subtle colors by default, but you can change that through the Razer Synapse app.
I also think that the white keys on the silver background lend themselves to the not-so-flamboyant look of this RGB keyboard. Honestly, it's one of my favorite features of the laptop. I review so many productivity laptops and this really feels like a stand-out feature.
Unfortunately, I really didn't care for actually using the keyboard. There were a lot of missed key strokes with this keyboard, and given the depth, it seems to have a strange level of resistance that doesn't feel natural. I just didn't feel like it was particularly accurate.
As you'd expect, it has a Microsoft Precision touchpad, so it's fast and responsive. What I really love though is that it stretches across the available space on the keyboard deck. I wish more OEMs did this, but seriously, if the space is there, use it. The touchpad is quite good, and I didn't have any issues with it like I did with the keyboard.
Performance and battery life
The Razer Book 13 that Intel sent me includes a Core i7-1165G7, 16GB RAM, and a 256GB SSD. Don't forget, however, that it also sent me a Razer Core X external GPU enclosure and an Nvidia GeForce RTX 2080 Ti. On its own, the laptop includes Intel's Iris Xe graphics, which are quite good.
Indeed, I've said this many times, but Intel's focus on integrated graphics that started with 10th-gen 'Ice Lake' is really paying off. While this machine is built for productivity, you could totally do some FHD gaming on it. And if you want to do some UHD gaming, just plug in the external GPU. That option is definitely a niche use case though, as the Razer Core X is $299 on its own before you even add in the cost of the graphics card itself.
But that's what's really cool about Intel Evo as a platform; there's a lot of versatility here. With Iris Xe graphics, I'm amazed at some of the things that you can do. Honestly, I never imagined integrated graphics could do some actual video editing and FHD gaming. Just a few years ago, you really needed dedicated graphics for the stuff that this can do.
And then with Thunderbolt, you can bring it home and plug it into a full desktop solution such as an external GPU, or just a dock that's hooked up to a couple of 4K monitors. And being a single-cable solution, you can just unplug it and take it on the go.
Battery life is pretty great too. With the power slider at one notch above battery saver and the screen on about 25% brightness, I was able to get a solid eight hours of work out of it, and that's pretty rare in Windows laptops. Of course, that goes down if you turn up the brightness, or the power slider if you're planning on gaming. But also, any Thunderbolt dock charges the PC anyway.
For benchmarks, I used PCMark 8, PCMark 10, 3DMark, VRMark, Geekbench 5, and Cinebench.
Razer Book 13
Core i7-1165G7
Razer Book 13
Core i7-1165G7, RTX 2080 Ti
MacBook Pro
M1
Acer Aspire 5
Ryzen 7 4700U
PCMark 8: Home
4,370
4,294
3,702
PCMark 8: Creative
4,796
5,746
4,228
PCMark 8: Work
4,047
4,044
3,689
PCMark 10
4,897
5,756
4,718
3DMark: Time Spy
1,777 (1,612 / 4,255)
9,155 (11,560 / 4,203)
VRMark: Orange Room
2,691
8,860
VRMark: Blue Room
3,756
Geekbench 5
1425 / 4,143
1,536 / 5,405
1,720 / 7,668
Cinebench
1,426 / 3,837
1,210 / 3,711
1,495 / 7,771

Unfortunately, the benchmarking apps I use that are available for macOS only test out the CPU, so it's hard to get a picture of the whole package just based on benchmarks, especially when we're looking at things like how much of a boost you get from an external GPU, something not supported by Apple Silicon. One thing is for sure though. Apple wins in those CPU tests.
Conclusion
First of all, the Razer Book 13 is an awesome laptop. It has a clean design and premium build quality that's always a pleasure to use. It's also got a lovely RGB keyboard, super-narrow bezels around the 16:10 display, and great performance from Intel's 11th-generation processors and Iris Xe graphics.
But boy is this thing expensive. Just recently, I reviewed an Acer Swift 5 with a Core i7-1165G7, 16GB RAM, a 1TB SSD, and an FHD screen that costs $1,299.99. This unit costs $1,599.99, and it has a quarter of the storage. In this reviewer's opinion, 256GB of storage is barely passable, and is unacceptable in a $1,600 laptop.
Personally, I think that the $1,999 model is the one to go with. It has the UHD screen and double the storage.
But this is a great all-around laptop with some unique features. The RGB lighting in the keyboard is truly a delight, and the screen is really good. It's definitely not perfect given the price, but it's quite good. If you want to check out this model on Amazon, you can find it here.
Check out the rest of the series:
As an Amazon Associate, Neowin may earn commission from qualifying purchases.
Pros
Looks and feels premium Clean aluminum design Subtle RGB keyboard Pretty FHD display Performance
Cons
Expensive $1,999 for a model with 512GB storage Keyboard issues