A new era of Windows Phone is finally upon us, and HTC is leading the pack out with their flagship smartphone: the Windows Phone 8X. Designed to be more compact than the Lumia 920 but equally high-end, the Windows Phone 8X introduces a different yet compelling style to HTC's line-up of devices, a style that I couldn't resist going hands-on with.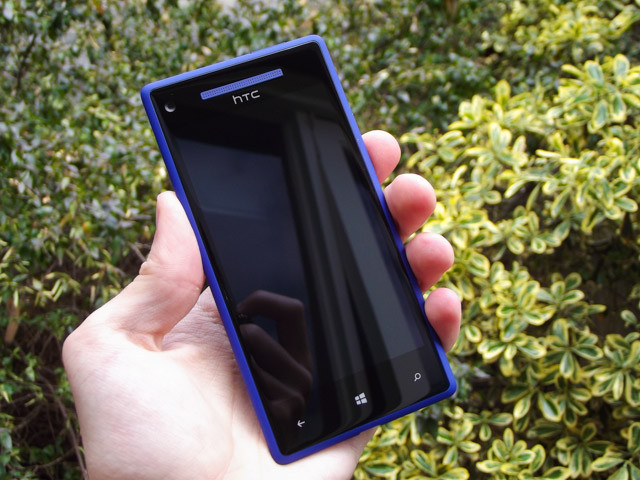 It's not just about the exterior either, because for the first time manufacturers of Windows Phones can actually introduce hardware that's relevant in the modern and ever-changing phone market. The HTC 8X includes a 720p display and a Snapdragon S4 dual-core processor, which finally allows it to compete on-paper with the latest Android behemoths and deliver high-quality components to consumers.
This review would simply not be possible without MobiCity, who managed to send me a Windows Phone 8X amid the confusion of the Windows Phone 8 launch here in Australia (and overseas). They've got an awesome redesign in the works, so check it out when it goes live, and of course they have all the latest Windows Phone 8 devices available for purchase unlocked and off-contract (including the 8X and Lumia 920).
Specifications
Internally, the Windows Phone 8X shares a lot of things in common with the One XL: there's a 1.5 GHz dual-core Qualcomm Snapdragon S4 chipset with 1 GB of RAM; 8 megapixel rear camera with ImageChip technology, f/2.0 lens and BSI sensor; NFC and LTE (in some models). Also, the 4.3-inch Super LCD 2 display at 1280 x 720 is very similar to the 4.7-inch version in the One XL.
Yet while many things are similar, many things are different as well. I don't fully understand why there's only Bluetooth 3.1 in the HTC 8X when the One XL gets the newer Bluetooth 4.0, and a more pressing issue is why the maximum available storage is 16 GB with no microSD card slot. On the better side, the 8X receives a 2.1 MP front-facing camera with an ultra-wide angle lens which makes quite a difference.
Anyway here's the rest of the specifications for your perusing:
 
Windows Phone 8X by HTC
Product Codes
C620e
3G/4G
HSPA+: 42 Mbps ↓ 11 Mbps ↑
LTE Cat. 3: 100 Mbps ↓ 50 Mbps ↑ (some models)
Display
4.3-inch Super LCD 2 at 1280 x 720
342 ppi pixel density
Corning Gorilla Glass 2
Processor
Qualcomm Snapdragon S4 MSM8960
1.5 GHz dual-core Krait CPU
Graphics
Adreno 225
RAM
1 GB
Storage
16 GB internal user storage
Connectivity
Wi-Fi 802.11 a/b/g/n (dual-band)
Bluetooth 3.1
A-GPS and GLONASS
NFC
Camera
8 MP rear camera with BSI sensor, f/2.0 lens and LED flash
2.1 MP front camera with wide-angle lens
1080p video recording (front and rear)
Ports
MicroUSB
Micro SIM
3.5mm audio jack
Battery
Li-ion 1,800 mAh non-removable
Launch OS
Windows Phone 8
Launch Date
November 2012
Size & Weight
132.4 x 66.2 x 10.1 mm
130 g
Price
Unlocked & Outright: $649 (16 GB) | Buy now!
Design
Rather than opting for curves to the extent of the Galaxy S III or even the One X before it, the Windows Phone 8X is tall and rectangular without being sharp. Even though the device is reasonably thick at 10.1mm, HTC has opted for a half-pillow-shaped design that sees quite considerable tapering around the edges, which not only hides the excess fat but makes the device extremely ergonomic to hold.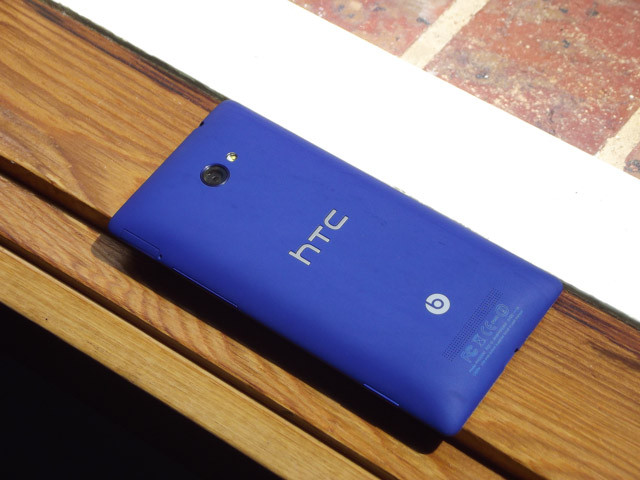 As I mentioned in my unboxing video for the HTC 8X, this design is quite striking when you first take it out of the box. The rectangular nature helps it blend in well with the Windows Phone OS that it runs, but the choice of build shape and materials gives it a great feel to use. The soft-touch polycarbonate is a form of plastic I enjoy caressing in my fingers, and the coating on the strong Gorilla Glass 2 makes swiping across the display effortless.
Speaking of the front of the phone, HTC has gone with an infinity-style edge without a ridge, allowing your fingers to simply whoosh off into the air when you swipe side-to-side; it's one of the great joys of using this phone on a regular basis. Fingerprints also seem to wipe off with ease thanks to the same coating that makes fingers glide along the surface, so keeping the device clean is easy.
The phone is styled with minimalism in mind, so the front face sees very little clutter. The three capacitive touch buttons, HTC logo, speaker grill and front facing camera are the only visible elements apart from the display, and all of them look great in their well-positioned layout. There are also two hidden items on the front: a charging notification LED can be seen inside the right side of the speaker grill, and there's a bunch of cleverly hidden sensors along the top edge of the glass.
It should be noted that the aforementioned charging LED isn't used by the OS for notifications, which is a little bit disappointing if you're coming from Android, but I believe this is more an OS restriction than by design.
On the curved rear of the device, again there's minimalism at play, with the camera, HTC logo and Beats logo the only real highlights. Along the bottom edge of the phone you'll find the microUSB port; the right edge has the volume rocker and camera button; and the top feature the power button and headphone jack. As the 8X is a tall device it can be awkward to access the power button on the top, but thankfully HTC made it long so there is little chance you will miss hitting it.
HTC must also be praised here for the solid construction of the phone that features no creaks or movement at all, but also keeps itself light and portable. All the buttons, while polycarbonate plastic like the rest of the phone, feel solid while still managing to be easy to push, and I really like how Microsoft makes manufacturers include the dedicated camera button for easy photo taking.
One last thing that should be mentioned is the color of the phone, which as you may have noticed is not your traditional black or white (though a black model is available). The "California Blue" model I received looks great once you get your hands on it, and stands out from the crowd of boring grayscale smartphones; plus it's certainly giving Nokia a run for their money.
Display
It's great to see that once again HTC is utilizing the brilliant Super LCD 2 display technology for their flagship devices, with a 4.3-inch, 1280 x 720 model appearing in the Windows Phone 8X. The 4.3-inch Super LCD 2 display is a Sony-made IPS TFT LCD panel with an RGB stripe subpixel matrix, delivering a fantastic array of colors with superb contrast and viewing angles.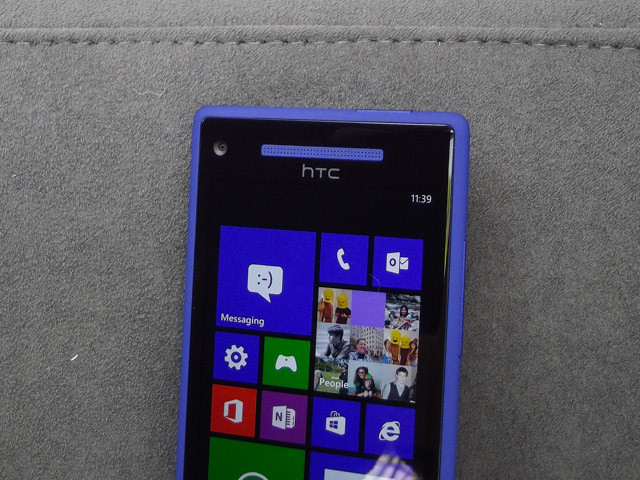 When you have LCD technology that looks this good there is no reason to include AMOLED panels because the advantages are abundant. One of the advantages, and perhaps the most important, is that the Super LCD 2 is brighter and whiter than any equivalent AMOLED, meaning it's much easier to read text on the display, and it's actually possible to use it outside. With the Samsung Galaxy Note II, an AMOLED touting phone I reviewed recently, I found it hard to use outdoors because of poor brightness, but this shouldn't be an issue here.
Just on the brightness I actually found the brightness settings for the 8X's display to be very strange. You can set a brightness level out of three settings (low, medium and high), or turn on auto brightness, however it appears part of the auto brightness is actually dictated by the brightness level. If you set the level to low and then turn on auto brightness (as you can't change the level when auto is on), the screen will be dimmer than setting the phone to high with auto brightness on. In reality the display should go through the full range of brightness levels when auto brightness is set, and I hope HTC will fix this in a future software update.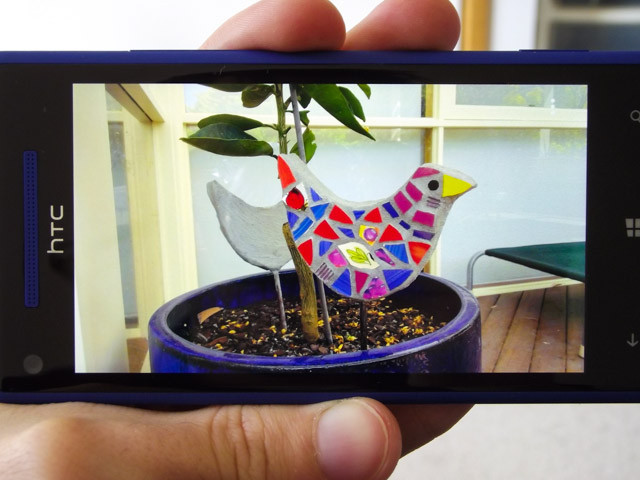 When it comes to color gamut there are few competitors up to the standard of the Super LCD 2 in the mobile space at the moment, with any contenders using similar IPS LCD technology (the iPhone 5 comes to mind). The screen on the 8X looks vibrant and beautiful when it's displaying scenes with lots of color, without sacrificing any accuracy in reproduction or becoming unnecessarily oversaturated. The 8X's display is just leaning to the warmer side of the spectrum, although there aren't any specific color tints to worry about.
Another great benefit to the Super LCD 2 is the contrast and black levels, which allow you to happily use either a black or white background for your Windows Phone 8 Start screen. Even though there is a slight amount of backlight getting past the filter layer of the Super LCD 2 display, it's hardly noticeable unless you compare it to another (Super AMOLED) display.
Specification nerds will also be glad to hear that at 342 ppi, there's enough pixel density crammed in here to make your eyes lust over crisp text and sharp images. Many Windows Phone 8 apps need to be updated to make use of the new 720p 16:9 resolution, but as a start in-app text renders perfectly smooth without any PenTile blemishes, and that makes me happy.
At 4.3-inches the Windows Phone 8X's display is not the largest on the market, but the Super LCD 2 tech makes it one of the best. If you're after a reasonably-sized Windows Phone with the fantastic display technology, the 8X might be the flagship you're looking for.
Software
As you might have gathered from reading this review, the Windows Phone 8X by HTC is running Windows Phone 8. There haven't been many additions to the software by HTC for this device, so for an in-depth look on pretty much everything software-related I suggest you check out my Windows Phone 8 review.
Apart from the base software HTC has loaded on five extra applications. The Flashlight, Converter (unit converter), Photo Enhancer (basic photo editing and effects) and Connection Setup apps are all fairly self explanatory, and don't add too much to the experience except for saving you from having to download a third-party app from the Store.
The HTC app is the highlight of the bunch, as it delivers weather, stocks and news in the one handy application. Apart from that through a Live Tile it delivers the time and weather straight to your Start Screen, and if you choose it as your lock screen background it can deliver weather information there as well. This can be particularly handy if you want quick access to location-specific info, and the addition of Live App info on the lock screen is a feature not many other apps do at the moment.
Performance
The Qualcomm Snapdragon S4 chipset that powers the HTC Windows Phone 8X is no stranger to us around here as it has been on the market for the best part of this year, mostly in LTE variants of popular phones such as the Samsung Galaxy S III and HTC One XL. The MSM8960, featuring a 1.5 GHz dual-core Krait CPU and Adreno 225 GPU, is the main chipset that will be used for the first batch of Windows Phone 8 devices, so expect it to become more familiar as time goes on.
In the 8X the MSM8960 is paired with 1 GB of RAM and 16 GB of internal user storage without a microSD card slot. For many people, including me, having a device that tops out with 16 GB of storage is not going to be enough; I'm used to chucking in a 32 GB microSD into my phone and enjoying my full music collection, but with 16 GB there is not enough space to fit both my apps and all my music.
What surprises me the most is how the lower end Windows Phones in each manufacturers' range - the HTC Windows Phone 8S and Nokia Lumia 820 - are the devices packing microSD card slots. You would think the top end devices deserve the most flexible storage options, but apparently 16 GB is fine for the 8X while I can have 4 GB + 32 GB in the lower-end 8S with its microSD card slot.
When it comes to the everyday performance of the HTC 8X, there is basically nothing that the powerful dual-core CPU cannot handle. Windows Phone is more fluid than ever thanks to the increase in power that is available, and despite the increase in screen resolution, animations around the OS are as smooth as ever. The only time I have noticed a slowdown in the OS is when bringing up the menu in the camera app, and even then it's barely an issue.
Browsing the web is also greatly improved on the Windows Phone 8X, thanks to a combination of dual-core power and Internet Explorer 10's enhancements. Occasionally you'll see some checkerboarding as the browser tries to load intense webpages, and there can be slowdown if you try and manipulate pages while they're still loading, but most of the time you'll find a smooth experience.
Also, one of the only benefits to having just a few specifically coded Windows Phone 8 apps on the Store is that all the old apps, coded for Windows Phone 7 and slower devices, run better than ever. I tested out a few 3D games on the HTC 8X and the Adreno 225 was more than up to the task of running the games at a maximum frame rate.
Even better is that combined with the new ability to have natively coded apps, the serious graphics boost in the latest devices allows for developers to code more visually intense games for Windows Phone. Personally I can't wait for some serious mobile games to come to the platform, especially combined with the great Xbox LIVE integration that you can find.
For Windows Phone devices I have two benchmarks that I like to run: WP Bench, which is the go-to app for device benchmarking; and Peacekeeper which is run within the browser and allows for comparisons between devices running other OSes. As most Windows Phone devices use the same chipsets, these two benchmarks should cover most queries about performance.
In WP Bench you can clearly see how the updated Windows Phones obliterate the older models by a huge margin, however in Peacekeeper the 8X falls behind some of the more powerful Android models available on the market. As these benchmarks are new to my setup the selection of phones I have available to test is limited, but it should give you an idea of how the 8X stacks up against the big guns. 
The HTC 8X model I received was the European HSPA+ model, and even though there is LTE support built in to the Snapdragon S4 chipset, it is not available in this particular variant. Other models, such as the ones available in the United States and Australia, will come with LTE support so don't worry; plus I found the HSPA in my 8X to be perfectly fast in my location.
While Bluetooth and GPS were both fine in my model, I had a strange issue with Wi-Fi where my device wouldn't see my 5 GHz 802.11n network in my house despite claiming to support dual-band Wi-Fi. My network is set to use band 149 of the 5 GHz Wi-Fi spectrum, and it seems the 8X is incompatible with this as I can set it to band 36 and suddenly my 5 GHz network appears.
Other dual-band devices I've reviewed and used, including the Droid RAZR I own, can see my 5 GHz network on band 149 so this seems to be isolated to the 8X. Interestingly some of my colleagues have told me their 8Xs can see their 5 GHz networks, including an AT&T model seeing one on band 149, so I'm puzzled as to why this issue occurs. In any case you can use your 2.4 GHz network without issues so it's not the end of the world.
I'll also happily report that my Windows Phone 8X has not suffered from any spontaneous reboots like some people have been reporting. Overall I'm very happy with the performance of the 8X and I hope HTC/Microsoft can address the reboot issues some people have been experiencing.
Camera
The Windows Phone 8X features the same 8-megapixel rear sensor as the One X, including the f/2.0 lens and ImageChip dedicated image processor, which should mean photos will look relatively similar to those taken with the One X. 
Just like with the One X, the majority of the shots I managed to take with the camera looked really good, and accurately represented the real-life scene I was shooting. Colors are vibrant without being oversaturated, and there is enough contrast and dynamic range in each shot that shadows come through with a fair bit of detail still remaining. Of course, it isn't a patch on a professional DLSR, but for everyday shooting the 8X's camera isn't too bad.
The focus quality of the 8X's camera is also pretty decent, allowing close macro shots of items, although I occasionally had issues forcing the 8X to focus on small foreground items such as coins. The low-light performance of the camera should also be commended, thanks to a combination of a backside-illuminated sensor and f/2.0 lens, only requiring a flash in the darkest of situations.
The above photo was taken with fairly dim incandescent lighting
Often, though, to achieve good low-light images the 8X uses a slow shutter speed, which can be prone to blurring unless you have really steady hands. A number of photos I took in low-light were useless because of blurring; photos I'm sure would be better on the Lumia 920 with its optical image stabilization. There were also a number of photos I took that were inexplicably mediocre compared to the usual standard the camera is capable of, such as the image below.
You'll also find that the 100% crop quality of the 8-megapixel sensor is not particularly mind-blowing, often succumbing to undefined edges, but it's unlikely you'll be wanting to zoom in on the images you've captured.
Also, unlike the One X which features a huge range of camera settings, the 8X's camera is limited to basic quality settings such as ISO and contrast, plus a few basic effects. HTC is probably relying on third-party lenses to add more functionality to the camera, as currently things such as burst shot, panorama and HDR are missing among other features I've seen on other smartphone cameras.
HTC touts an impressive 88-degree ultra-wide-angle lens for its 2.1 MP front facing camera on the 8X, and as you'll notice in the shot below you can capture a wide area with this lens. However, the quality from the front-facing camera's sensor is average at best (like many other front cameras on smartphones), and although it's capable of 1080p recording it's not a camera you'll be wanting to use on a regular basis.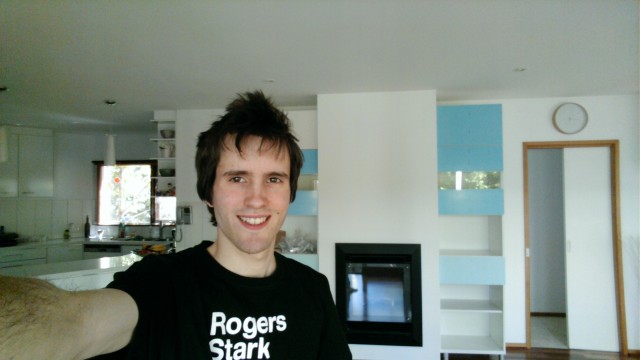 The 1080p recording quality is surprisingly good from the rear camera, keeping stable without resorting to motion blur to hide details. It can be a bit stubborn while auto-focusing or changing the exposure settings, and the microphone quality is somewhat poor, but overall it's one of the better cameras I've seen for video recording.
Now I'll just have to get my hands on a Nokia Lumia 920 to see how this reasonably decent camera stacks up against Nokia's heavily marketed PureView features.
Media Playback
Like with most devices in HTC's current line-up, the Windows Phone 8X comes loaded with Beats Audio enhancement signified by the logo on the back of the device. You no longer get a pack of Beats earphones in the box with your device, but I don't think this will bother many people as you probably already have a better pair of earphones lying around.
Generally speaking the Beats Audio enhancement does a good job of improving the quality of sound output through the headphone jack, as without it, music can sound a bit dull or flat. Beats audio helps to bring up the bass end of songs (hence the "beats"), and while this can sacrifice quality through the mid-range, even in songs without a dance beat like Enya, for example, it sounds better than usual.
The 8X has a wide range of volume settings that enables you to fine tune exactly what loudness level you'd like to listen to your music. With noise-cancelling earbud earphones I found that between half and two thirds volume was a comfortable listening level, with anything above that basically being room for amplification of quieter songs and videos.
The rear speaker on the 8X, while understandably terrible for any sort of music playback, is reasonably loud and audible when you need to hear your ringtone. Call quality through both the in-call speaker and speakerphone I found to be of adequate quality, and the in-call speaker can also go quite loud for those times when you might find it hard to hear the person you're conversing with.
For videos, I loaded a bunch of different formats onto the device to see what would play, and I was disappointed to discover that both H.264 MKV and high-bitrate MT2S files were not recognized by the Xbox Music+Videos Hub. DivX encoded AVI files played back perfectly, as did some H.264 encoded MP4 files I ripped from YouTube, and I was glad to see that the stock video player had no troubles with 6-channel audio in another MP4 file I tried.
This means that, out of most people's video collections, the most popular formats will play back fine without any re-encoding necessary. There's no need to downcode 6-channel audio to 2-channel for playback, and you'll only come into encoding problems if you want to play an MKV file or other more crazy formats. 
The screen quality and aspect ratio lend themselves particularly well to video playback, and now with this generation of Windows Phones you'll be able to comfortably play back 1080p content natively which looks great on the phone's HD display.
Battery Life
The Windows Phone 8X comes with a modest 1,800 mAh internal battery, which in my daily use I found to be adequate, just. On some days with only light usage the battery will easily last right up until you to go sleep, but on others where you are using it more frequently you will be hard pressed to get more than a working day's life out of it.
If you plan on using your phone constantly, you might want to be within reach of a charger as you could potentially kill this phone's battery in around four hours. Twice during my testing did I kill the battery several hours before the end of the day, which is annoying, but to be fair I was using the device somewhat heavily to test all the features.
I wouldn't be surprised if by the end of the day your phone is sitting around 20-30% remaining battery, so be prepared to need almost the entire capacity for a regular day's work with moderate usage. No doubt some tweaks will be made to Windows Phone 8 and the 8X's firmware in the future to optimize the battery life, but for now it's hovering just slightly above the acceptability line.
Here are the results of the battery rundown test. While I can't replicate the exact same test in Windows Phone 8 as I can with Android, here I've set the 8X to airplane mode, brightness is on "Medium" and a seriously long video is played until death.
| Device | Movie Playback Life |
| --- | --- |
| Samsung Galaxy Note II | 12:47 |
| Motorola RAZR HD | 11:49 |
| Motorola RAZR | 9:31 |
| HTC One XL | 9:03 |
| Samsung Galaxy S III | 8:41 |
| Motorola RAZR V | 8:32 |
| HTC Windows Phone 8X | 7:15 |
| Sony Xperia S | 6:50 |
| LG Optimus 4X HD | 5:16 |
Conclusion
There's seriously a lot to love about the hardware of the Windows Phone 8X by HTC. The colorful, textured design is stunning to look at and beautiful to hold, while the inclusion of the 720p Super LCD 2 again reminds us that it's one of the best displays available. At 4.3-inches it allows HTC's flagship to be portable and accessible, which should appeal to many people wanting a powerful phone without a giant footprint.
Windows Phone 8 also allows for this Windows Phone's hardware to actually be relevant in the modern smartphone world, combining a powerful Qualcomm dual-core with LTE (in some markets), NFC and that crisp HD display. I wish HTC had included a battery with more juice and removable storage, but if they release a 32 GB model I could perhaps forgive them for that last one.
The camera by all means is quite good, so don't feel that by choosing a Windows Phone 8X over a Lumia 920 you're stuck with a mediocre shooter. While the PureView features of the latter will surely give it an advantage in this department, the 8-megapixel camera on the 8X delivers reasonable low-light shots and great day shots provided the conditions are right.
I would only hesitate in recommending the 8X because of the current state of Windows Phone 8. As I mentioned in my extensive review of the OS, many things have been improved for the better and some great new features have been included, but there are still some niggles here and there. The platform feels young despite being two years mature, but this is mainly because of the state of the apps in the Windows Phone Store, which I'm sure will improve in a few months time.
Should you buy the Windows Phone 8X? If you're up for an early adopter experience, if you like the look of the attractive hardware or if you just desperately want a new Windows Phone, the HTC 8X is an extremely solid choice. For Android or iOS users who might be disappointed by the state of third-party apps on WP8, give it a few months for things to ramp up and the 8X might just be the change you're after.
→ Windows Phone 8 review
→ Buy the Windows Phone 8X unlocked from MobiCity | MobiCity UK
→ Official Windows Phone 8X by HTC website
→ Follow me on Twitter for review tidbits