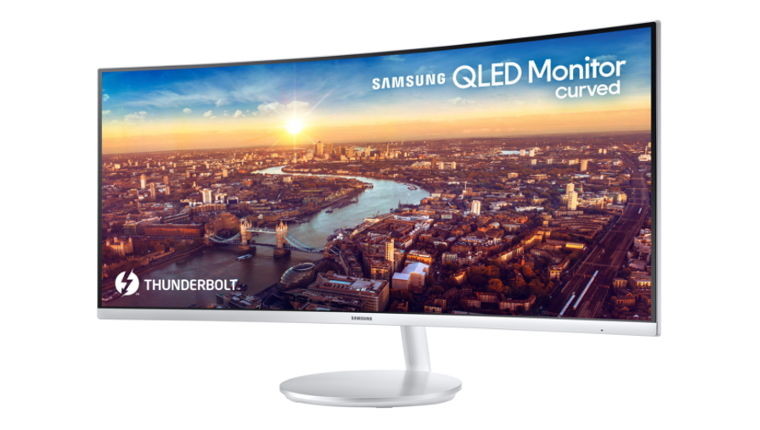 Samsung has announced that it plans to debut its new CJ791 monitor at CES next week, it's the first curved monitor with Thunderbolt 3 connectivity. According to the Korean firm, the 34-inch CJ791 "aligns single-source power and processing speed with an exceptional picture quality for a comfortable and productive user experience" and is designed for business and entertainment purposes.
Seog-gi Kim, Executive Vice President of Visual Display Business at Samsung Electronics, said:
"As the pioneer of the curved monitor industry, Samsung continues to seek new ways to refine our displays and exceed consumers' expectations on heightened performance and presentation. The CJ791 aligns Thunderbolt 3 connectivity with our best-in-class curvature and QLED picture quality to captivate and engage users, while also promoting improved organisation and productivity. We are thrilled to demonstrate the full capabilities of our innovative new display to CES 2018 attendees."
Using the Thunderbolt 3 connection, the monitor is able to offer processing speeds of up to 40 Gbps, which is nearly four times faster than monitors with a USB connection. The screen boasts a 21:9 aspect ratio with a 3440x1440 ultra-wide QHD resolution with a pixel density almost 2.5 times higher than full HD monitors.
If you're heading to Las Vegas to attend CES 2018, head to Samsung's CES booth #15006 on Level 1 of the Central Hall between January 9-12 to find out more about the CJ791 QLED monitor.
Source: Samsung
Neowin will be at CES to bring you all the coverage from the show floor, click here for other articles.