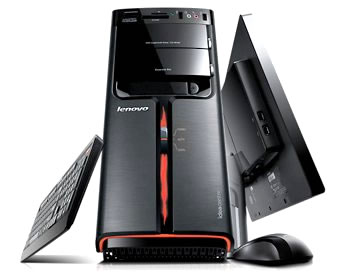 The Lenovo IdeaCentre K330 is a budget gaming desktop PC that has ample power for general-purpose work, and should be well suited for video and other multimedia work as well as PC gaming.
Released earlier this year, the machine is powered by your choice of a second-generation Intel Core series processor and up to 16GB of RAM. Additionally the K330 features a unique three-speed power control switch so you can dial-up performance when you need it.

The K330 series ranges in price from $699 up to our review unit's $1,099 configuration (recently discounted). At the heart of this system is a power plant featuring a 3.4 GHz Intel i7-2600, 12GB of DDR3 RAM, an Nvidia GeForce GTX 460 graphics card, a Hitachi 2TB 7200 RPM hard drive, a Blu-ray / DVD combo drive and a 16-in-1 card reader, all running on Windows 7 Home Premium 64-bit. The unit comes standard with a one-year warranty from Lenovo.
Read: Lenovo IdeaCentre K330 Desktop PC Review
These articles are brought to you in partnership with TechSpot.