Weekend PC Game Deals is where the hottest gaming deals from all over the internet are gathered into one place, every week, for your consumption. So kick back, relax, and hold on to your wallets.
It's yet another week with no new bundles in sight, leaving us with the bundles from previous weeks to highlight.
The Humble Brawler Bundle still has a name that doesn't go with the games it has put up, but that shouldn't stop you from checking out if the bundle's fighting games will be worth your time. The bundle includes several popular games developed by Arc System Works, as well as some highly-rated fighting titles such as Skullgirls and Rivals of Aether.
While the above bundle will run out in only a couple of days, the Humble Monthly Bundle is in no danger of that happening. The bundle offers three early unlock games this month, bringing in Deus Ex: Mankind Divided, GOD EATER 2: Rage Burst, which also comes with the first game, as well as Mafia III.
Also, if you're an Origin Access subscriber, note that EA recently added six games from Warner Bros. into the program, which include Arkham and LEGO Batman titles. There is also a free trial for the subscription service running right now, giving you access to the entire catalog as well as store discount for seven days.
Free Events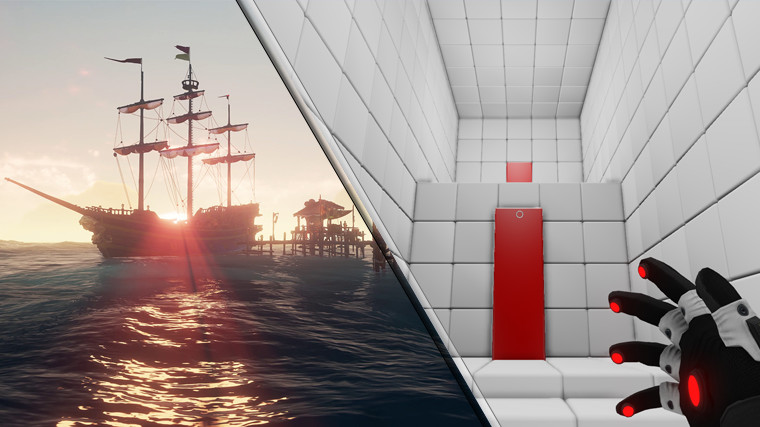 If you don't have an aversion to the Microsoft Store, this may be a good opportunity to try your hand at sailing the Sea of Thieves, as Rare is hosting the game's final beta before launch. The beta brings along several new features unseen in previous closed sessions, and is available to all Windows 10 players.
---
Q.U.B.E: Director's Cut is running a free weekend on Steam, promoting the imminent release of Q.U.B.E. 2. The single-player game gives you access to some special gloves that lets you control cubes, which are used to solve various kinds of puzzles.
Big Deals
With the beginning of the weekend arrives a wide assortment of sales from a range of PC game stores, and below, we have a selection of handpicked games that are near or below their historical discount rates.
Also, while the measly 10% Total War: Warhammer discount on Steam is nothing to write home about, the strategy game's DLC packs have received 50% discounts, which may be interesting to fans looking to spice up their playthroughs.
*DRM-free version is also included.
DRM-free Goodness
Now, with all those out of the way, let's have a look at the long line of DRM-free deals that are on offer at the GOG store this weekend.
Do keep in mind that availability and pricing for some deals may vary depending on the region you're in.
---
And that is it for our pick of this weekend's PC game deals folks, and hopefully, some of you have enough self-restraint not to break the bank adding new games to your ever-growing backlogs. Of course, there is an enormous amount of other deals ready and waiting all over the interwebs if you comb through it hard enough, so keep your eyes open for those, and have a great weekend.