exo.blog has at the request of their members re-run the original OfficeBench test, this time with 2GB of RAM in the test system. Unfortunately the outcome is unchanged bar a 4% improvement on the previous score. One can argue that Windows XP system requirements are quite a bit lower than its successor, and thats probably got a lot to do with it. This, coupled with claims that Vista SP1 will not improve on performance but will in fact be all about stability and reliability instead, doesn't offer much hope for those people on older systems.
Make of it what you will, I personally don't have performance issues at all. I use Vista with 2GB of RAM and I have a Sandisk 2GB memory stick that is used for the "Ready Boost" feature, maybe they should re-run the test with that scenario.
Chris Pirillo had this to say on all those negative articles surrounding Windows Vista, enjoy!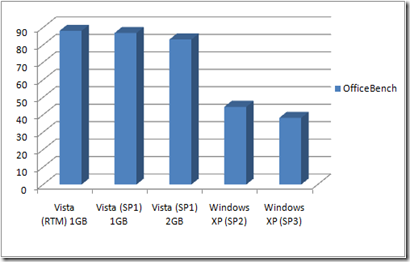 Revised OfficeBench Completion Times (Seconds)
Note: The Windows XP (SP3) results have been added to the chart to add further context to the Vista results. As before, all tests were conducted on the same Dell XPS M1710 system w/2GHz Core 2 Duo CPU and DDR-2 667MHz RAM.
For those interested, they also ran the test using Office 2003 instead of Office 2007, you can view the results by following the link below to the source.
News source: Update: Re-Testing Vista w/2GB RAM, Office 2003 @ exo.blog