I only recently started getting interested in smartwatches, but Honor left a pretty good impression on me with the Honor Watch GS Pro, which offers a lot of fitness and wellbeing features along with stellar battery life. The Honor Watch ES is a different kind of beast, though, and it's more so aimed at people with less of an adventurous spirit, and those who are just starting to get into fitness.
It's a much more affordable smartwatch, and that means it cuts back on a lot of the capabilities the GS Pro had. But it's meant for a different audience, and it's a much more affordable way to get started with exercising and health tracking.
Specs
Body
46×30×10.7mm, 21g (without the strap)
Strap
Black silicone strap
Display
1.65-inch AMOLED, 456x280
Sensors

Accelerometer
Optical heart rate sensor
SpO2 sensor

Battery life
Up to 10 days
Water resistance
5ATM
Storage
4GB
OS
LiteOS
Price
€99.90/£99.99
Honor doesn't provide a ton of information about the technical specifications of the Honor Watch ES. Neither the chipset, storage, or RAM are mentioned in the product page, and though I asked about RAM, I was told that information wasn't available. That's okay, though, because this really isn't meant to be a smartphone on your wrist. It's a purely fitness-oriented device.
Day one
Design and display
The Honor Watch ES is a pretty sleek and stylish-looking smartwatch. It has a vertical display, and that helps it be a little less noticeable when I move my wrist, which is nice. The casing is all black, and while the rear uses pretty cheap-feeling plastic, the frame is quite solid, so it feels premium enough. It's definitely a more subdued design than the GS Pro, and it's much easier to fit into a regular lifestyle compared to that.
It's also very light, weighing just 21 grams, so it really doesn't feel like it's getting in the way. However, the strap on the Honor Watch GS Pro felt fantastic, with an incredibly soft touch rubber and lets of strap holes that helped it feel less constricted. This strap isn't bad, but it doesn't feel quite as nice. However, it is replaceable since it uses a standard 24mm fitting.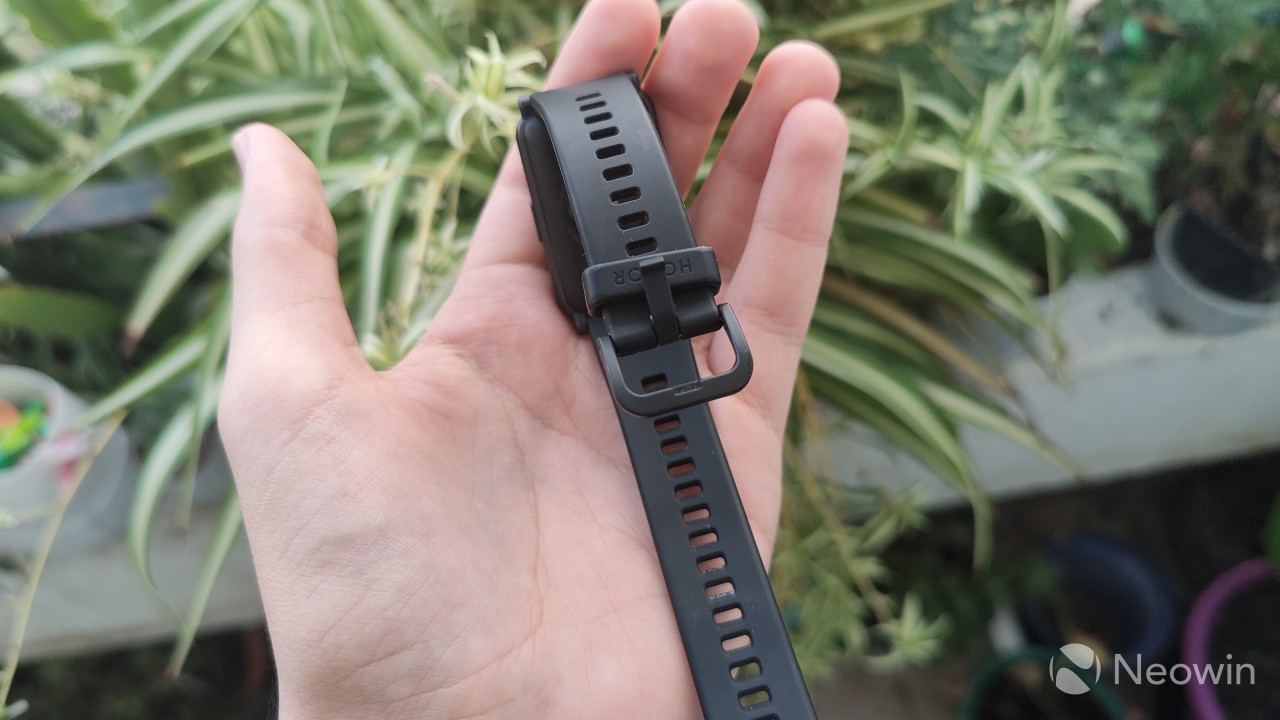 The design is very simple and there isn't a ton going on on the outside of this watch. On the right side of the casing, there's a single button, which serves as the home button. There's also what appears to be a microphone hole, though you can't take calls on this watch, because there's no speaker whatsoever. This does seem like a significant feature to cut in my opinion, as taking calls from my watch is one of the features I tend to use fairly often. You'll still feel the watch buzz when you get calls, though, and you can reject them from the watch, just not answer them.
The left side of the casing is completely clean, so there's no extra buttons or anything here.
Naturally, the back has the sensor module, with the heart rate and SpO2 sensors exactly where you'd expect to find them.
Of course, the front is where you'll find the vertical 1.65-inch display, and it's not bad at all. Like most smartwatches, it's AMOLED, so blacks are truly black, and colors look very vivid. It's not the most pixel-dense display out there, but it looks fine, and while a lot of the UI elements are easily recognizable from round watches like the GS Pro, it's all adapted pretty well for this vertical form factor. That includes my favorite watch face, called Clear, which displays a ton of different information at once.
For those interested in that kind of thing, there is an always-on display here, and enabling it gets you the usual warning - it will disable the raise-to-wake gesture, and it will cut battery life in half. I don't really care about this feature, but for those that do, it's here, and it includes watch faces with color, which is nice. It is unfortunate that the raise-to-wake gesture has to be disabled, though.
Software and battery life
Just like other Huawei and Honor watches, the Honor Watch ES runs Huawei's LiteOS, which lets it get away with very small amounts of RAM while giving it amazing battery life. Of course, that means you don't get a lot of the "smarts" from other platforms, especially Wear OS, which is a big downside for me. You can't install any apps or anything here, and this model doesn't include local music storage, despite having 4GB of memory. It can control music playback from your phone, though, which is all I need.
In terms of standard smartwatch features, LiteOS offers the basics. You can get notifications, and you can opt into notifications for individual apps using the Huawei Health app on your phone. I'm not a fan of the way it works, though, because you only get to see notifications, you can't interact with them in any way. Like I said before, you also get a buzz for calls and you can reject, but not take, the call from the watch.
Honor and Huawei watches do include a bunch of fitness and health features, though, and most of them are still here. You get 24/7 heart rate monitoring, which enables even more features like sleep tracking and stress monitoring. There's also an SpO2 monitor to check your blood oxygen, and Honor also touts female cycle tracking, but as you can probably guess, I didn't get to test that.
Because it's such a simple operating system, LiteOS does offer fantastic battery life, as I mentioned on my review of the Honor Watch GS Pro. Now, the Honor Watch ES is much smaller and thinner, so the battery maxes out at just 10 days according to Honor. In my experience, it's lasted me about five days before I need to charge it again, and I think that's still amazing. I've said before that I'm fine with charging smartwatches every day, so anything that goes beyond that is fantastic.
Fitness and health tracking
What it does do is track over 95 types of exercise, including support for automatic detection of six types of it. There's a little less that it can do compared to more expensive smartwatches like the Honor Watch GS Pro, and that's because a lot of sensors aren't here, like GPS, barometer, or altimeter. The lack of GPS doesn't mean you can't track your outdoors workouts; like the OPPO Watch I reviewed earlier, it can obtain GPS data from your phone if you have it with you.
I have a major problem with this, though, because the watch lets you start tracking outdoor walking and running, but it won't actually grab GPS data from your phone if you do that. For it to track your movement, you need to begin the workout using the Huawei Health app on your phone, which will then tell your watch to monitor your activity. What's even weirder is that the watch doesn't give you the option to begin tracking outdoor cycling - only running and walking - even though it does include an option for indoor cycling. But if you use the smartphone app, you can track your cycling outdoors. It just confuses me why some options show up on the watch and some don't, and the ones that do show up still don't track your movement anyway. Why even offer any of the outdoor options on the watch if it can't grab the GPS data from your phone automatically?
Either way, once you get used to starting these workouts with your phone, tracking works as expected. In some ways, it's actually better than my experience with the GS Pro , since my exercise is at least being labeled correctly by the Huawei Health app. On the watch, though, it constantly says the workout intensity is at the max level, no matter what my heart rate is.
The Honor Watch ES does have a very interesting feature, though, and that's the workout routines. Similar to how the Honor Watch GS Pro has different running courses with instructions on what to do, the Honor Watch ES offers courses with various types of workouts, which focus on different parts of your body. There are 12 courses in total, spanning four intensity levels, and each lasting between three and 18 minutes.
These workouts tell you which exercises to do and for how long, along with animated guidance showing you how each exercise should be done. I'm still relatively new to fitness, but in my experience, these workouts can get pretty intense, and they definitely feel like a good place to start if you're looking to get fit. I focused mostly on level 1 and 2 routines, and I tried to string two or three courses together to make a longer session, and I always ended up very tired by the end of it.
For my indoor workouts, I'm mostly used to working with Nintendo's Ring Fit Adventure on the Nintendo Switch, and this is very different. Ring Fit Adventure is better for me in a few ways, because it doesn't just tell me what to do, it strongly encourages me to do it. It won't accept that I've done a rep of a certain exercise until I've actually done it, and I also have to hold that position for a few seconds. I like that better because it lets me do things at my own pace, while also ensuring that I actually do them. On this watch, a lot of the exercises are timed, and for those that aren't, they still count the reps automatically assuming you're following the exact timing of the animated guide. That means it's easy for you to stop moving and just let it keep counting, and that means that, for me, there's a little less incentive to try harder.
Another small problem I have with this feature is that there's not enough feedback on what you're doing. For example, the watch will vibrate when it counts down before you start an exercise, so you know when to begin, but it doesn't vibrate when the timer ends. Usually, this isn't a big problem, because it starts vibrating again when it counts down for the next exercise, but for routines that include breaks, that means you might continue doing an exercise during the break because the only way to know the break has started is to look at the watch.
Another thing to note is that these workouts don't get registered in your Huawei Health app for some reason. Don't let those gripes make you think this is a bad feature, though. It's still a pretty good way to get started with exercise, and with enough motivation, I feel like it can help tremendously with getting in shape.
Aside from these features, the usual health features from Huawei are still here. I'm a big fan of how the Huawei Health app presents data and how much information it gives you. It gives you pretty deep insight into your sleeping habits, for example, so if you want to, you can really make an effort to sleep better. That doesn't mean I do that, though, as you can see in the screenshots below.
Likewise, the watch also tracks your stress levels and presents that data in the app. One thing that's cool about this is that I didn't have to bother setting it up again after I did it with the Honor Watch GS Pro. The app initially asks you a few questions to determine your regular stress levels, but once you do it for one watch, it's all set for future devices, and I'm glad I don't have to go through it again.
Conclusion
Overall, the Honor Watch ES is great at what it sets out to do. It's an affordable smartwatch that gives you all the features you need to get started with fitness, including guided workouts, which is a great feature for people like me who aren't used to exercising. I did have some gripes with the way they work, but they don't make it a bad experience, and it's still a great way to get started if you have the motivation to keep going.
The design of the watch also makes it very suitable for anyone to wear, just because of how small it is. It's designed for the "modern" lifestyle, and I think it does that well. You can wear this to the office or anywhere you go, and it won't stick out. Plus, some of the guided workouts make it easy to get some exercise in throughout the day so you can stay active.
Personally, I'm a bigger fan of smartwatches with more smarts, like those that run Wear OS (and yes, I know I'm likely the exception here), but for its target audience, the Honor Watch ES is great. Plus, it offers battery life that's leagues better than most Wear OS smartwatches.
If you're interested, you can buy the Honor Watch ES in the UK for £99.99, or in select European markets, such as Germany, for €99.90.