Introduction
Not everyone likes typing long emails or editing documents using an onscreen keyboard,. Even though word prediction and typo correction has advanced massively, there's still no replacement for a physical keyboard.
Having something that is foldable, and thus highly compact, is a great convenience when you want to type out a long piece of text but not have the inconvenience of thumbing your way through a software keyboard.
Enter the iClever Bluetooth keyboard. With an operating range of 10 meters and a sleek modern look, you can be certain that each keystroke will be entered accurately, in style.
The price is reasonable coming in at £23.99 for the UK, and $35 for the USA.
Specifications
There isn't much in the way of detailed technical info for this keyboard, just the usual descriptive information. For example, I looked around for the battery capacity, but to no avail.
Here is what the IC-BK03 has to offer.
Model
IC-BK03
Wireless
Bluetooth
Wireless range
10 metres
Media controls
Yes
Supported platforms
iOS
Android
Windows (Except Windows 8)
Unsupported platforms
Nokia phones
Construction
Anodised aircraft grade Aluminium
Key switch type

Membrane, curved key caps

Charging connection
MicroUSB (cable included)
Unfolded dimensions
250.1mm (L)
80.9mm (W)
QWERTY key dimensions
14mm (L)
14mm (W)
Weight
0.39lbs

Packaging and Design
Inside the box you will find the usual paperwork, a MicroUSB cable to charge with, a soft carry pouch and the keyboard neatly folded already.
The pouch is a nice inclusion, but I found the fit to be a little too snug! With the keyboard inside, the drawstring cannot be pulled fully. Here's a photo showing the fit.
The build quality of the keyboard is very good, it feels solid and the Aluminum does not feel cheap. The folding action is locking, there's a stop at the end of closing and opening, so it's not loose. Some thought has been put into engineering the mechanism for sure.
There are rubber anti-slip pads on the underside, ideal as you don't want it sliding about when using it. I did however notice one flaw at each end of the keyboard. When pressing keys at either end of the keyboard, that side touches the surface, the anti-slip pads are toward the center of the underside, not at the ends.
Take a look at the below photo to see what I mean.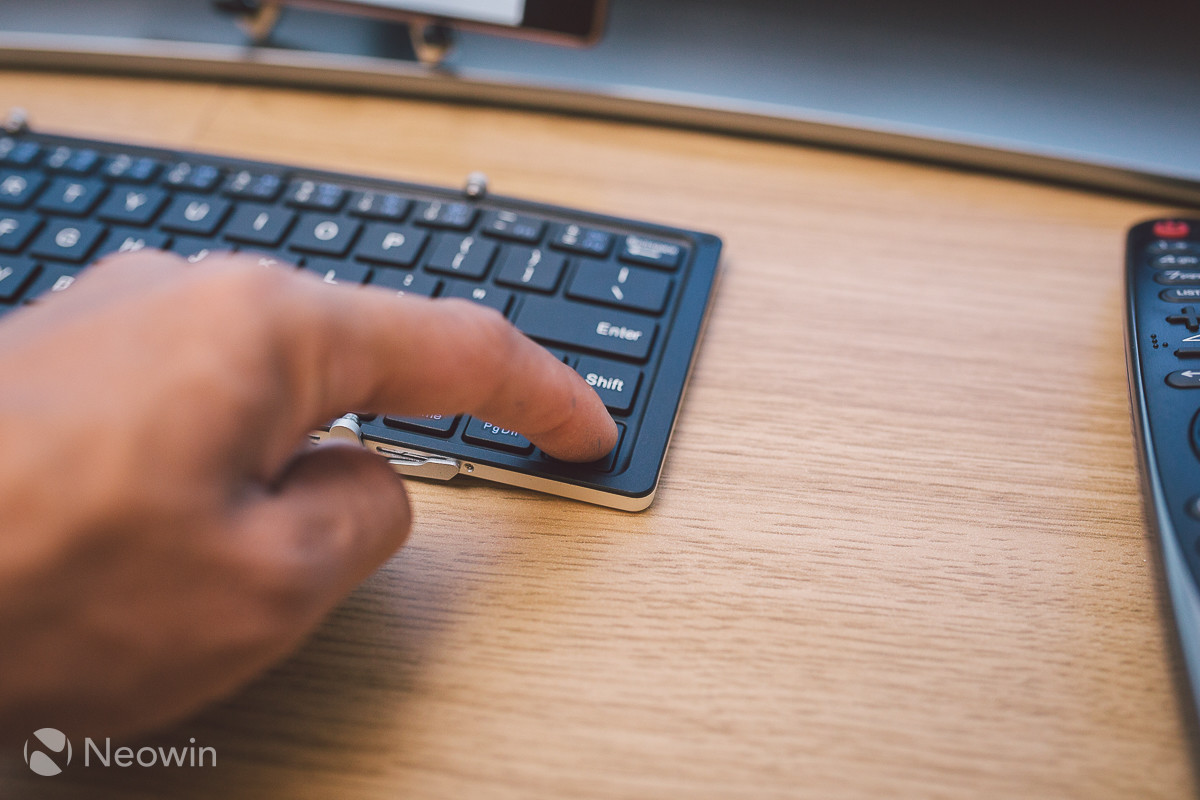 This is only a problem if you type with some pressure on each keypress, but this also leads on to the second part of the flaw. When I type I tend to press the left shift key with more pressure than other keys.
Notice how the right side has lifted when applying pressure to the left shift key! So for my style of typing, considerations would have to be made about how I type when using this keyboard.
I did spend some time trying to figure out how I can fix this problem, and I found a way! Any decent housewares store will sell sticky back felt pads, It is a somewhat ugly fix, but they seem to do the trick.
iClever say the keyboard is smaller than an iPhone 6 Plus once folded, I measured the keyboard unfolded. My Xperia Z3 is 7.3mm thick, the keyboard is just as thin, but the folding hinge mechanism adds some bulk above and below each end.
Usage
Once paired up following the easy instructions (Simply press Fn+C to initialise pairing mode), it's ready to roll. The Fn keys (in blue) allow for the alternative functions found in iOS and Android. For example, on my Z3, pressing Fn+ESC takes you to the homescreen, another press loads the app drawer.
It is recommended that the Fn+Q/W/E keys are pressed the first time the keyboard is paired with a new device to select whether it is a Windows, Android or iOS device. This associates the multifunction keys to that particular platform.
Interesting to note that pressing ALT+TAB resulted in the Android task switcher launching, with the keys held, I could use the arrow keys to cycle the list and choose an app to switch to. A quick press of both keys simply flips between the 2 foremost apps.
Complexity of usage purely depends on how your Android is customised. Complex homescreens will be more difficult to navigate with keyboard alone, but it is possible. iOS users don't have this issue as the homescreen is standardised across the board.
The key presses feel no different to a modern laptop. The keys make the same noise as a laptop keyboard too. I found no problems with typing on this.
An LED indicator glows green upon connection. It flashes blue when pairing and is red when charging, or the battery is low.
There is no power button, simply unfolding it powers it on, and folding it powers it off. If left unfolded, then the keyboard will go to sleep to conserve battery. During my time of testing which has been here and there over the course of a few weeks, I couldn't determine the exact life of the battery as usage patterns varied.
Performance
I found no issues with performance. No lag to speak of and no dropouts with the Bluetooth connection. Individual experiences may vary of course, especially if you have multiple Bluetooth devices paired and connected at the same time.
From the moment I unfolded the keyboard (having already paired it), it immediately connected to the phone and was ready to use within mere seconds. It's a shame there's no trackpad on this, as that would have put a little cursor on the phone screen, and means there would be no need to move my hands away from the keyboard to interact with onscreen elements.
Conclusion
Aside from some fumbling around with the backside, the IC-BK03 keyboard has been easy to use and has performed very well.
Certainly for the price it resembles good value for money, it will no doubt find home in the bags of those who find themselves wanting a physical keyboard on the go. For everyone else, it resembles a convenient solution for those times when an onscreen keyboard just won't cut it.
I'm pleased to give it a rating of 8, just shy of truly excellent because of the lack of additional anti-slip feet to cushion key presses on the left and right ends of the underside.
iClever Bluetooth keyboard
Pros
Build quality Multiple Fn key features iOS and Android support Compact design
Cons
Not enough anti-slip pads Pouch is too snug No physical power switch