A little over a month ago, we reviewed episode two of Minecraft: Story Mode Season Two. Now, the developer, Telltale Games, has released the third episode, which is essentially the halfway point for the latest season.
The second episode of Minecraft: Story Mode Season Two was quite a bit shorter than the premiere episode, but was a lot better, offering some genuinely fun moments and a plot twist. Will the third episode of the season live up to its predecessor? Find out in our review below!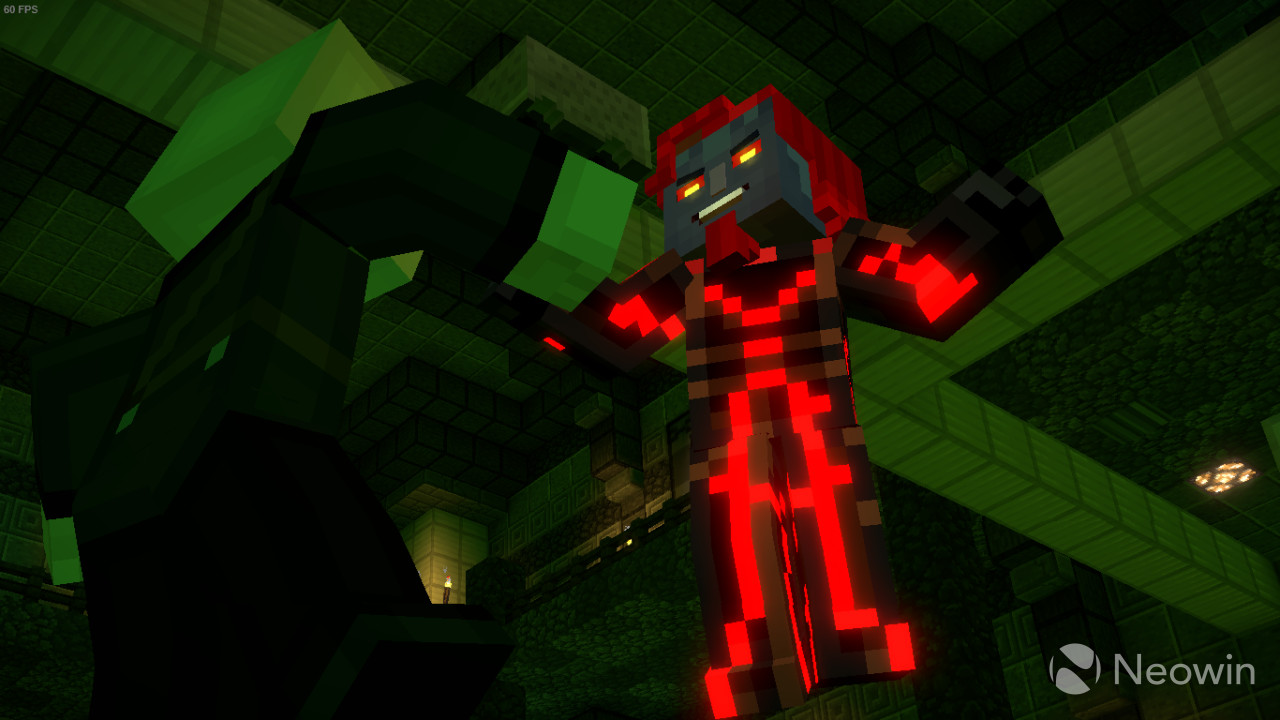 Minecraft: Story Mode Season Two's third episode is titled Jailhouse Block, and picks up almost immediately after the events of the previous title. Jesse and his group of friends have been captured by the Admin who has taken up an even more threatening form than his previous one. I have to praise the character design in this episode because even though I really liked the Snowman Admin, this iteration of the antagonist looks considerably menacing in his black and red outfit.
As the player, you are thrust into what can be called Minecraft's version of The Shawshank Redemption, complete with an evil warden, his goons, gloomy cell blocks, and even a character that eerily sounds like Morgan Freeman!
Although you can interact with other prisoners - which I did - it's quite pointless. It seems like Telltale made a half-hearted attempt at fleshing out all the inmates, called "guests", but decided to stop in between. As a result, even though some conversations with the prisoners explore some interesting aspects of their past, they aren't really fleshed out for any real purpose.
However, this doesn't hold true for all new characters introduced in this episode. Some, including the Warden, do get some decent spotlight and dialogs, that are crucial in understanding their current actions and motivations.
I did notice some logical flaws in this prison setting as well, which are just too glaring to be ignored. Even though the Warden can easily oversee everything going on in the cell blocks from his office, inexplicably, he doesn't realize that there's something fishy (thanks to us!) until it's too late. His goons seem to suffer from this same problem: I noticed an inmate trying to dig through the ground to escape in plain sight and no one seemed the least bothered by it.
You could argue that the reason for this is that it is impossible to escape the prison through the aforementioned route, but my argument could potentially spoil the game for you.
I do have to say that even though the Admin rarely bothers to personally check in on the state of the prison, the fact that he has the power to watch and control everything going on over there creates a rather tense atmosphere, which is a positive aspect of this episode.
The overall plot was quite interesting, but I feel that it was a bit convenient for our gang of heroes, at times. Planning to go to the Zombie Mines to find an escape route shouldn't be as easy as being relocated there just five minutes after even thinking of the plan.
What's even more annoying is that even though the in-game dialog has improved, especially compared to the previous season, some clunky lines still make it to the final script. Seriously, Jesse saying something along the lines of "I'm a hero!" shouldn't even be a dialog-based option worth considering.
Sure, the episode has some cringe-worthy moments similar to the ones aforementioned, though I believe that this latest entry in Season Two is pretty good. One major reason for this is also the fact that the combat has improved a lot more over the previous installment - which is saying something, considering that I marked "poor combat" as a negative in my review of the previous episode.
There's one particular boss fight with a Ghast that is very well-constructed. Unlike the combat in the previous episodes, you don't just have to run forward and swing your sword at the enemy, you have to defeat the creature by using its own weapons against it. Going into further details could spoil the experience if you intend to play the episode, so I won't elaborate on this particular battle, but I can promise that you won't be disappointed.
Overall, Jailhouse Block is a considerably fun episode, and although it doesn't offer any major plot twists, it improves upon weaker aspects from the previous episodes, and throws in a potentially gut-wrenching choice as well, if you're wholly vested in Jesse's group of heroes, but I digress.
It's also quite pleasing to note that this episode is around 30 minutes longer than the previous one, clocking in at 110 minutes, if you explore everything and interact with other characters.
I have no reason to like Minecraft: Story Mode Season Two, as I have mentioned in my previous reviews: I'm not a fan of Minecraft and I didn't particularly like the first season of Story Mode. However, given that the second season is continuing to exceed my expectations, I am looking forward to action-filled and enthralling final episodes.
You can play the third episode of Minecraft: Story Mode Season Two, dubbed Jailhouse Block, by purchasing the Season Pass, which unlocks all the episodes, and costs $24.99. You can check out the title on the digital store of your choice below:
Don't forget to follow us @NeowinGaming on Twitter for more gaming reviews!
---
Minecraft: Story Mode Season Two, Episode Three was reviewed via a Steam Season Pass provided to the reviewer by Telltale Games. The game was played on a Dell Inspiron 15-5558 with the following specifications:
Display: 15.6" non-touch, 1366x768 resolution
OS: Windows 10, 64-bit
RAM: 8GB
Processor: Intel Core i5-5200U CPU, ~2.20 GHz
GPU: Intel HD Graphics 5500, NVIDIA GeForce 920M (2GB VRAM)
Minecraft: Story Mode S02E03
Pros
+ Interesting new characters + Prison setting + Admin still threatening + Epic boss fight + Character design
Cons
- Absurd plot conveniences - Logical flaws - Clunky dialog
Price
$24.99 (Season Pass)