PicoTorrent is designed to be a tiny, easy-to-use BitTorrent client with low memory usage for Windows (Vista and above). No ads, carefully selected features, and a native user interface integrating seamlessly with your desktop. PicoTorrent is built directly on the Windows APIs which means that it is native looking on all Windows versions. PicoTorrent is built on libtorrent which is a high performance BitTorrent library used by several of the most popular BitTorrent clients.
PicoTorrent portable requires manual installation of the Visual C++ 2017 redistributable.
At a glance:
Strong encryption with support for tunneling via I2P, SOCKS4, SOCKS5 and HTTP(S)
Works with both IPv4 and IPv6
Multi-lingual user interface

Supports DHT, PeX, LSD, UPnP.

Geo IP lookups based on libmaxminddb.

(Azureus-style) peer ID: -PI-. Example: -PI0151- (major: 0, minor: 15, patch: 1).

User agent: PicoTorrent/x.y.z.

Native look-and-feel across Windows versions.

Easy to use with high performance.

Free, open source, with a great community
PicoTorrent 0.22.0 changelog:
Label support is here! It landed in #914 and has been improved in #965 and #967. It opens up some sweet possibilities in the future and please drop all your cool suggestions in issues so we can keep track of all ideas you have! For now, labels can control the save path and the coloring.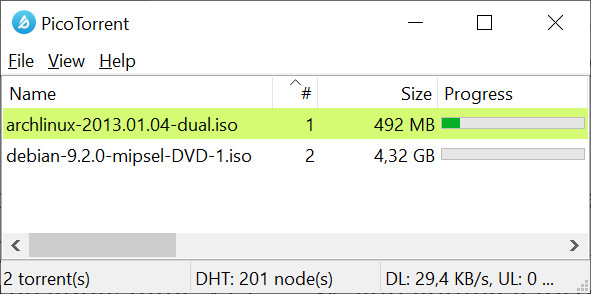 Updated translations - Dutch, French, Norwegian, Hindi, Indonesian, Russian

Added a save resume data timer to minimize the data loss if PicoTorrent crashes. (#928)

Fixed some unicode issues. (#925)

Fixed an issue that prevented restoring column states when starting PicoTorrent. (#927)

Added a dialog to restart PicoTorrent if needed (a few settings requires a restart). (#929)
Download: PicoTorrent 32-bit | Portable PicoTorrent |~5.0 MB (Open Source)
Download: PicoTorrent 64-bit | Portable PicoTorrent
View: PicoTorrent Home Page | Release Announcement
Get alerted to all of our Software updates on Twitter at @NeowinSoftware