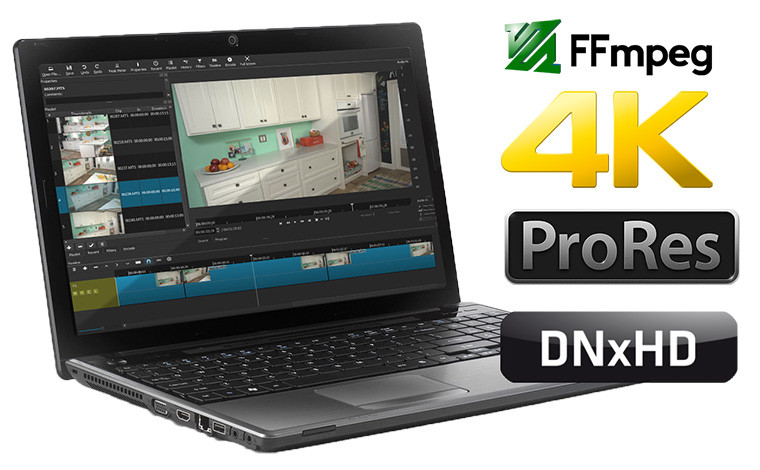 Shotcut is a free, open source, cross-platform video editor for Windows, Mac and Linux. Major features include support for a wide range of formats; no import required meaning native timeline editing; Blackmagic Design support for input and preview monitoring; and resolution support to 4k.
Editing Features
Trimming on source clip player or timeline with ripple option
Append, insert, overwrite, lift, and ripple delete editing on the timeline
3-point editing
Hide, mute, and lock track controls
Multitrack timeline with thumbnails and waveforms
Unlimited undo and redo for playlist edits including a history view
Create, play, edit, save, load, encode, and stream MLT XML projects (with auto-save)
Save and load trimmed clip as MLT XML file
Load and play complex MLT XML file as a clip
Drag-n-drop files from file manager
Scrubbing and transport control
Video Effects
Video compositing across video tracks
HTML5 (sans audio and video) as video source and filters
3-way (shadows, mids, highlights) color wheels for color correction and grading
Eye dropper tool to pick neutral color for white balancing
Deinterlacing
Auto-rotate
Fade in/out audio and fade video from and to black with easy-to-use fader controls on timeline
Video wipe transitions:
bar, barn door, box, clock (radial), diagonal, iris, matrix, and custom gradient image
Track compositing/blending modes:
Over, Add, Saturate, Multiply, Screen, Overlay, Darken, Dodge, Burn, Hard Light, Soft Light, Difference, Exclusion, HSL Hue, HSL Saturation, HSL Color, HSL Luminosity.
Video Filters:
Alpha Channel: Adjust, Alpha Channel: View, Blur, Brightness, Chroma Key: Advanced, Chroma Key: Simple, Contrast, Color Grading, Crop, Diffusion, Glow, Invert Colors, Key Spill: Advanced, Key Spill: Simple, Mirror, Old Film: Dust, Old Film: Grain, Old Film: Projector, Old Film: Scratches, Old Film: Technocolor, Opacity, Rotate, Rutt-Etra-Izer, Saturation, Sepia Tone, Sharpen, Size and Position, Stabilize, Text, Vignette, Wave, White Balance
Speed effect for audio/video clips
Hardware Support
Blackmagic Design SDI and HDMI for input and preview monitoring
Leap Motion for jog/shuttle control
Webcam capture
Audio capture to system audio card
Capture (record) SDI, HDMI, webcam (V4L2), JACK audio, PulseAudio, IP stream, X11 screen, and Windows DirectShow devices
Multi-core parallel image processing (when not using GPU and frame-dropping is disabled)
DeckLink SDI keyer output
OpenGL GPU-based image processing with 16-bit floating point linear per color component
Shotcut 19.08.05 changelog:
Playlist
Changed Playlist > Open As Clip to simply Open. This action now opens the playlist item directly in the Source player, and all changes made in Source (trim in/out), Properties, Filters, and Keyframes apply to the playlist item immediately without an explicit update.
Added Playlist > Copy that opens a copy of the playlist item in Source just like the old behavior. This is useful if you want to trim out another shot from the same source clip or create a different sub-clip with different filtering.
Changed double-click on a playlist item to Open the clip instead of Copy it.
Added keyboard shortcut Shift+C to Copy a playlist item.
Now, when you drag a clip from Playlist to Timeline the timeline shows an appropriately-size box on a track.
Filters
Fixed a performance regression (since v19.06) in the following filters: Chroma Hold, Flip, LUT 3D, Mirror, Noise: Fast, Reduce Noise: Smart Blur.
Fixed reloading the filter UI for Rutt-Etra-Izer, Text: 3D, and Text: HTML resets the filter trimming in Keyframes.
Added support for keyframes to the Lens Correction and Mosaic video filters.
Fixed reliability of the Stabilize video filter to write its results (.stab) file.
Fixed showing vidstab.trf as a missing file.
Fixed updating Stabilize and Normalize: Two Pass results to clips copied between Source, Playlist, and Timeline.
Added the ability for the Stabilize and Normalize: Two Pass filters' analysis jobs to update pending export jobs.
Added the option to run pending Stabilize and Normalize: Two Pass filters' analysis jobs on export. This only works for Stabilize if you are using the project folder feature. Or, if not using the project folder feature, you must click Analyze to assign a results file name, but you can stop the analysis job.
The combination of the above fixes and changes means you can now easily batch convert files while applying image stabilization and audio normalization!
Properties
Added support for interlace output to Properties > Reverse and Convert to Edit-friendly including overrides for Scan mode and field order.
Improved detection of interlaced video in some files such as Ut Video in Matroska.
External Monitor
Add resolution and refresh rates to the screens in Settings > External Monitor to make them easier to differentiate.
Fixed switching between different external screens on the same GPU.
Fixed external screen not showing on correct screen in some arrangements.
Export
Changed the default video quality to 55% for the Default and YouTube presets. This aligns with the x264 default crf of 23 and produces a smaller file that most people desire for upload without significant quality loss.
Added text after Export > Advanced > Codec > Quality to show the generated codec-specific quality level (e.g. crf for x264).
Other
Fixed double-click in Recent Projects loading twice.
Fixed disabling meters in the Audio Loudness scope not shrinking space.
Added version metadata to the AppImage for Linux.
Added md5sums.txt and sha256sums.txt to the GitHub releases page.
Download: Shotcut 19.08.05 (32-bit) | Portable | ~100.0 MB (Open Source)
Download: Shotcut 19.08.05 (64-bit) | Portable | ~300.0 MB
View: Shotcut Home Page | Other Operating Systems
Get alerted to all of our Software updates on Twitter at @NeowinSoftware