Claim your complimentary White paper for free, before the offer expires.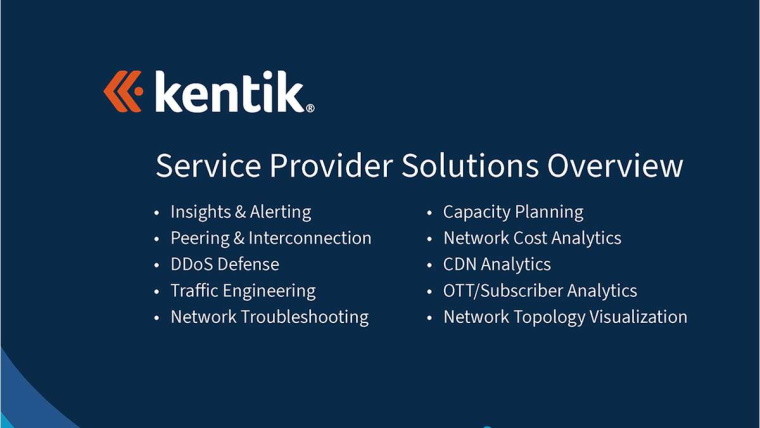 What's it about?
Kentik uses large scale data collection, correlation and machine learning, to deliver real-time insights and workflows that make network teams dramatically more efficient.
Executives and architects get the big-picture views they need to build faster, more reliable and more profitable services. And Kentik delivers insight into all of your networks, whatever the type, across cloud and traditional networks, and across internal and external networks.
Download the overview to learn more about Kentik's offerings for network service providers including:
Insights & Alerting
Peering & Interconnection
DDoS Defense
Traffic Engineering
Network Troubleshooting
Capacity Planning
Network Cost Analytics
CDN Analytics
OTT/Subscriber Analytics
Network Topology Visualization
How to get it
Please ensure you read the terms and conditions to claim this offer. Complete and verifiable information is required in order to receive this free offer. If you have previously made use of these free offers, you will not need to re-register. While supplies last!
>> Kentik Network Service Provider Solution Overview - free Product Overview
Offered by Kentik, view their other free resources.
---
Not for you?
That's OK, there are other free eBooks on offer you can check out here, but be aware that these are all time-limited offers. If you are uncomfortable sharing your details with a third-party sponsor, we understand. Or via our preferred partner:
How can I disable these posts? Click here.
Disclosure: A valid email address is required to fulfill your request. Complete and verifiable information is required in order to receive this offer. By submitting a request, your information is subject to TradePub.com's Privacy Policy.